Year 1
Welcome to Year 1! We hope that you will find this page useful. We will be uploading lots of handy information about what we are learning about at school and ways in which you can help at home. If you have any questions or further comments, please speak to any of the Year 1 team.
Thank you to everyone for coming to the Christmas Decoration Day. We are pleased with how many parents came and supported us and we hope that you had a fantastic time.
Who's who?
We have 3 classes in Year 1 with the following teachers and LSA's:
1RL - Mrs Lawrence, Mrs Blackburn and Mrs Wilson
1CG - Miss Grayson and Miss Bradley
1DD - Miss Dimmer and Mrs Tansey
We also have Nurture Group with Mrs Manning and Mrs Midgaff.
Our Topics this Year:
Dinosaurs - Autumn 1
Bright Lights, Big City - Autumn 2
Enchanted Woodland - Spring 1
Paws, Claws and Whiskers - Spring 2
Moon Zoom - Summer
Important Days
Please have PE kit in school every day as we rotate when we have PE.

Reading Diaries are collected every Friday.

New Phonics sounds and words are handed out every Monday in Reading Diaries

Homework is collected on Fridays every fortnight.
The new homework title will be handed out on Friday 21st December. This will link to our new topic - Enchanted Woodlands.
The Enchanted Woodland homework will be due on the following dates:
Friday 18th January
Friday 1st February
Friday 15th February
Enchanted Woodlands
| | | | |
| --- | --- | --- | --- |
| English | Maths | Creative | Research |

Build a den in the garden and write some instructions for a friend to make it afterwards.

Write a Who-am-I? riddle for your family and friends about woodland animals. (CHALLENGE)

Write your own traditional tale based on one of the traditional tales that you have been learning

Write an acrostic poem about your favourite woodland animal.

Write an information text about your favourite woodland animal.

Find out how to calculate the age of a tree and measure the trunk to find out its diameter.

Measure the height and length of small tress, plants or bushes found in your garden or the school grounds and put them in order of size. (CHALLENGE)

Use natural resources to represent numbers – e.g. sticks for tens and pebbles for ones.

Go on a woodland walk and count the number of certain trees or plants.

Take your family on a woodland walk and take photos of different plants, flowers and trees. Create a collage.

Using natural items in the garden to create a sculpture or pattern. (CHALLENGE)

Make a miniature home for fairies and pixies in the garden.

Collect some leaves and create a leaf rubbing pattern.

Create a collage of leaves to make a picture.

Plant a flower and observe the changes in a diary. (CHALLENGE)

Search the internet about woodlands and forests around the world and create a scrapbook.

Go on a tree hunt. Find a deciduous and evergreen tree.

Find out about famous artists who use the woodlands for inspiration
Bright Lights, Big City
The final homework for Bright Lights, Big City is on:
Please try and complete 1 Creative, 1 Maths, 1 English and 1 Research idea for each topic. The sheet can give your child some ideas or we welcome your own suggestions.
English

Maths

Creative

Research

Write a set of instructions for your favourite game

Write a postcard from a London landmark

Write a fact-file about a famous visitor attraction

Go to the library and find some books about London.

Write your own Paddington story

Write a diary like Samuel Pepys (CHALLENGE TASK)

Create a landscape using 2D/3D shapes

Calculate the distance to London

Read a train timetable and work out how to get to London via the fastest route (CHALLENGE TASK)

Use an Underground map with directions to find routes between visitor landmarks

Write your own directions to destinations in London

Practise your number bonds to make 10 and then 20. How quickly can you give the answer? Learn doubles to 10.

Practise counting forwards and backwards in 2s to 20, 5s to 50, and 10s to 100

Art – Make a cityscape

Write a story about London

Create a landmark from junk materials

Create a collage of pictures of London landmarks

Make bread using a traditional recipe from the Great Fire of London (CHALLENGE TASK)

Learn some of the songs about London – London's Burning / London Bridge is Falling Down

Find out about The Royal Family

Draw your family tree

Find out about the Great Fire of London

Research/go to a visitor attraction

Find out/ watch Paddington Bear and create a fact file about him

Create a timeline of events for the Great Fire of London (CHALLENGE)
Thank you for the support with the homework. We have had some super examples and the children have really loved sharing what they have been doing. Here are some examples:
Spring Term 1
We are learning:
English

Maths

PE

Connected Learning

Traditional Tales –

Jack and the Beanstalk,

Little Red Riding Hood,

Three Little Pigs,

Gingerbread Man,

Goldilocks and the Three Bears

Addition and Subtraction for Numbers to 20

Shapes and Pattern

Height and Length

Dance – Traditional Tales – Jack and the Beanstalk

Net and Wall Games

Trees- Deciduous and Evergreen

Clay Models of Woodland animals

Identifying and classifying plants and animals

Making party food for the Teddy Bear's Picnic

Making maps in Geography

Drawing, painting and sculpting.
We have been looking at Winter poems, We have been using our senses to describe.
We have been making up our own stories for Paddington. We have story mapped our work, used drama to act out the scenes and now we are beginning to write them. We hope to publish our work next week and have them up on display for everyone to read. Here are a few pictures of us acting out our stories;
In Maths we have been adding numbers up to 20. We have been using number-lines and playing games to help us with our learning.
We have been looking at representing numbers in different ways,
In Maths we have been learning about subtraction on a number line. We worked with a partner to make jumps on the number line to solve the problems.
We have also been using ordinal language. We played a game where our friends had to guess the order of our fruits. It was so much fun!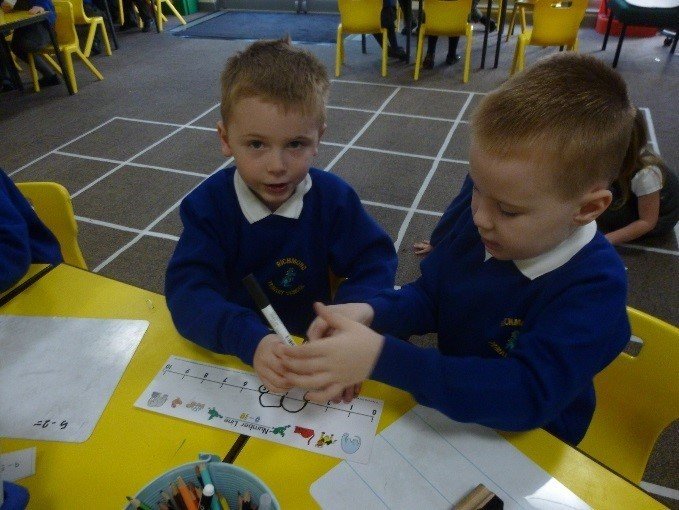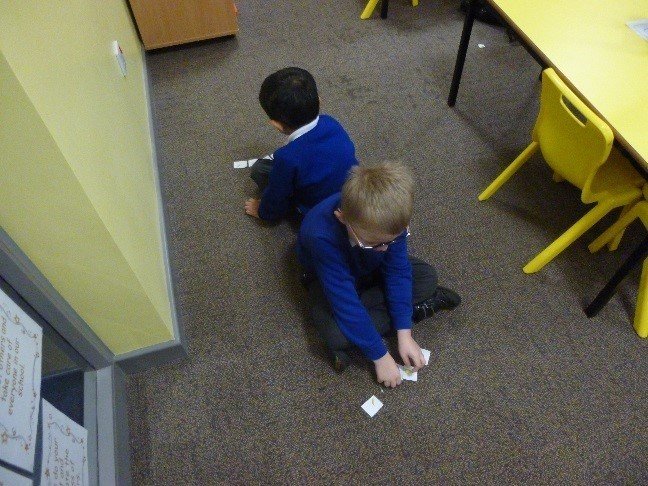 Science
For Science Day we have been looking at materials. We sorted the materials into groups according to their properties. We then tested lots of different materials to see which material would be best for an umbrella for Paddington.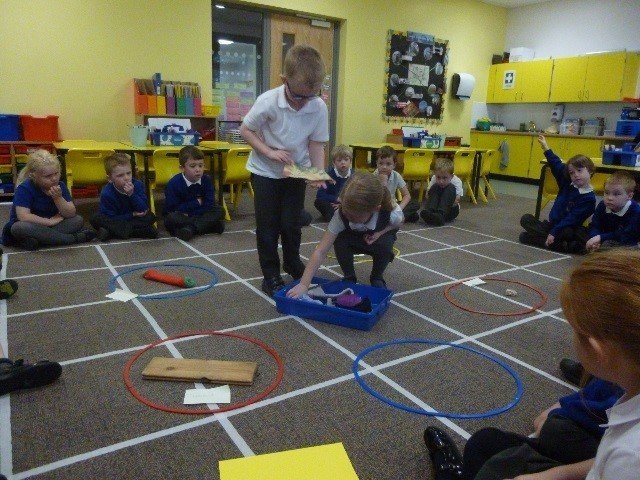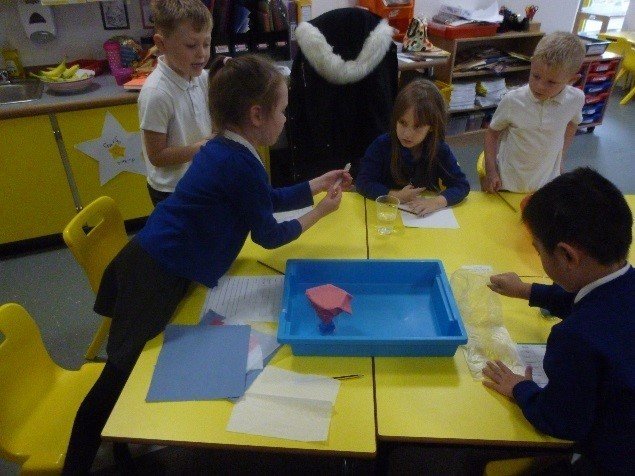 Bright Lights, Big City
We have been exploring London and have been using directional language to navigate.
We have been learning about Pudding Lane and the Great Fire of London.
We have been learning all about the Royal Family and The Queen. We even had tea with The Queen! Here are our collages that we made about her life.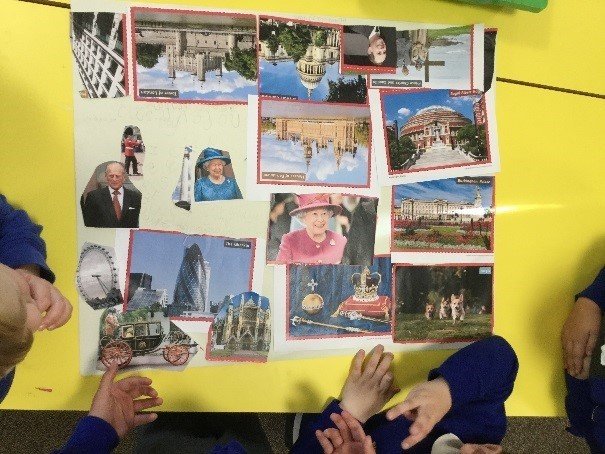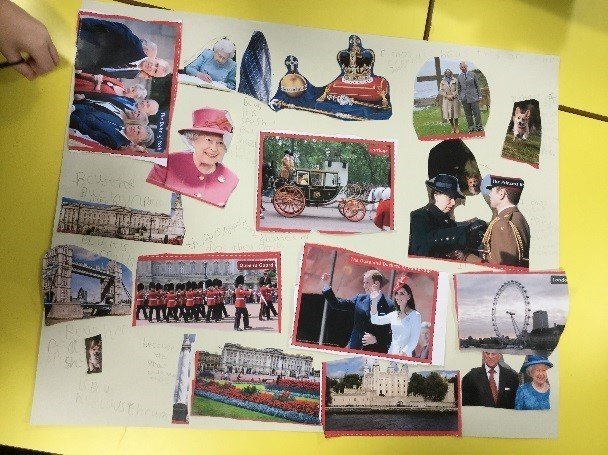 Phonics and Reading
Our next Phonics for families is on Thursday 13th December.
We encourage parents and carers to take an active role in helping children learn to read. We ask that parents read with their child every night or a minimum of three times a week. Teachers in Year 1 award certificates to children who have read with grown-ups at home so it is really important to update your child's reading diary regularly.
We have a range of books available to choose from at the end and beginning of each day. We will let you know when we have assessed your child and when they are ready to move onto the next colour band. We test children approximately every 6 weeks. We work on percentage scores to give us an accurate judgement about their colour band. If you would like any further information about reading, please ask your child's teacher.
In Year 1 we group the children into phonics groups. Each week you will receive the sounds the children are working on in their Reading Diaries. In June, all of the children in Year 1 will complete the Year 1 Phonics Check. There are 40 words in total to read. 20 words are real words and 20 words are pseudo (alien) words. Children are to use their segmenting and blending skills to apply their phonics knowledge. Here are some useful links to websites:
https://www.oxfordowl.co.uk/welcome-back/for-home/reading-owl/advice-for-parents/reading-at-home/phonics-made-easy#
Here are the phonemes that children need to know by the end of Year 1:
| | | | | | | |
| --- | --- | --- | --- | --- | --- | --- |
| s | a | t | p | i | n | m |
| d | g | o | c | k | ck | e |
| u | r | h | b | f | ff | l |
| ll | ss | j | v | w | x | y |
| z | zz | qu | ch | sh | th | ng |
| ai | ee | igh | oa | oo | ar | or |
| ur | ow | oi | ear | air | ure | er |
| ay | oy | ea | ir | ou | oe | aw |
| au | ie | wh | ph | ue | i-e | o-e |
| ew | e-e | a-e | ey | | | |
We use Phonics Play at school to teach the sounds. The children love playing some of the games such as Dragon's Den and Buried Treasure. Here are the links:
https://www.phonicsplay.co.uk/BuriedTreasure2.html
https://www.phonicsplay.co.uk/DragonsDen.html
Children are also required to read and spell the High Frequency Words. Some of the words are tricky words (words that cannot be sounded out – these are in bold).
Phase 2
| | | | | | |
| --- | --- | --- | --- | --- | --- |
| a | an | as | at | if | in |
| is | it | of | off | on | can |
| dad | had | back | and | get | big |
| him | his | not | got | up | mum |
| but | the | to | I | no | go |
| into | | | | | |
Phase 3
| | | | | | |
| --- | --- | --- | --- | --- | --- |
| will | that | this | then | them | with |
| see | for | now | down | look | too |
| he | she | we | me | be | was |
| you | they | all | are | my | her |
Phase 4
| | | | | | |
| --- | --- | --- | --- | --- | --- |
| went | It's | from | children | just | help |
| said | have | like | so | do | some |
| come | were | there | little | one | when |
| out | what | | | | |
Phase 5
| | | | | | |
| --- | --- | --- | --- | --- | --- |
| don't | old | I'm | by | time | house |
| about | your | day | made | came | make |
| here | saw | very | put | oh | their |
| people | Mr | Mrs | looked | called | asked |
| could | | | | | |