Welcome to Early Years
earlyyears@richmond.leics.sch.uk
Early Years Cohort 2020-2021
We are so looking forward to seeing you all soon when you start your journey with us at Richmond.
We hope you have received all the information we delivered to you before the summer holidays.
Weds 26th, Thurs 27th, Fri 28th - 'Getting to know you' meetings
You have been given an appointment for these.
Tues 1st - Fri 4th Sept - Stay and Play Sessions
You have been allocated x 3 of these across the week.
Full days of school staggered start:
Group A: Mon 7th, Weds 9th, Fri 11th Sept
Group B: Tues 8th, Thurs 10th, Mon 14th Sept
All children will then attend school all day, every day from
Tuesday 15th September
You have all the details about the staggered drop off and pick up times in place but we will
discuss everything you need to know before their first day.
2019 - 2020 Early Years Cohort
W.C. 6th July 2020
Maths Must Do Mission
This document contains all the learning so far since we have been learning from home and is regularly updated with new learning.
*** Click here: Number and Shape, Space, Measures home learning.pdf ***
Revision or counting in 2's, 5's and 10's. Weeks 12 and 13. Page 16 -19.
Please scroll down for the Maths support videos.
W.C. 6th July 2020
Phonics Must Do Mission
This zip file contains Phonics Plans and Resources for Phase 4 - New Learning and also resources for Phase 2 and 3 revision.
Click here: EY Home Learning Phonics Planning and Resources.zip
Read words with adjacent consonants (Phase 4 cluster blends)
shampoo, giftbox, helpdesk, sandpit, softest, lunchbox, sandwich, shelving, floating, giftbag, crisp-packet, lunchbox, giftbag, shampooing, drinking, thank-you, thundering, crunching, desktop.
Practise all the phonemes that you have been finding tricky in phase 2 and 3 and all the tricky words to make sure that you are super confident to begin Phase 5 when you are in Year One.
Please scroll down for Phonics support videos.
W.C. 6th July 2020
Writing Must Do Mission
The Evil Pea has finally returned the bikes, trikes and scooters to Early Years! Unfortunately he is still on the loose! We wonder where has he been hiding? Can you design the Evil Pea's lair? What does it look like and what's inside it? How do you enter? What special gadgets does he have? Draw and write all about it.
Please scroll down for Writing support videos.
W.C. 6th July 2020
Reading Must Do Mission
Phonics Bug www.activelearnprimary.co.uk - scroll down for log-in details.
Read and complete the activities in at least one of the books in phonics bug for the colour band you child is reading comfortably with just a small amount of support. If you need additional books in your child's profile, please e-mail us.
W.C. 6th July 2020
Physical Challenge of the Week
Rest
Wow, you have nearly completed all the Early Years physical challenges. Now the last one might sound easier than it actually is. It's to lie down and rest. Lie down on your back. Close your eyes and try to keep your body as still as possible. Take a deep breath in through your nose and then slowly exhale through your mouth.
Challenge : how long can you lie still with your eyes closed?
Summer 2 - Our new topic is called 'Am I the Fastest?' Please see below for some activities you can do at home.
WOW well done for your fantastic maths learning so far! Here is what some of you have been up to:
EARLY YEARS HOME LEARNING GALLERY
Can you spot that Joshua has made is own calendar and is using at home? Alex has made his own ladybird matching doubles game, why don't you have a go at making one too? Auden's caption writing is brilliant! Look at the lovely card Subiksha has made for the adults in Early Years using beautiful flowers. Arlo has been working so hard at home too ordering his numbers and practising his motor skills.
If you have done something you are really proud of please e-mail us a photo of it (but not yourself if you don't want to be on the website) and we can display it on here for all your friends and family to see.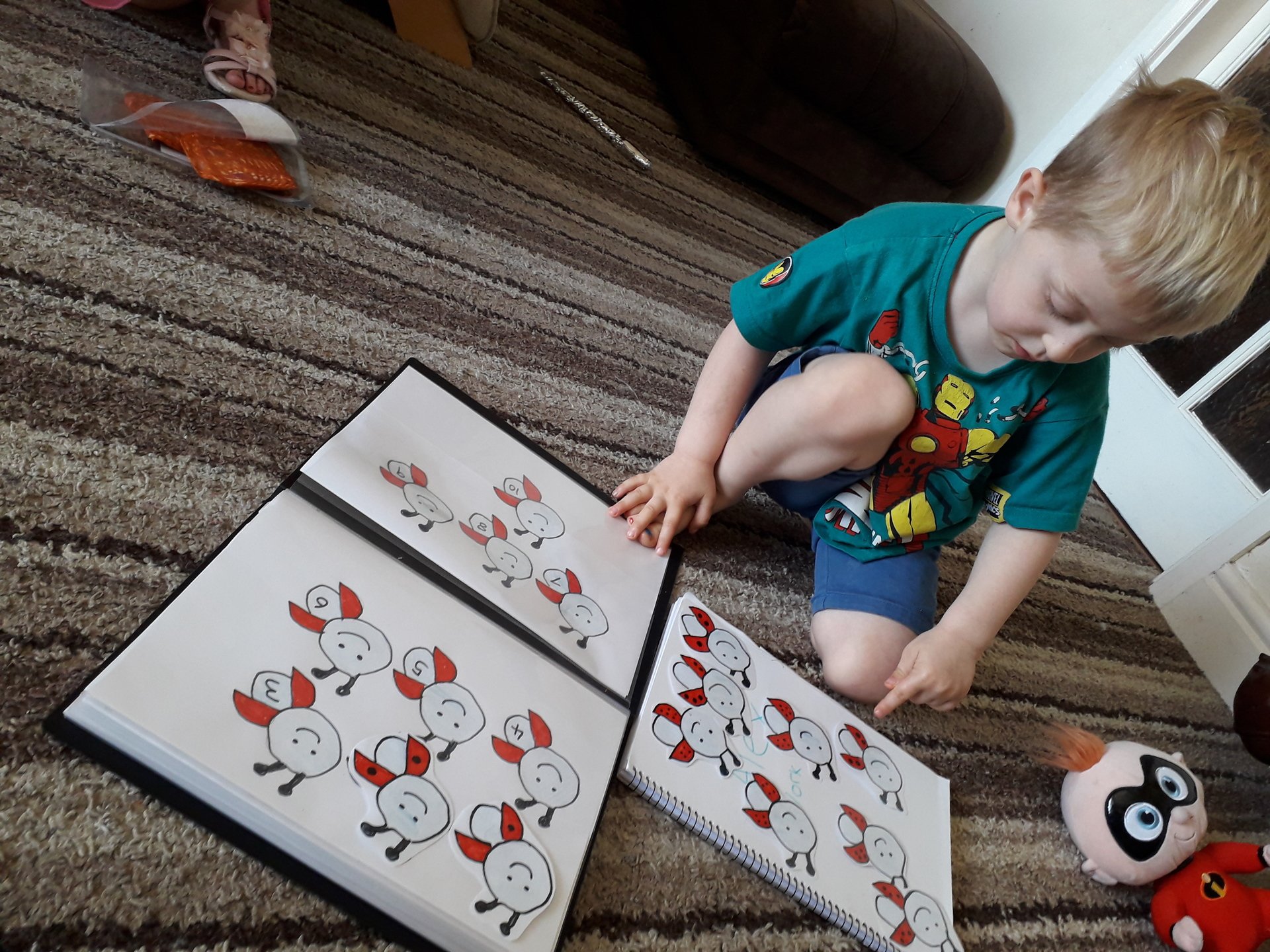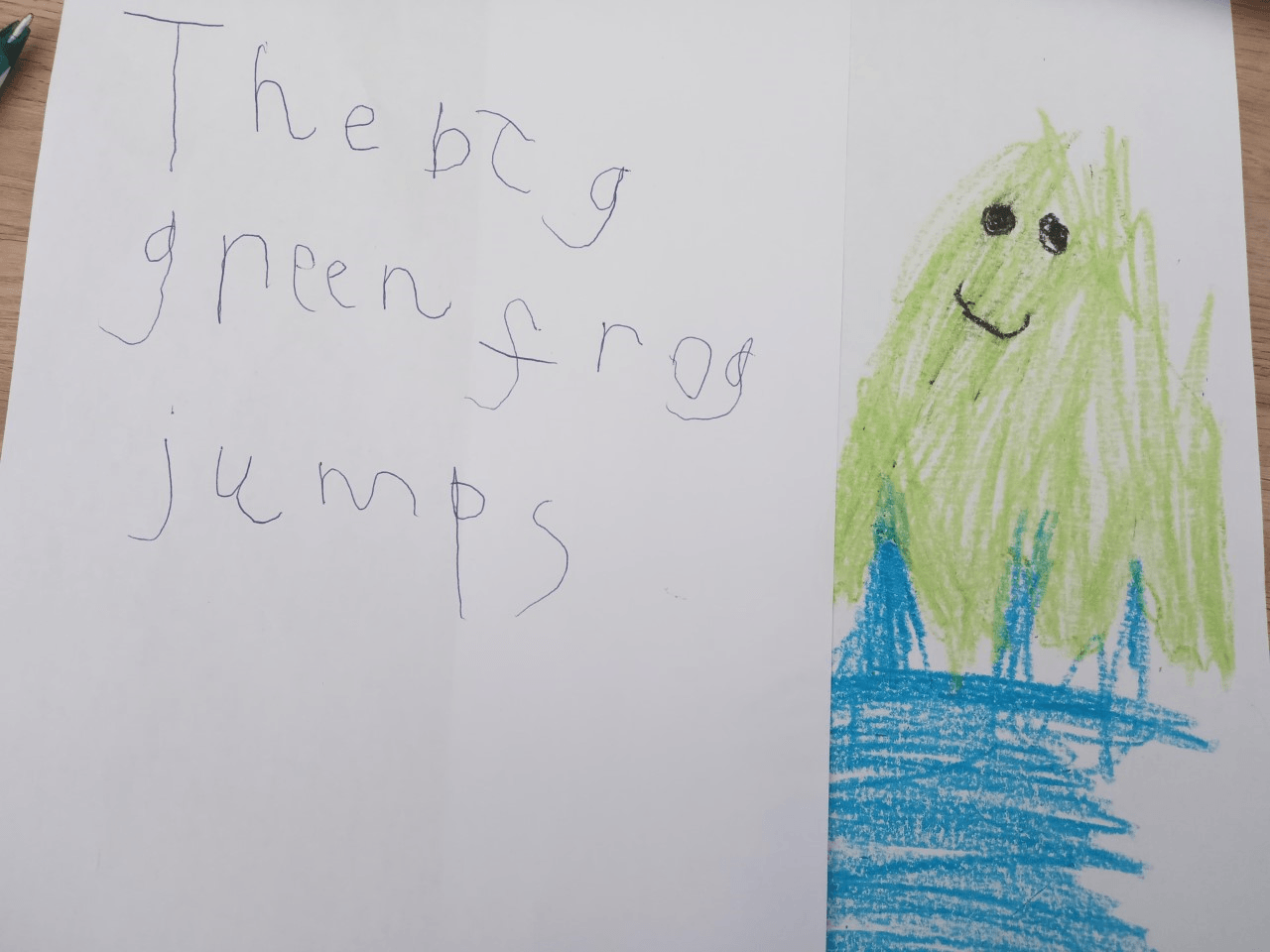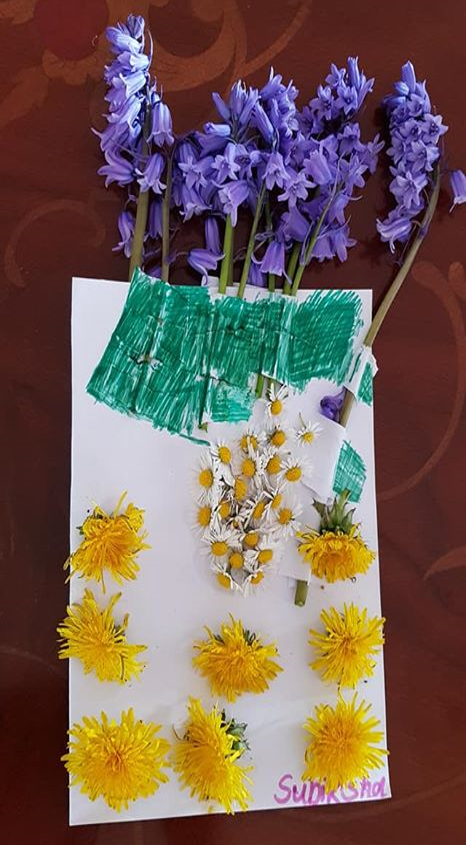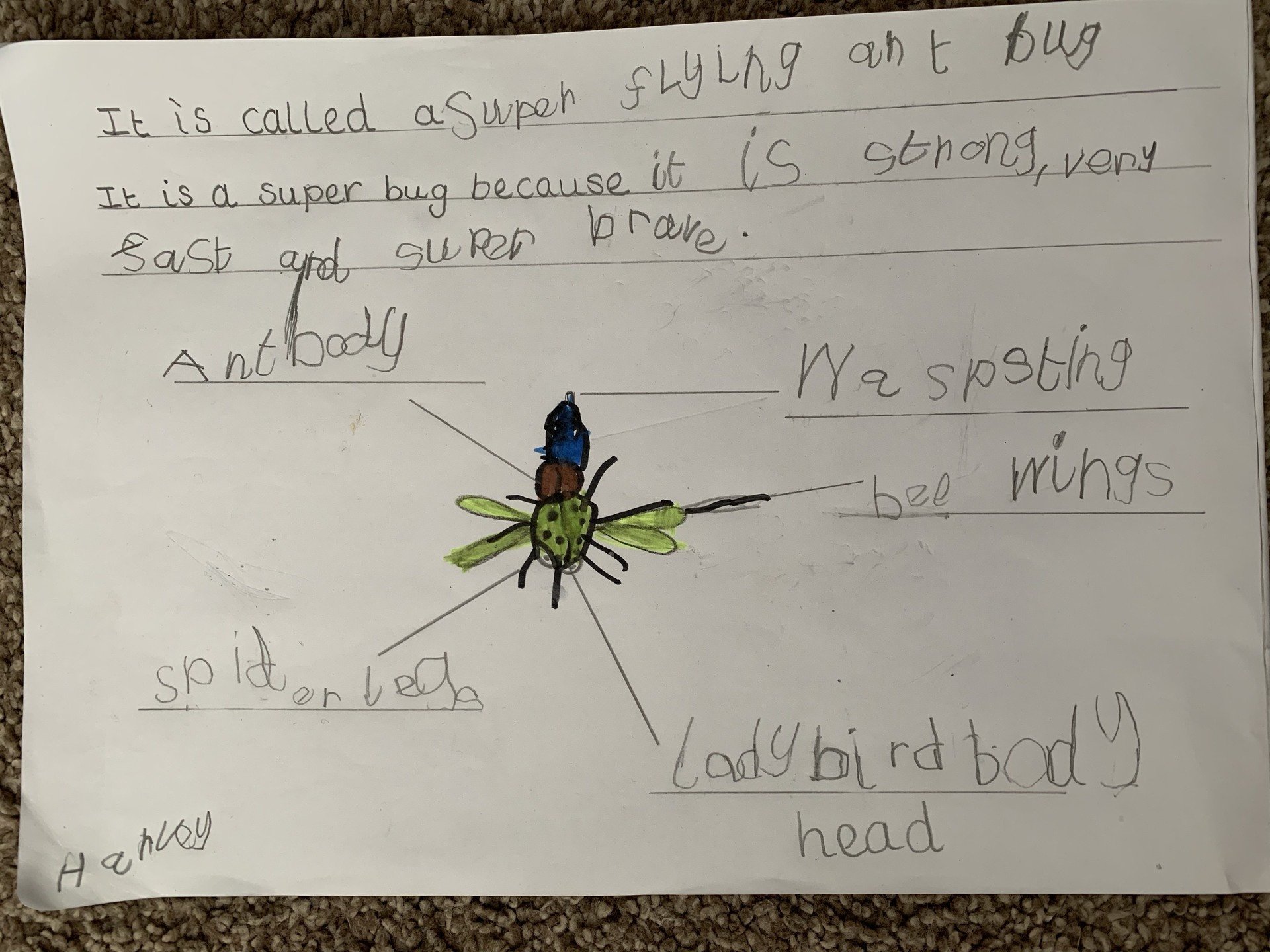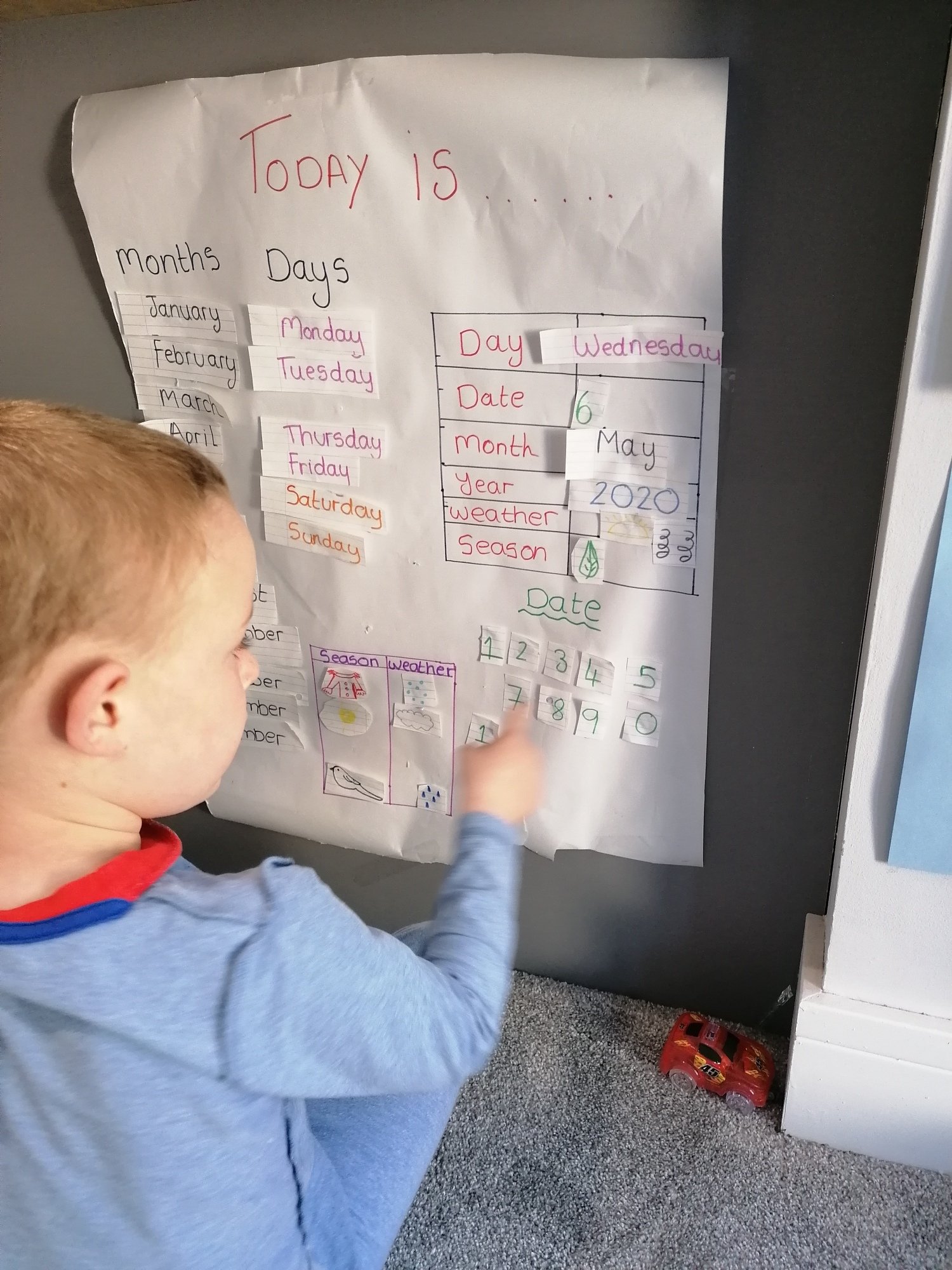 Click here for : EYMG Home Learning Photos.docx
Click on the links below for the previous Must-Do Missions:
15.6.20 Early Years Must Do Missions.docx
Early Years Must Do Missions W.C. 8.6.20.docx
Early Years Must Do Missions W.C. 1.6.20.docx
Early Years Must Do Missions W.C. 18.5.20.docx
Early Years Must Do Missions W.C. 4.5.20.docx
Early Years Must Do Missions W.C. 27.4.20.docx
Early Years Must Do Missions W.C. 20.4.20.docx
Please see below for lots more learning activities that you could do in addition to the MUST DO MISSIONS.
To access music activities and resources for https://charanga.com
Click here: Charanga Early Years.zip
READING AND PHONICS
We have a fantastic resource for you to use at home at www.activelearnprimary.co.uk
Each child in Early Years has been allocated phonics linked books to read within their own personal profile. Your child can build up their own online library and collect rewards for reading too. Once your child has read the allocated books a few times and you feel confident they are ready to move on, we can allocate the books from the next book band to their personal profile. Children should be able to read these books independently in order to move on. Please make sure that you read the help sheets at the front and the back of each book so you can remind children of the phonemes and tricky words and ask them questions linked to the books too. The teachers will be able to see who has been reading the books and how you are getting on.
Logging in - www.activelearnprimary.co.uk
Username: first four letters of first name and first four letters of surname in lowercase
e.g. Jennifer Carter = jenncart
NB: If child's first name or surname only has three letters there will only be three letters
e.g. Ava Jones = avajone
e.g. Oliver Day = olivday
Password: changeme
You will then be able to change your password
School Code: hwc7
We hope that you have lots of fun reading and learning new things!
Handwriting Formation Sheet.pdf
If you fancy a family sing-song go to this website to find free resources and new songs to learn.
https://www.outoftheark.co.uk/
There are some free resources that you can download and games to play on the following websites:
To access restricted resources temporarily go to: www.twinkl.co.uk/offers and enter the code: UKTWINKLHELPS
To access restricted resources on Phonics Play temporarily: Username: march20 Password: home
Watch these programmes and play the related games to support with Phonics and blending to read words:
https://www.bbc.co.uk/cbeebies/shows/alphablocks
Watch these programmes and play the related games to support with understanding numbers:
https://www.bbc.co.uk/cbeebies/shows/numberblocks
Visit these websites to practise your maths skills too:
www.topmarks.co.uk/maths-games/5-7-years/counting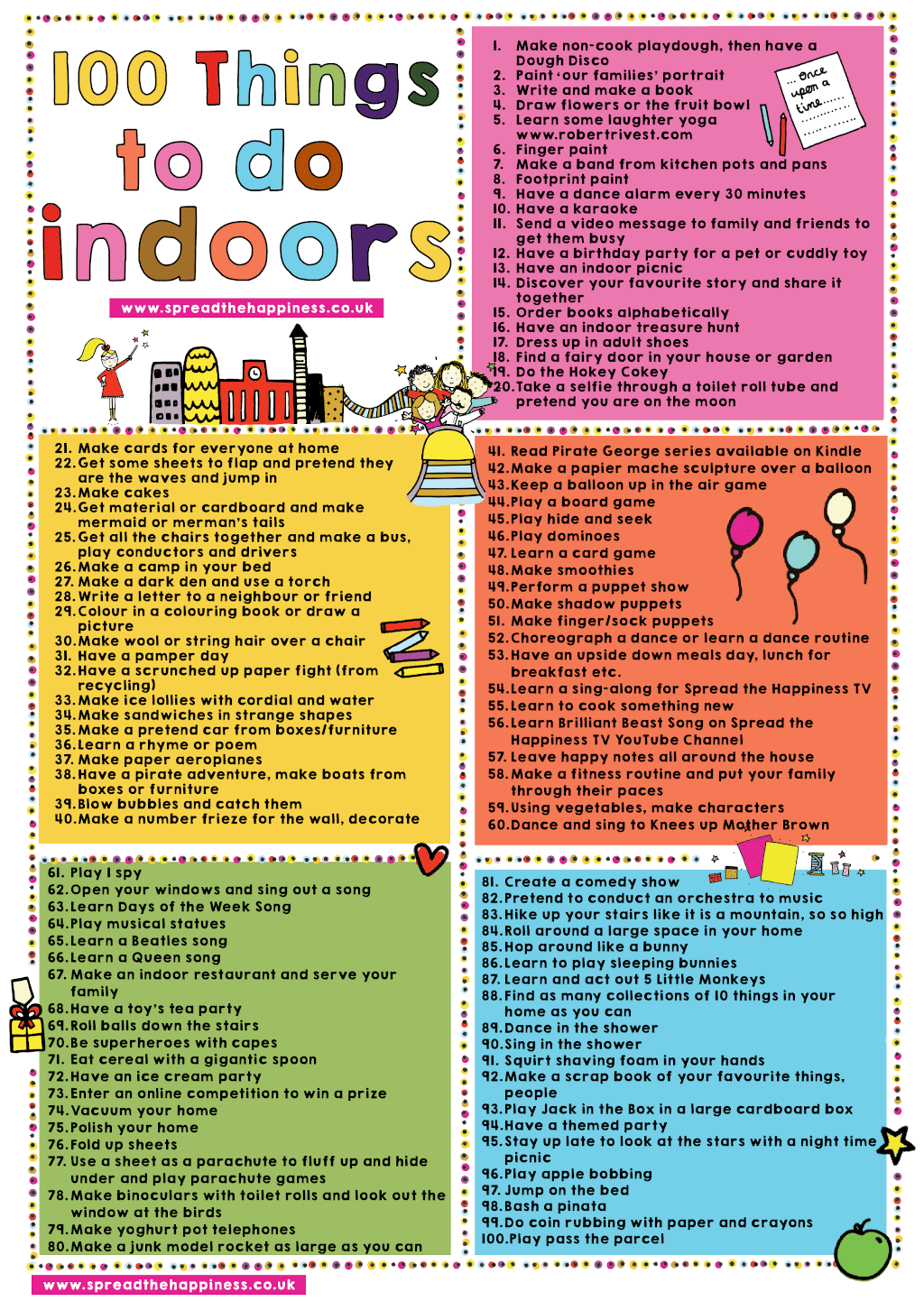 Take a look at some of the things we've been up to.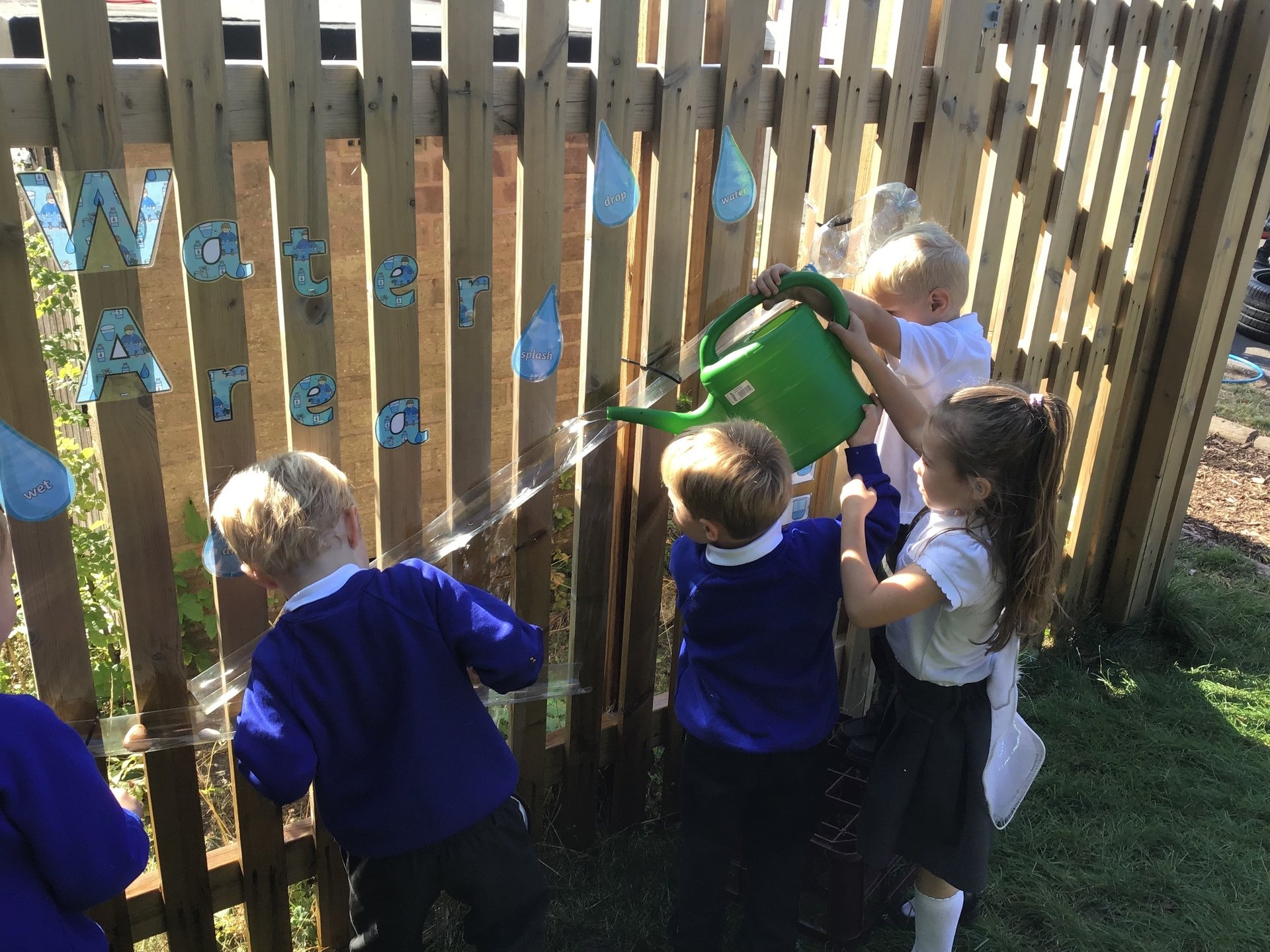 Finding out and exploring, working as a team.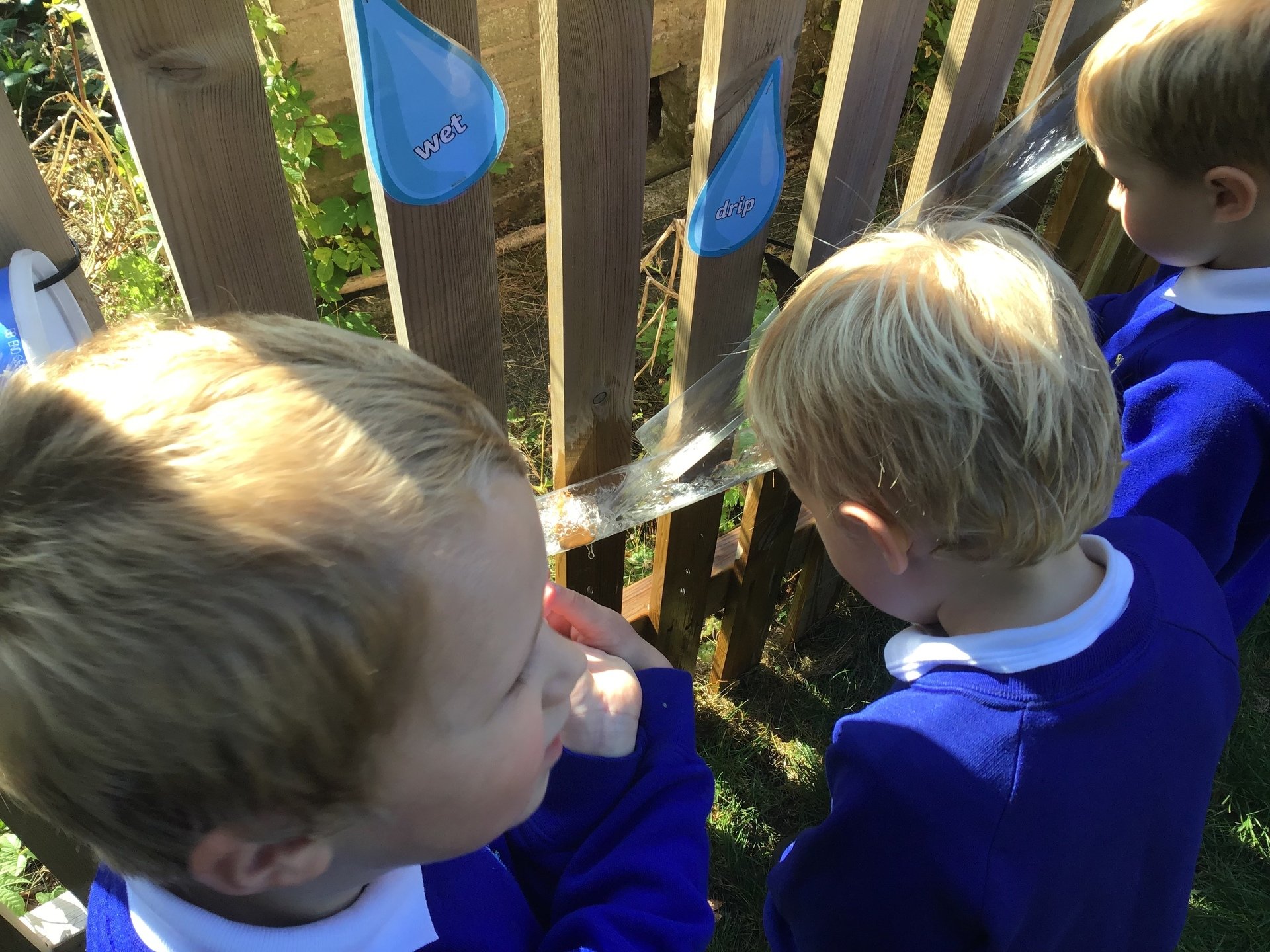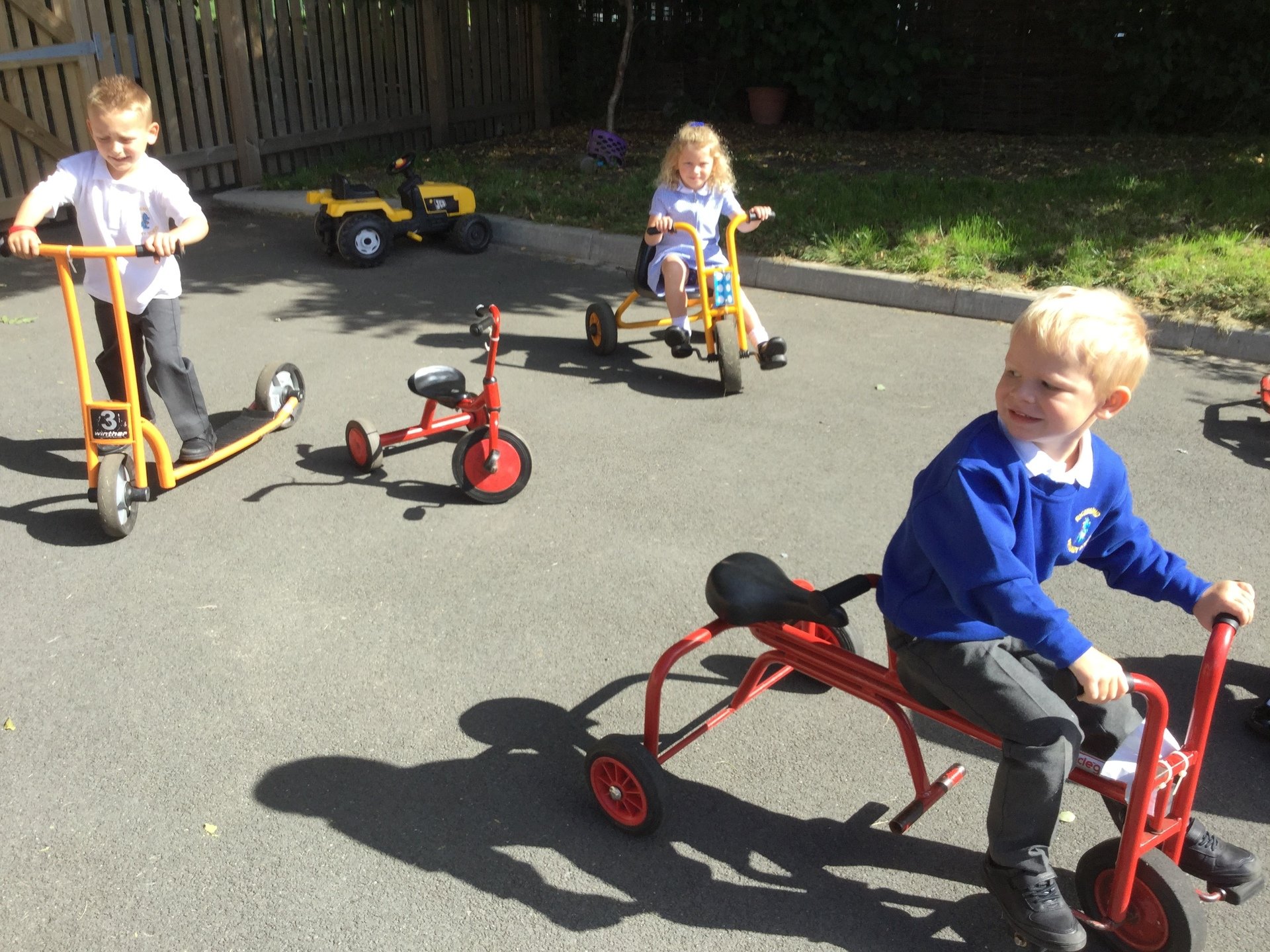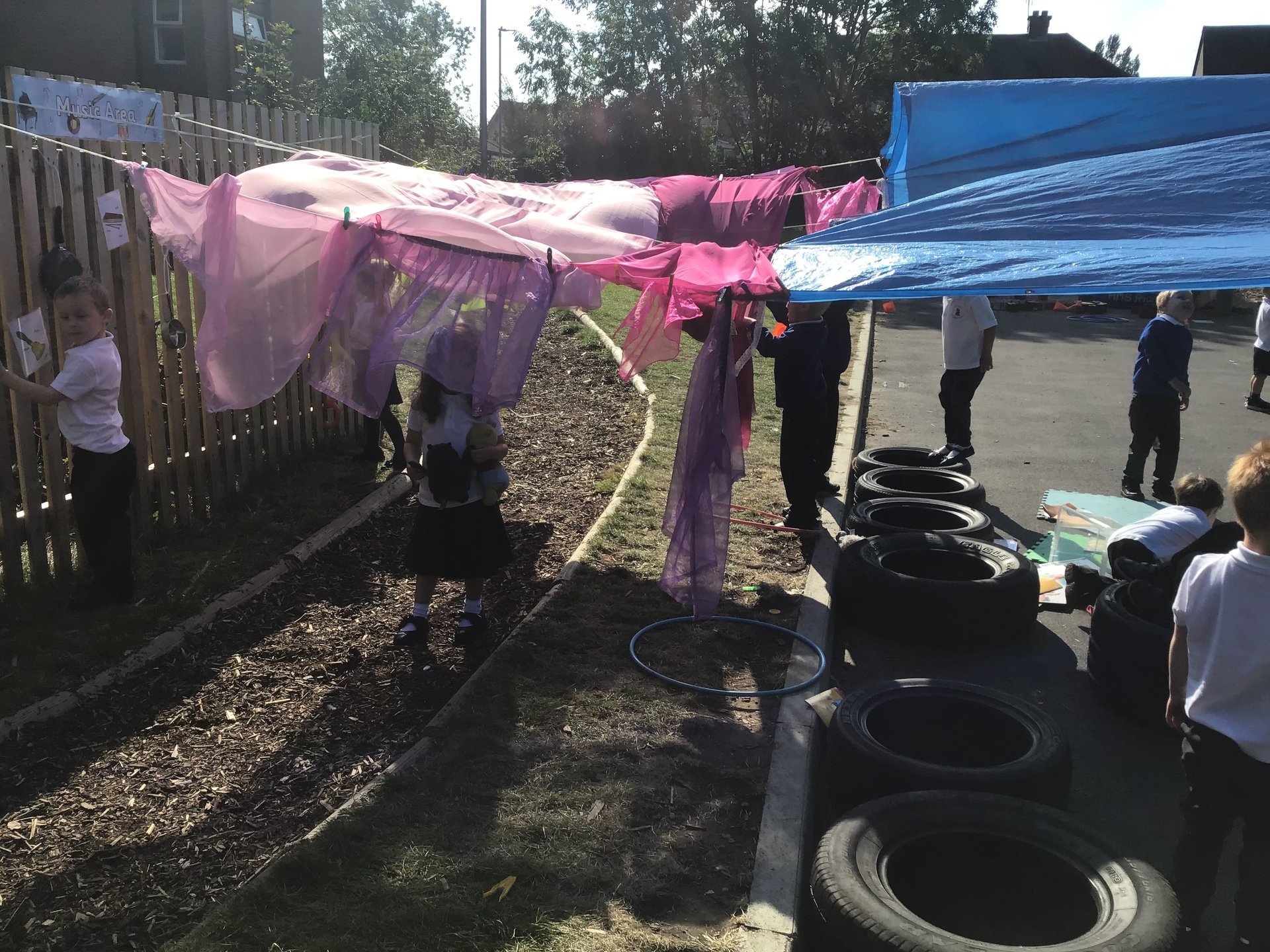 We made a huge den and had so much fun playing and exploring in different ways.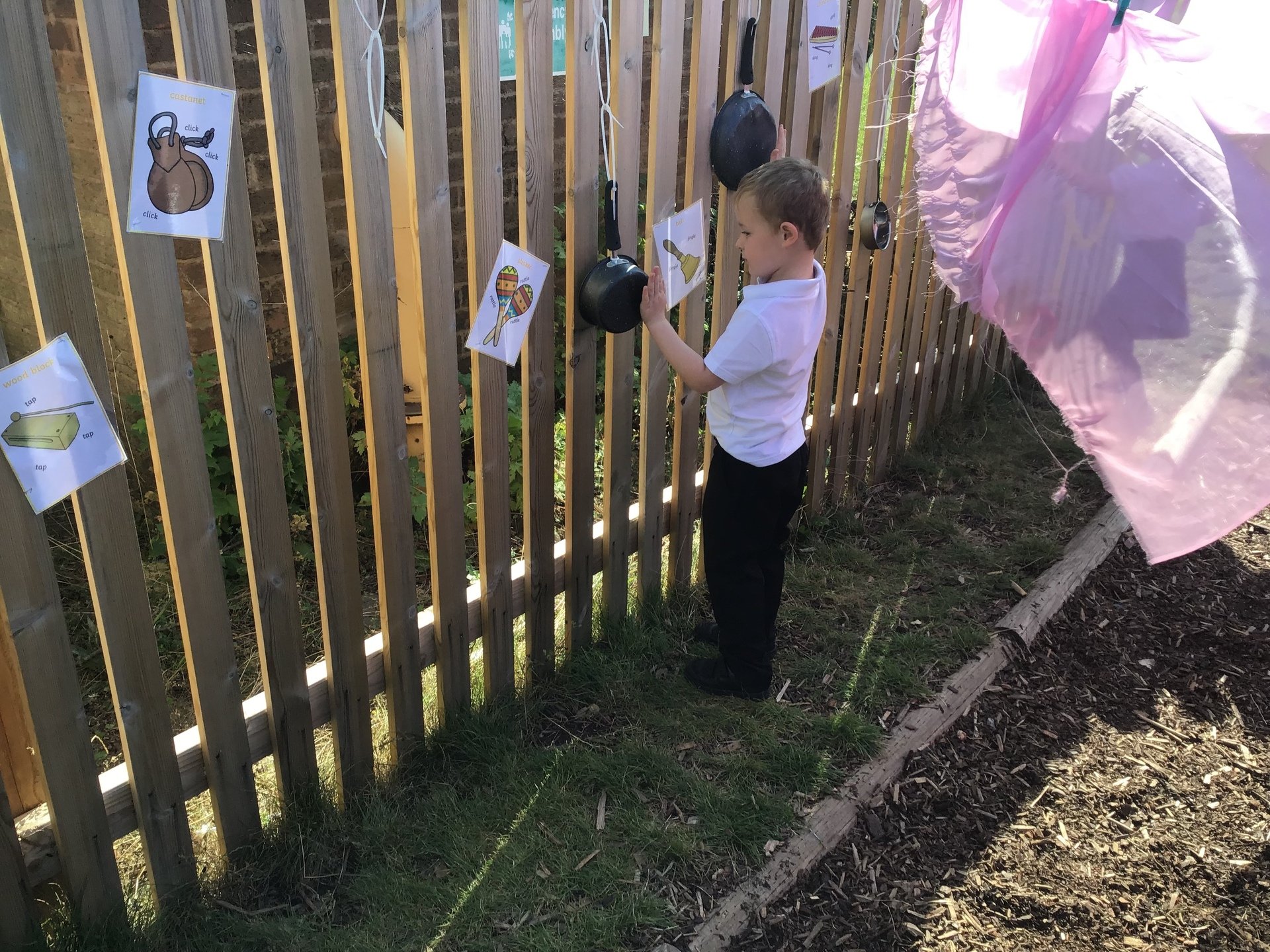 Choosing ways to make music.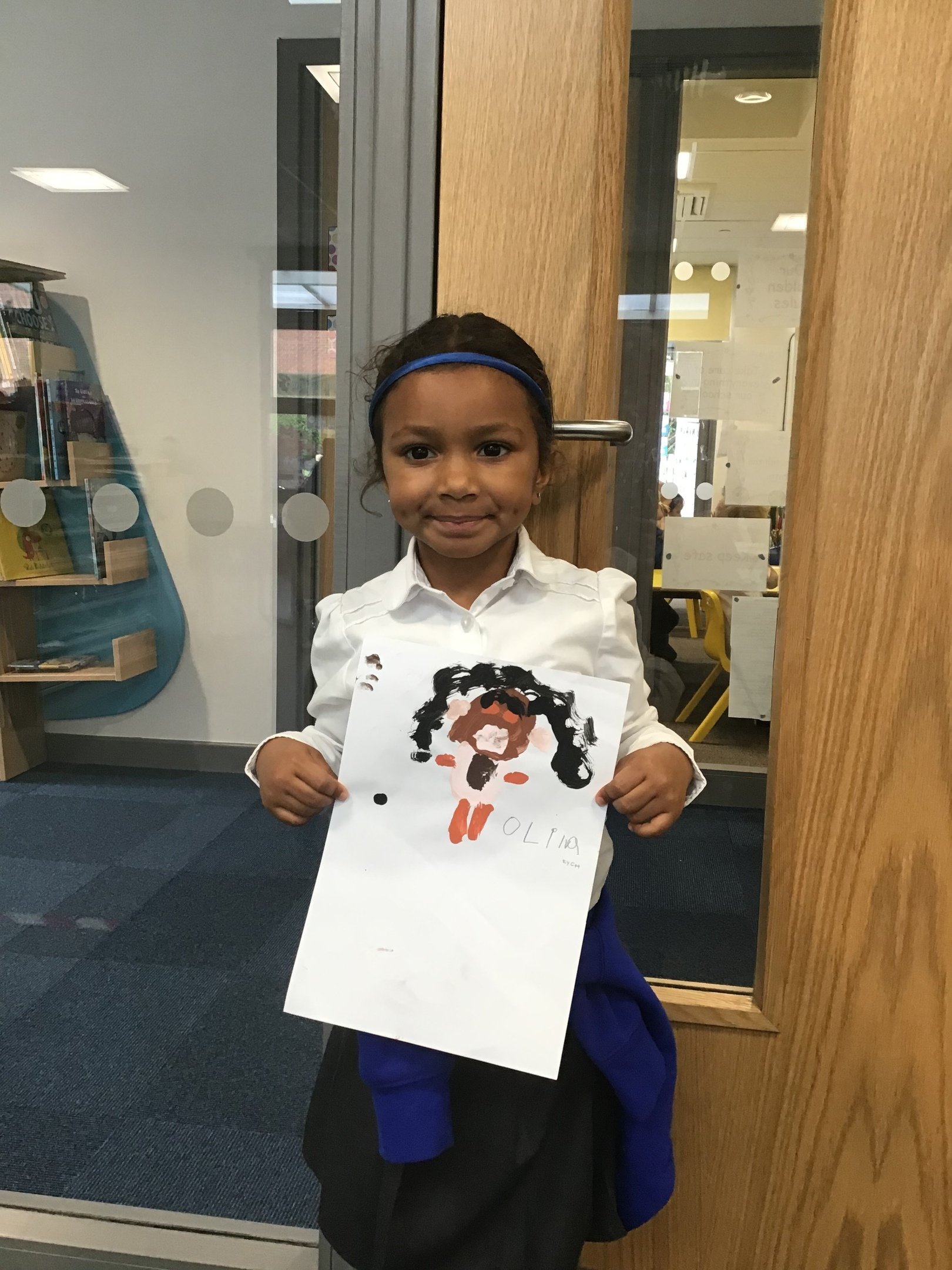 Painting self-portraits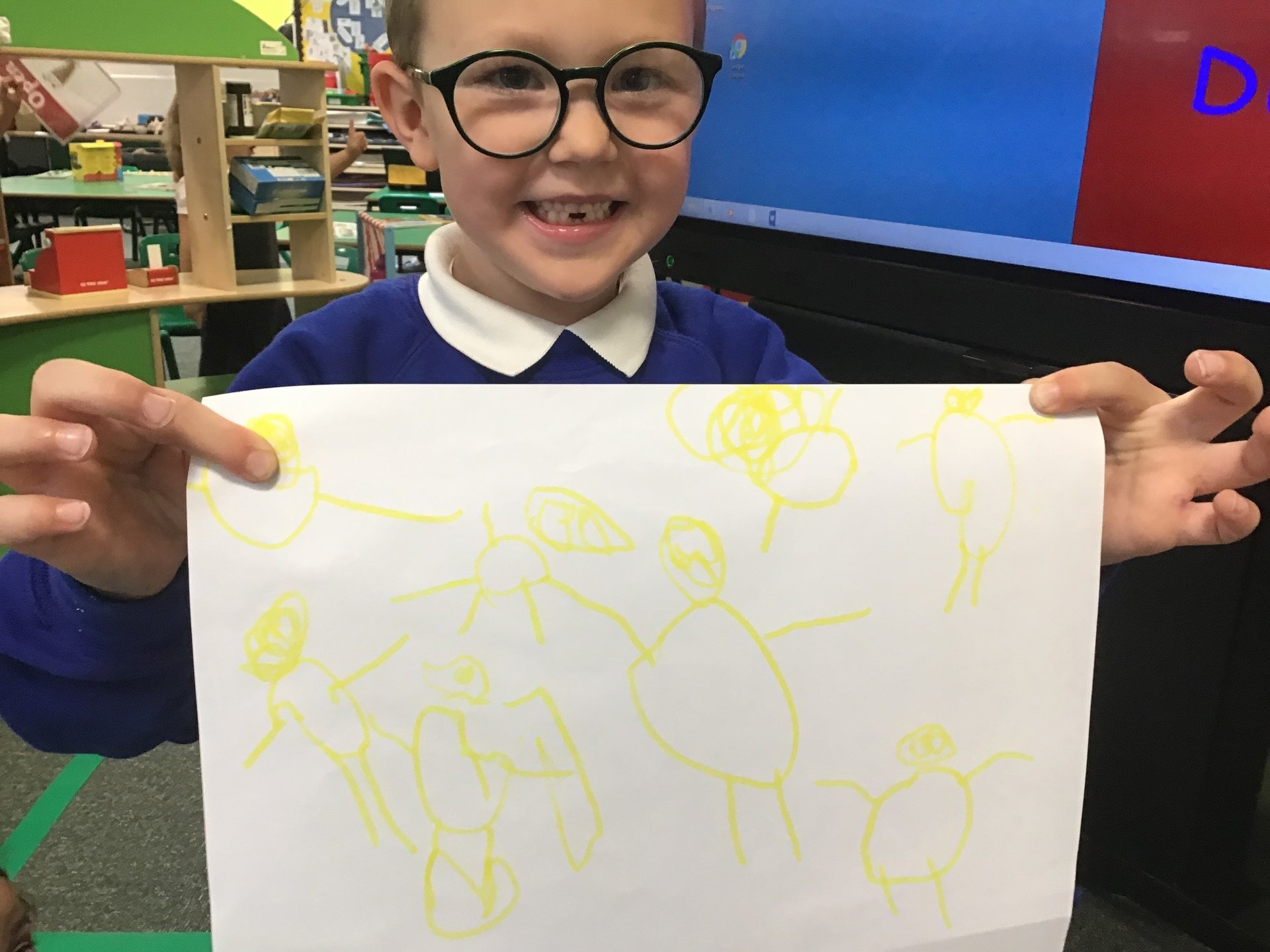 We have been talking about our unique families, sharing family photos and drawing pictures of our families.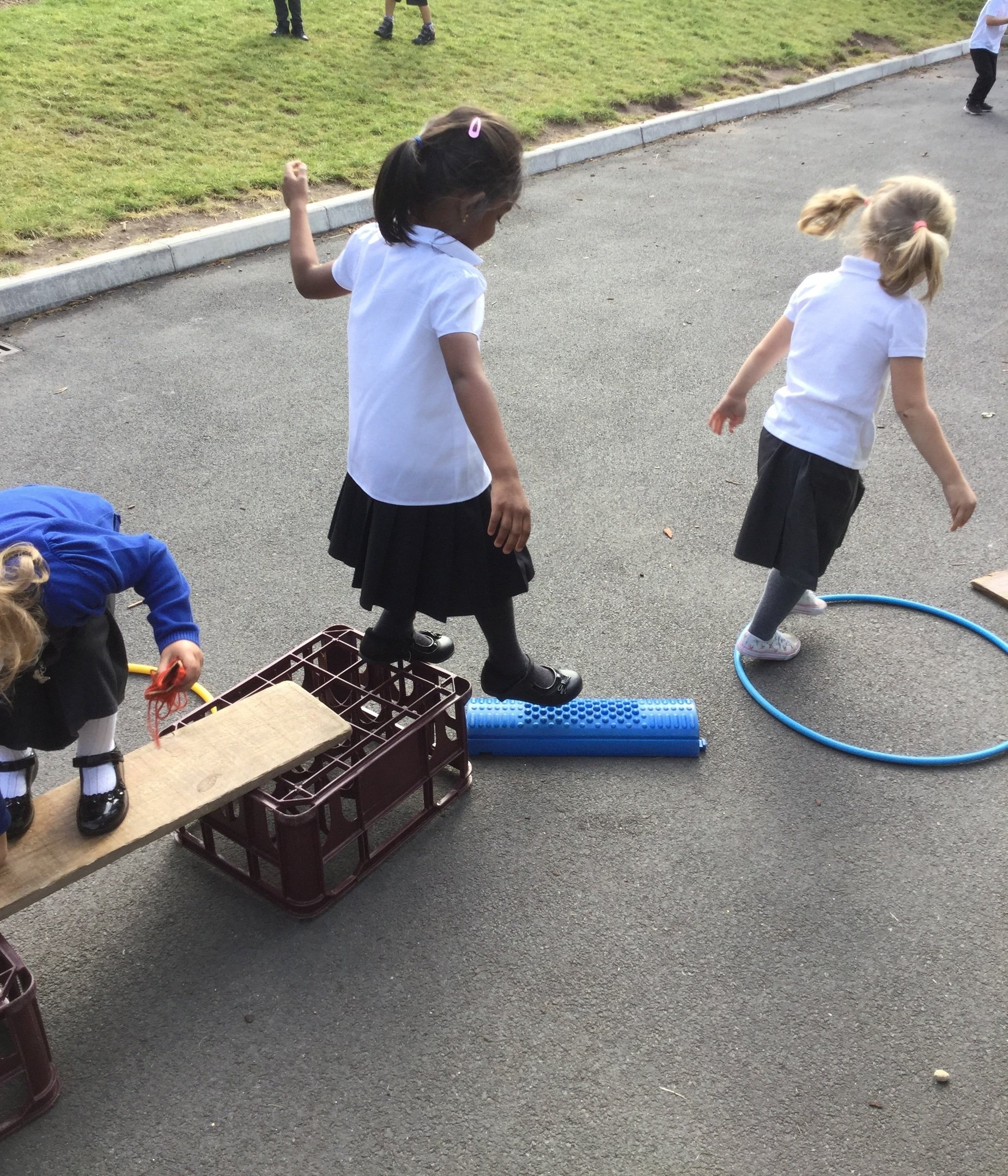 Creating and thinking critically to make our own assault courses.
Making new friends in the role-play areas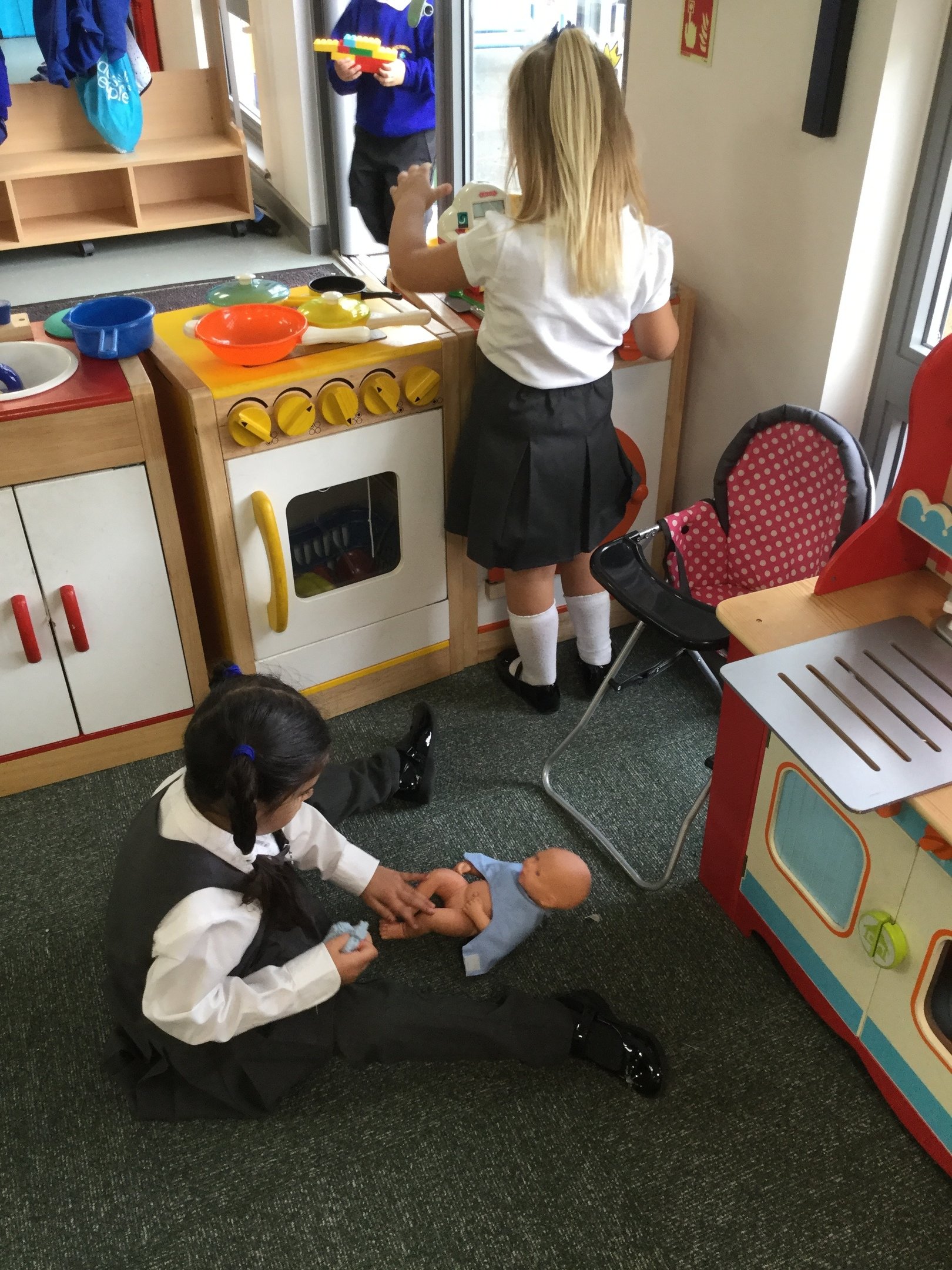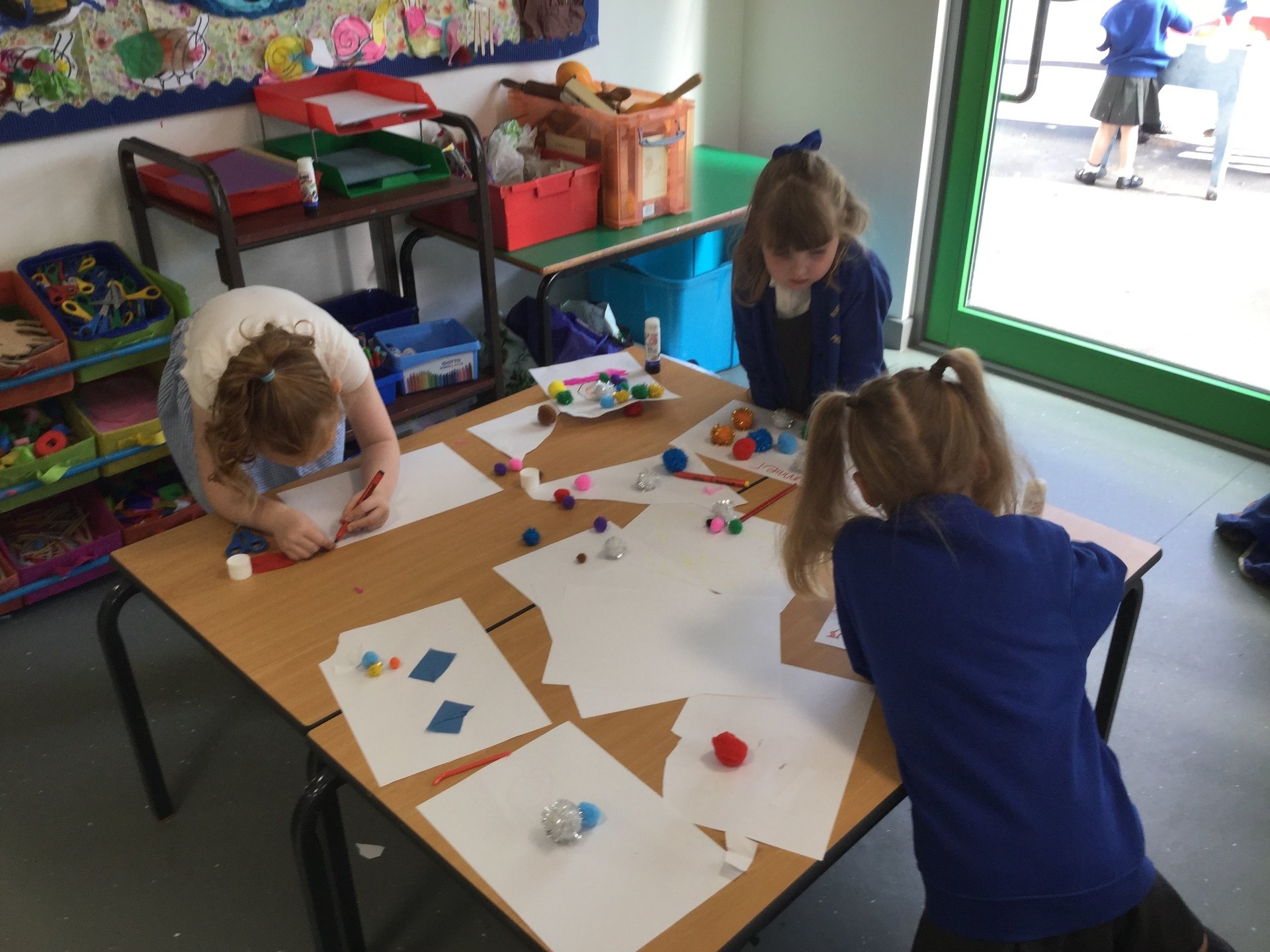 Being involved and concentrating to create our own artwork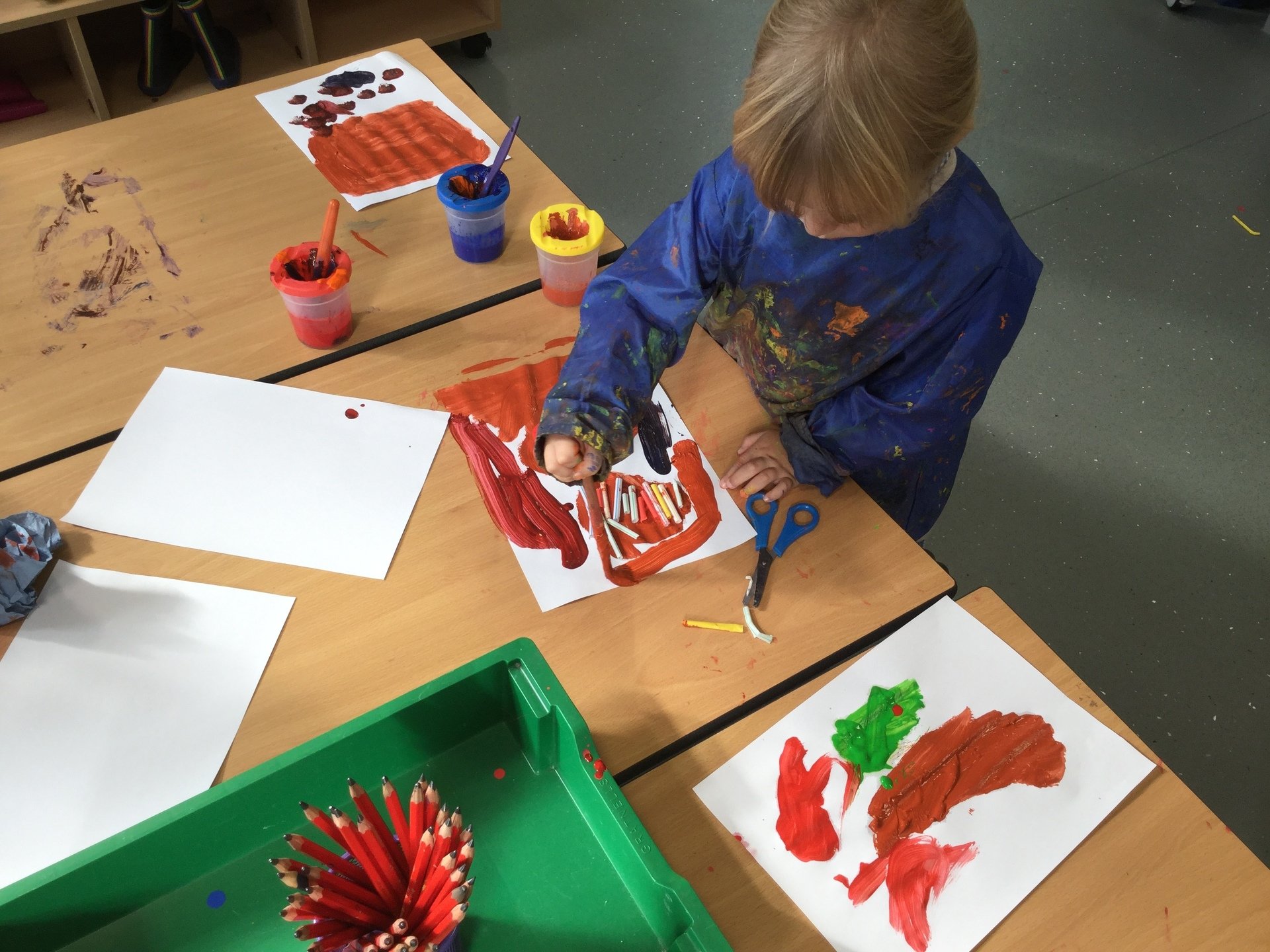 Have a look below to see our 2018-19 cohort.
Our topic for Summer 1 is called 'Why Do Spiders Eat Flies?' Click on the link to read the topic letter.
Topic Letter Why Do Spiders Eat Flies.doc
Have a look at some of the things we have been up to last half term.
We made Easter Bonnets with our families and went on a big parade around the school!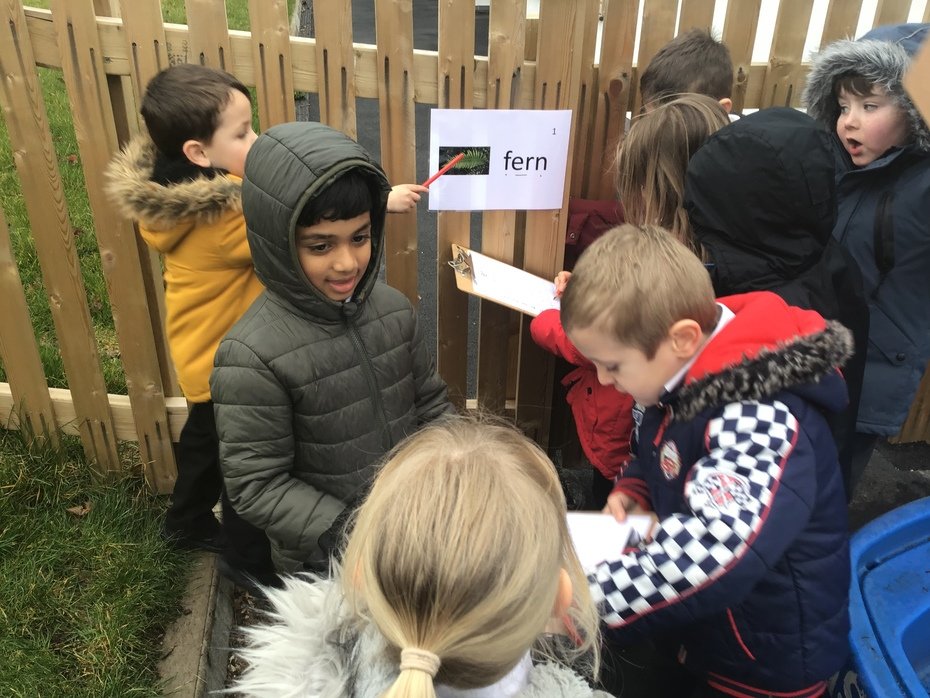 We love phoneme hunts! We hunted for the 'er' phoneme during 'Phonics for Families.'
World Book Day!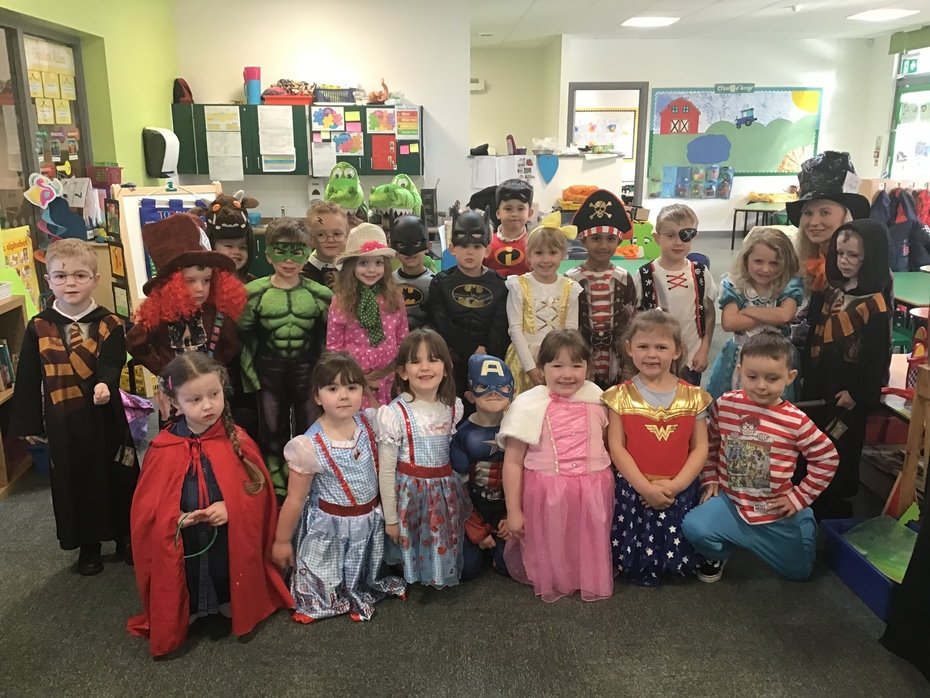 We shared our favourite books with our friends.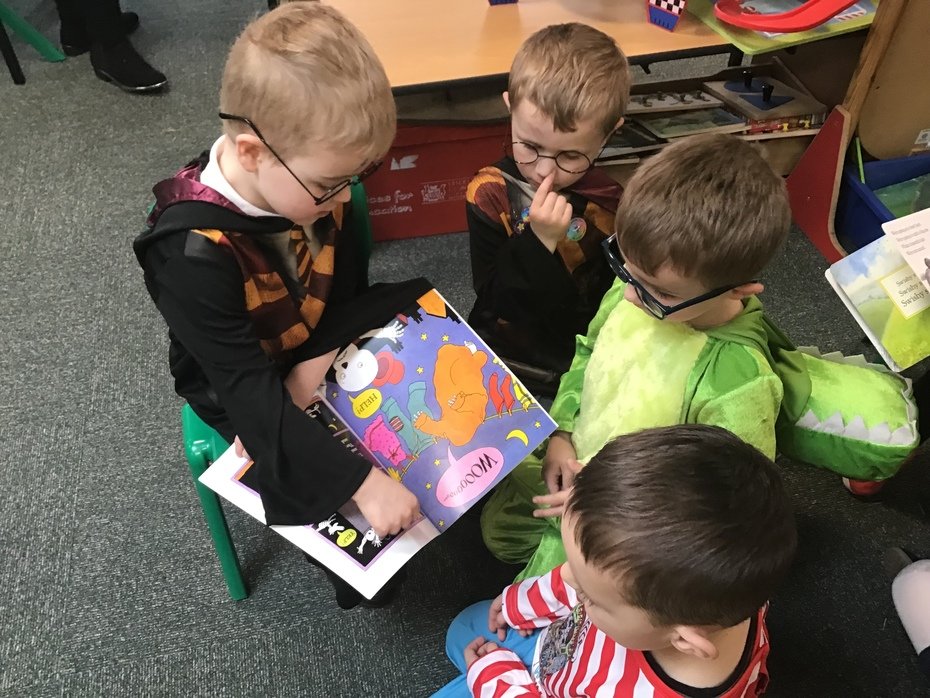 A fairy door appeared in the classroom!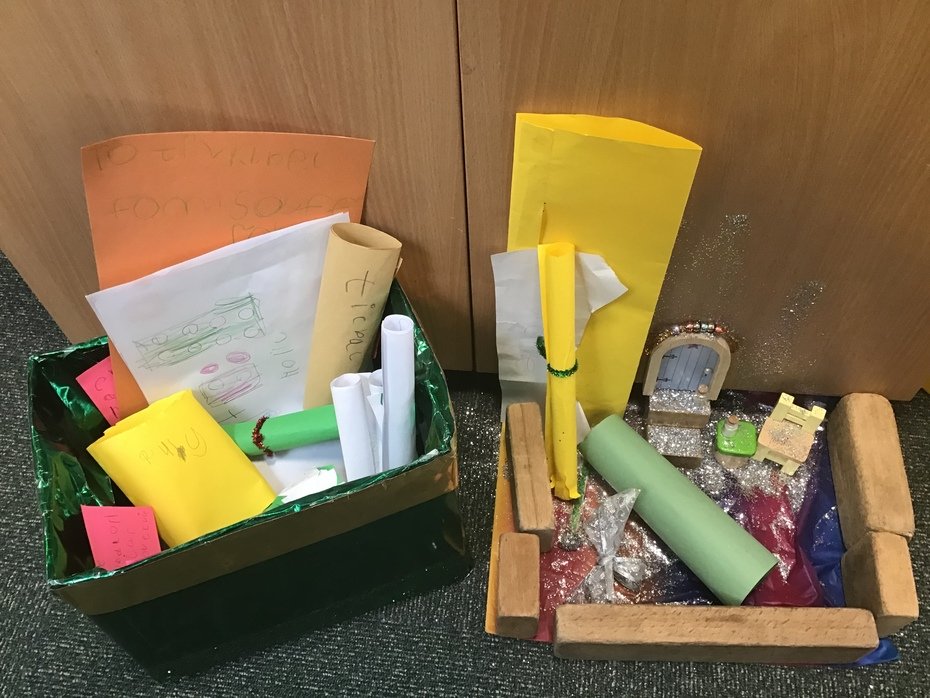 There was a letter from Tinkerbell. She needed our help.
We wrote back to her and showed her how to make different numbers.
We have continued with our Early Number Sense and have explored all numbers 0-20.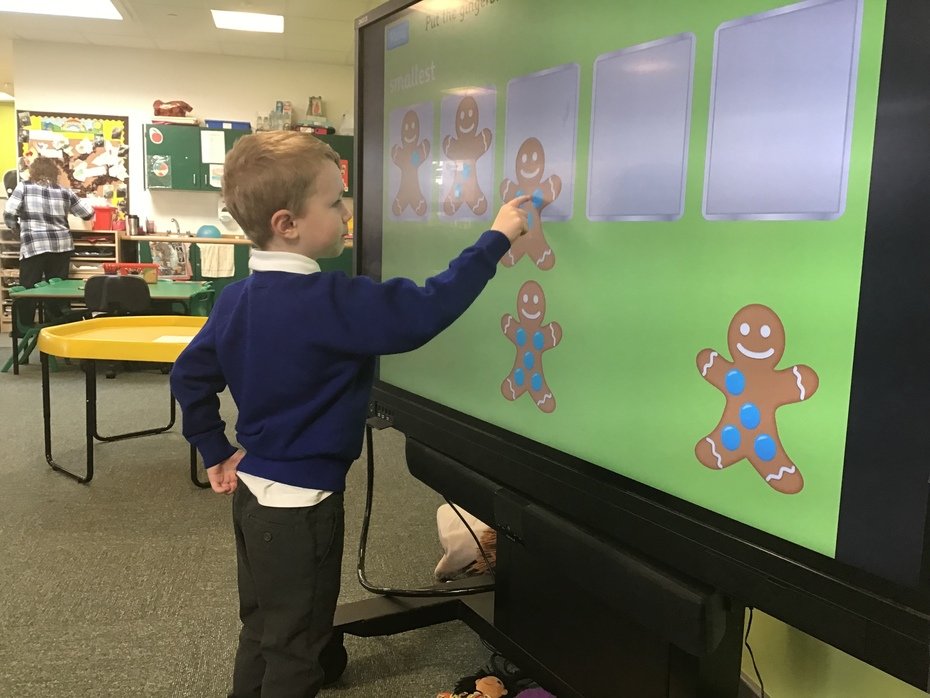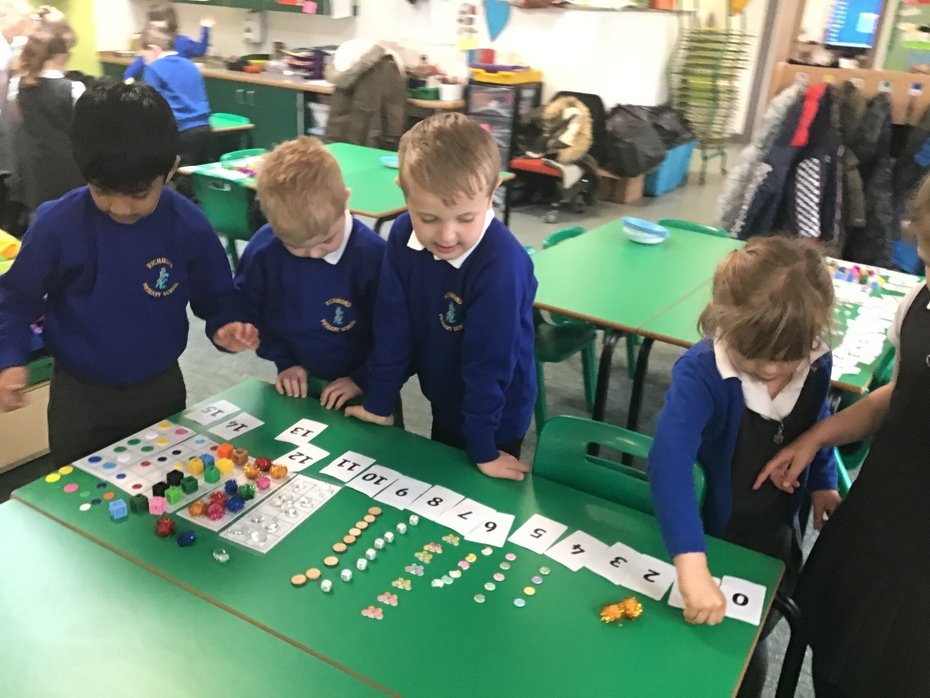 We continue to practise our letter formation in lots of different ways.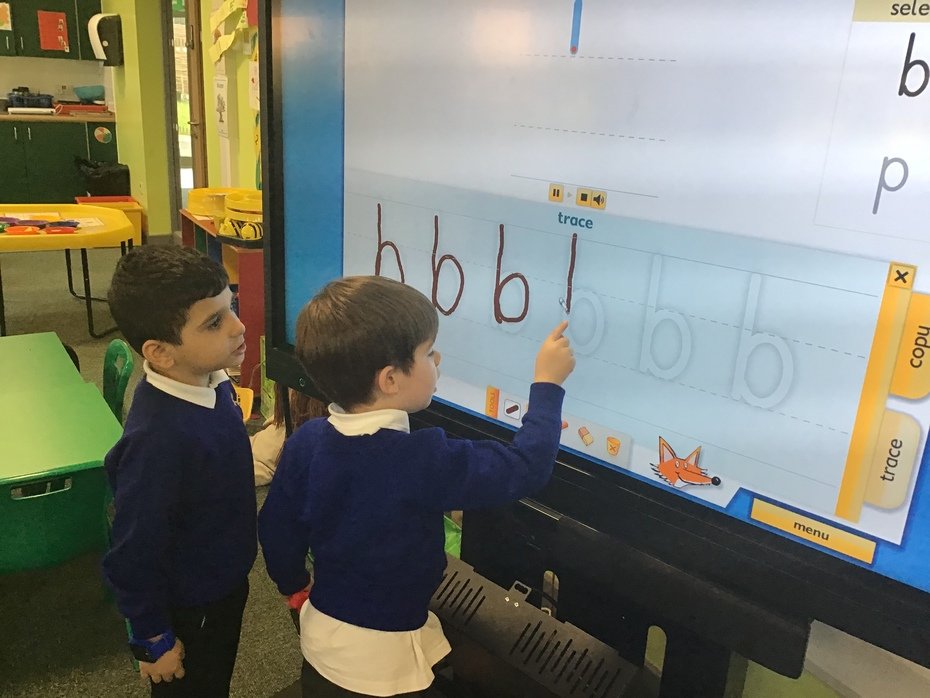 We have been practising reading and spelling with the letters and sounds have been learning in Phonics.
In addition to revising the sounds and words from Autumn Term and Spring Term we will be reading and writing sentences and trying hard to blend words with adjacent consonants like street.
See below to find out about some of the things we have already done this year.
One of our previous topics was called 'Did Dragons Exist?'
Topic Letter Did Dragons Exist.doc
Once Upon A Time Day!
We had a fantastic day. We dressed up as different characters, discovered some dragon footprints,
a letter from a dragon and some dragon eggs! We also had a visit from 'Tom the Tale Teller'.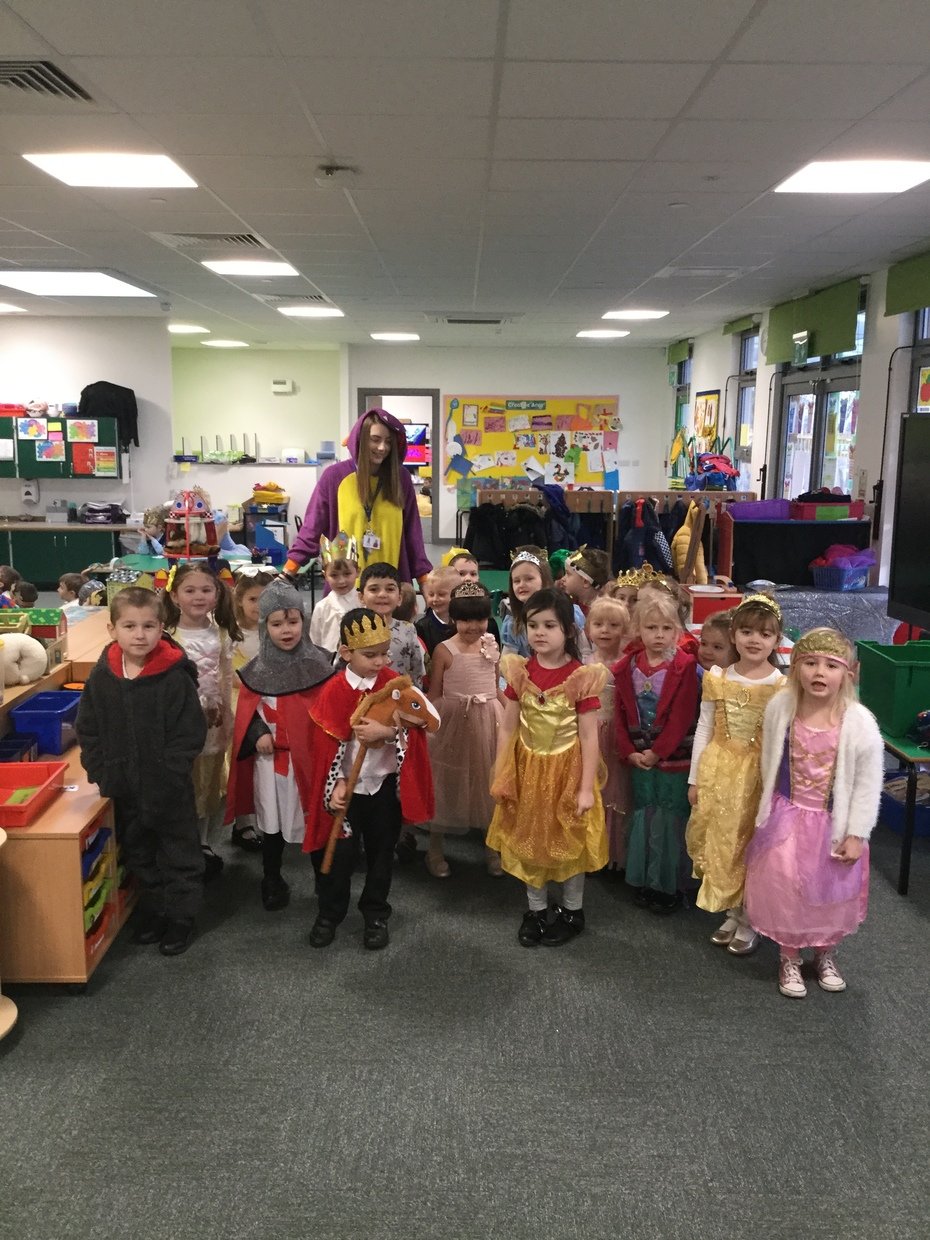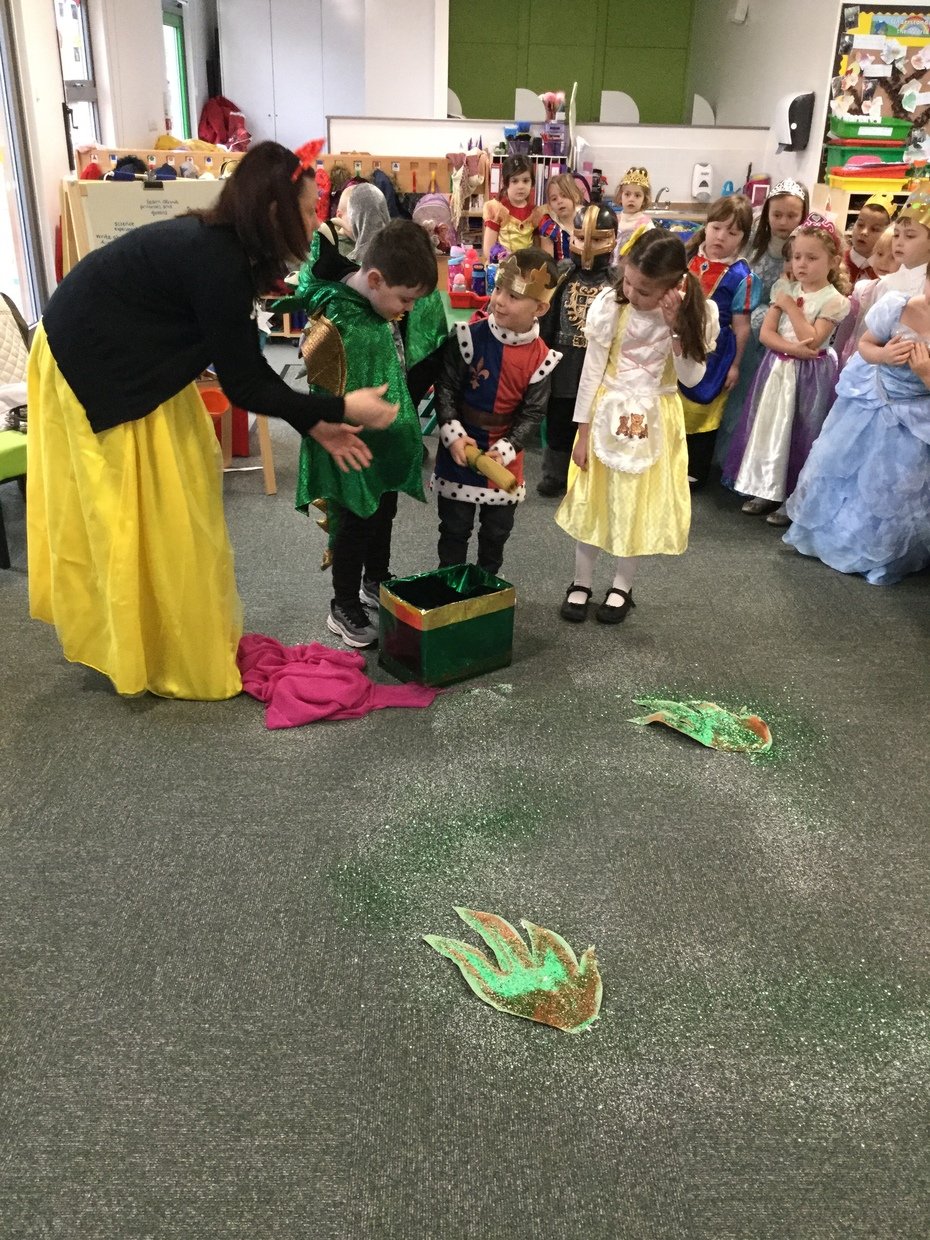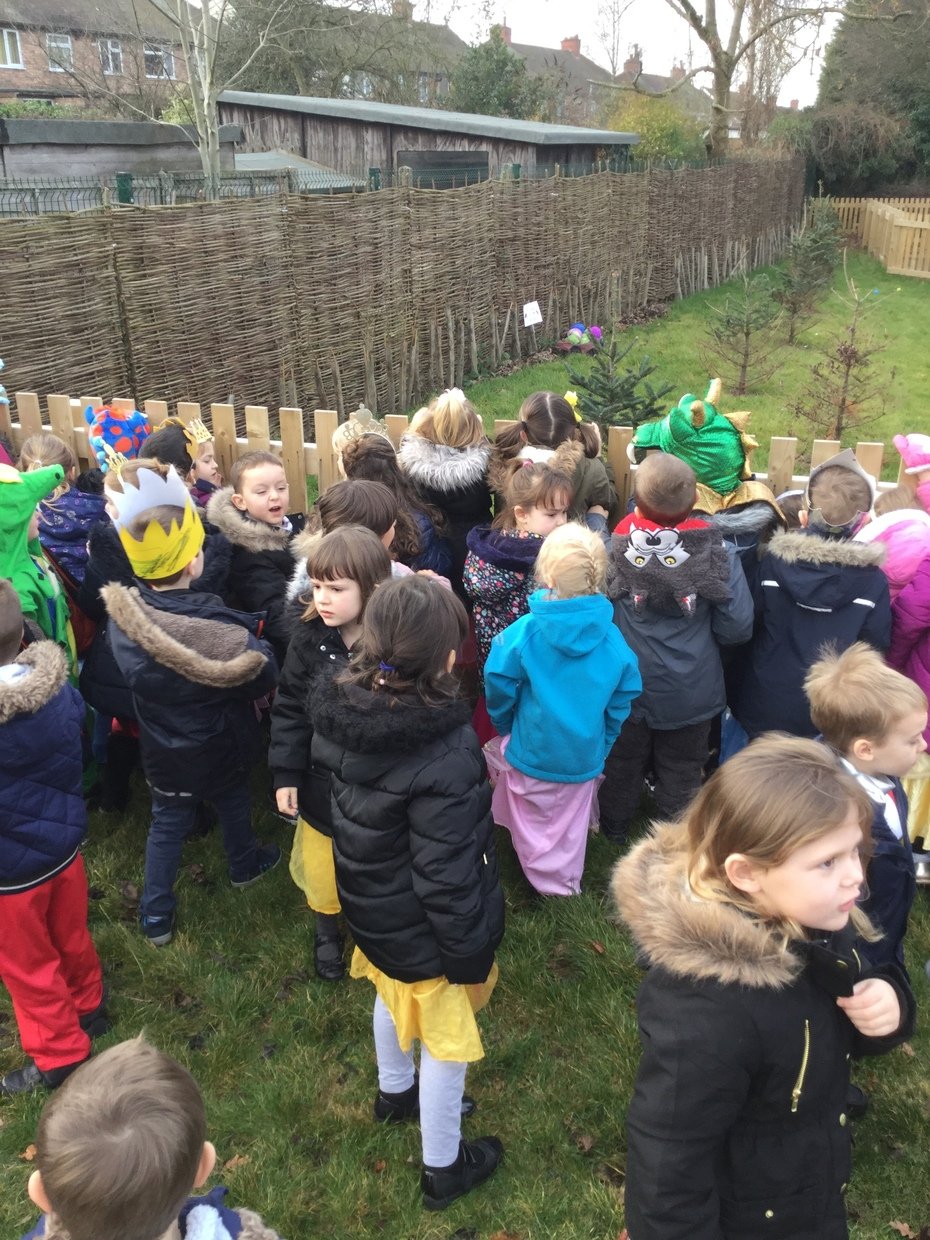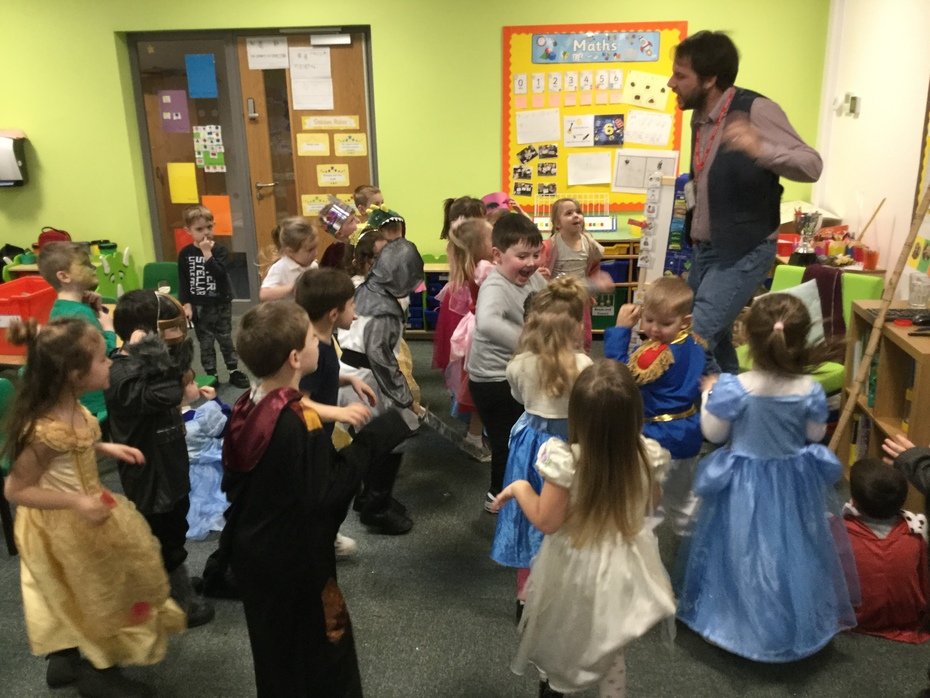 We love being outside!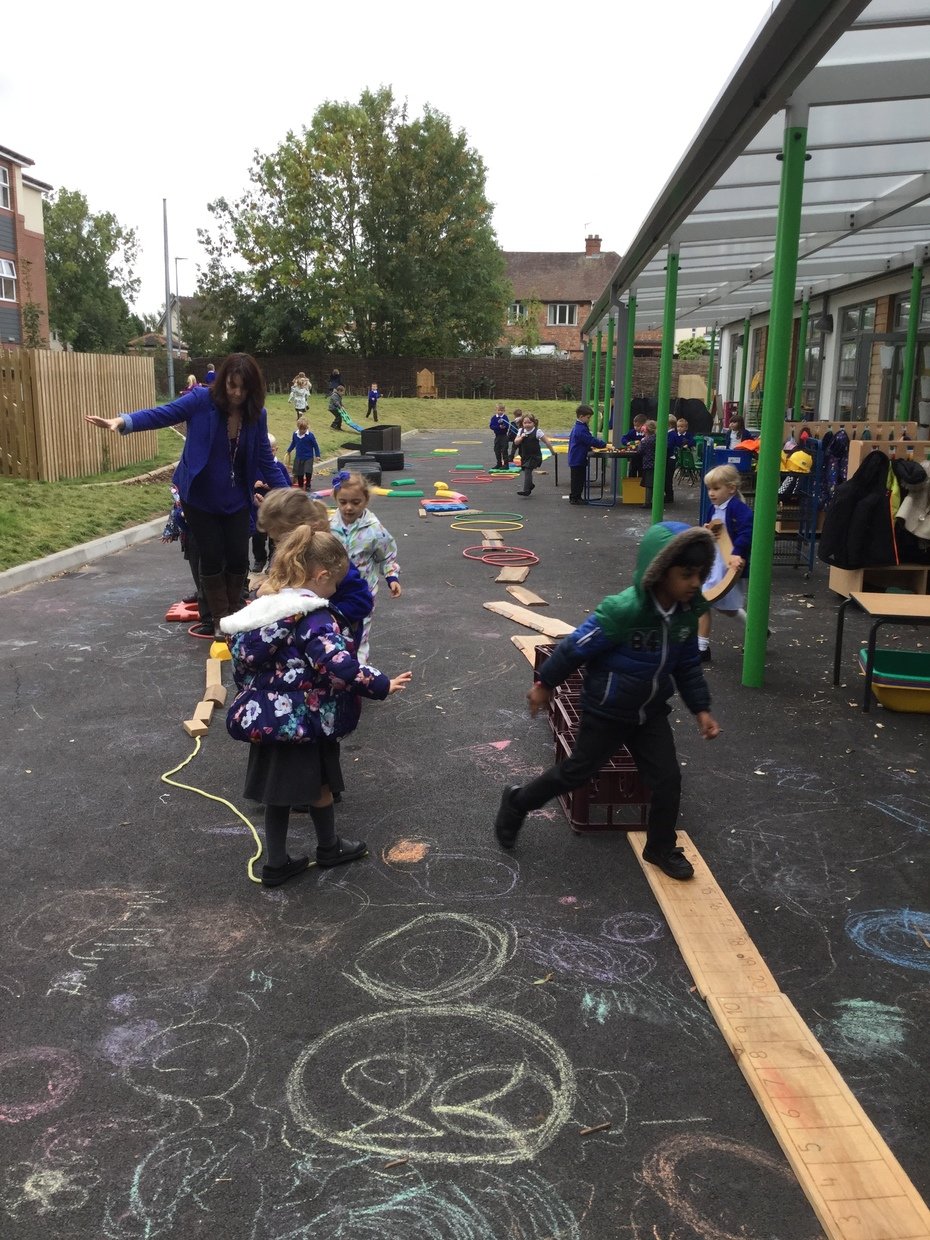 Building Assault Courses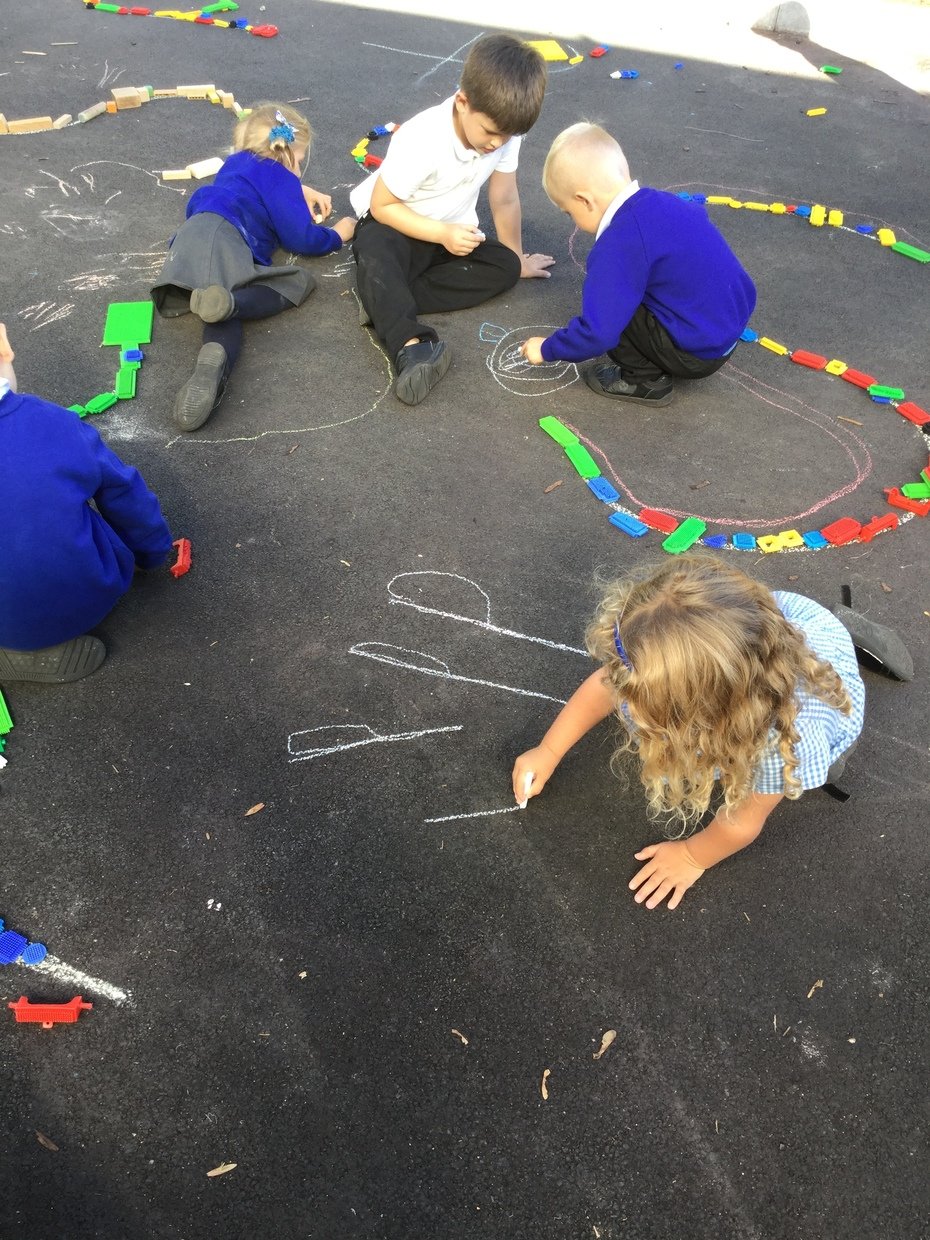 Handwriting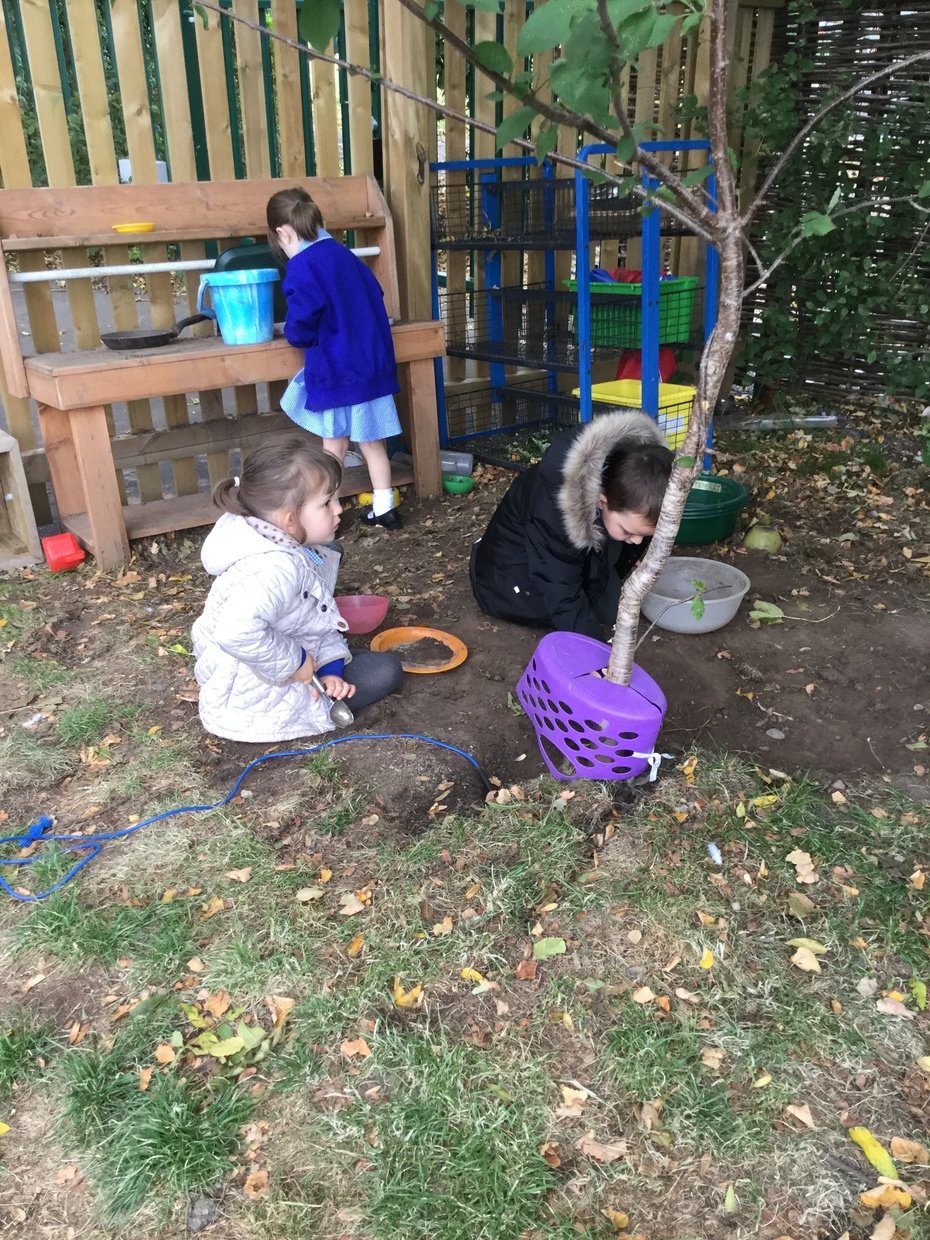 In the Mud Kitchen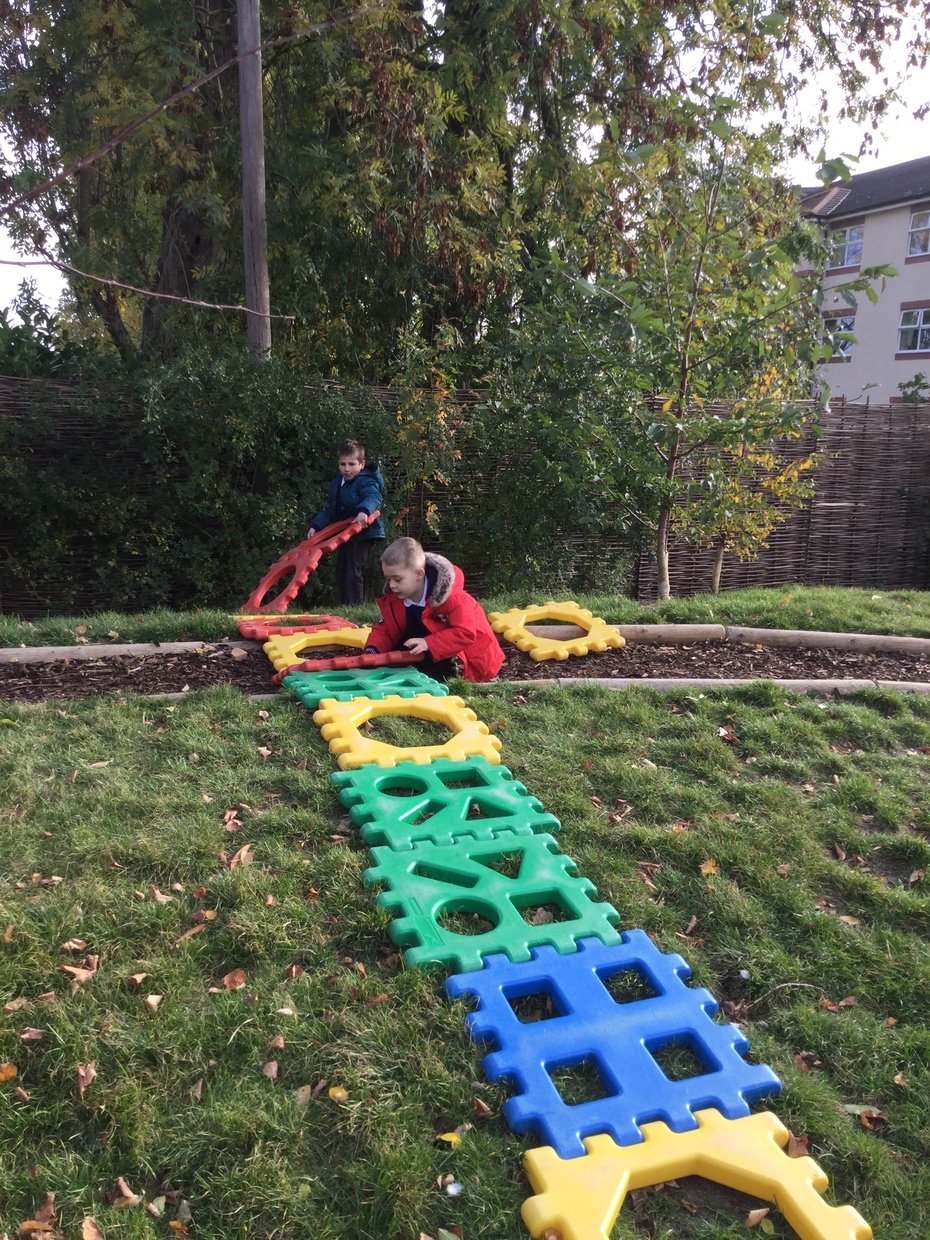 Constructing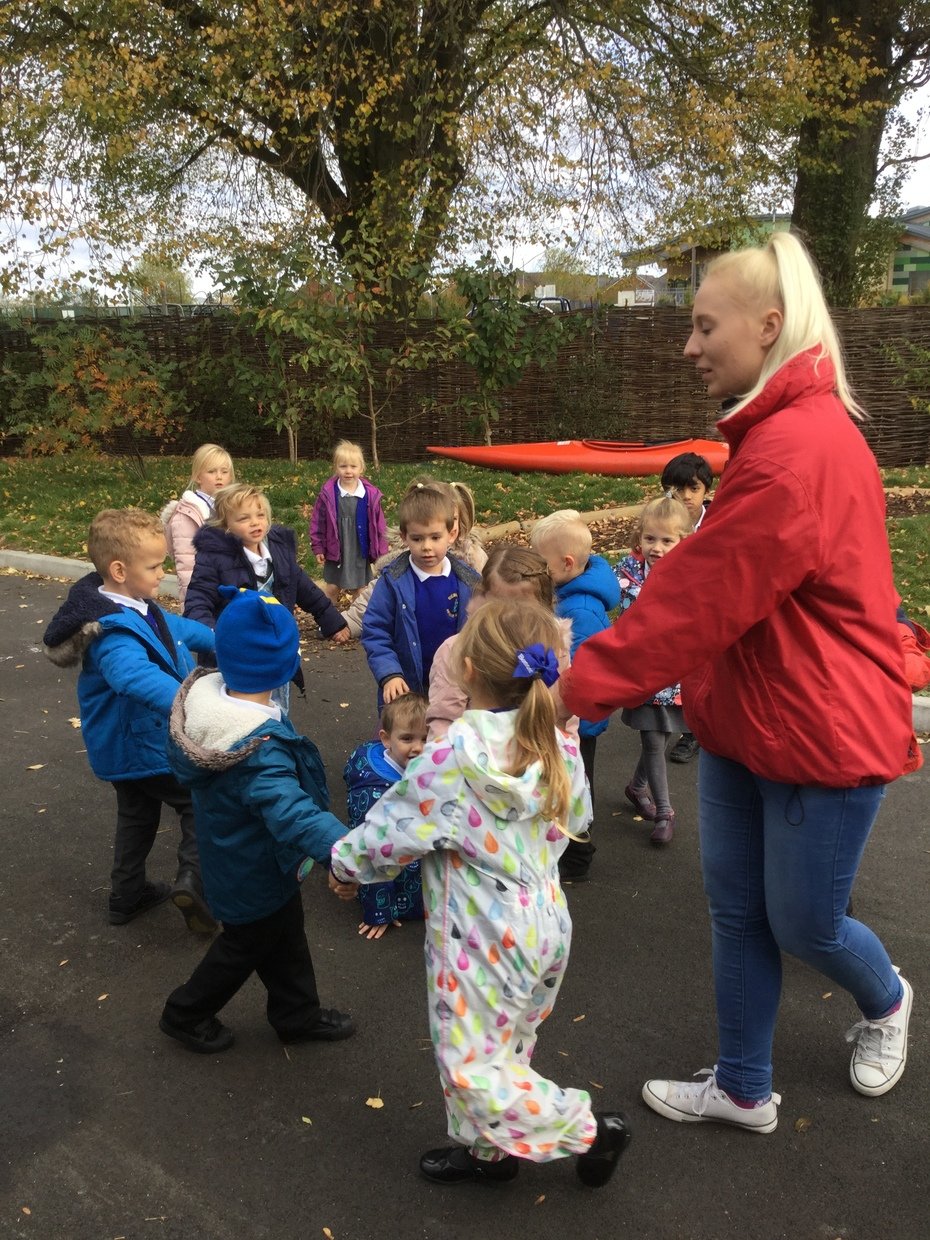 Playing games
We love learning about numbers and shapes. This term we are investigating 6, 7, 8, 9, and 10. We are also investigating hexagons, heptagons, octagons, nonagons and decagons.
Letter ref Early Number Sense for Parents.doc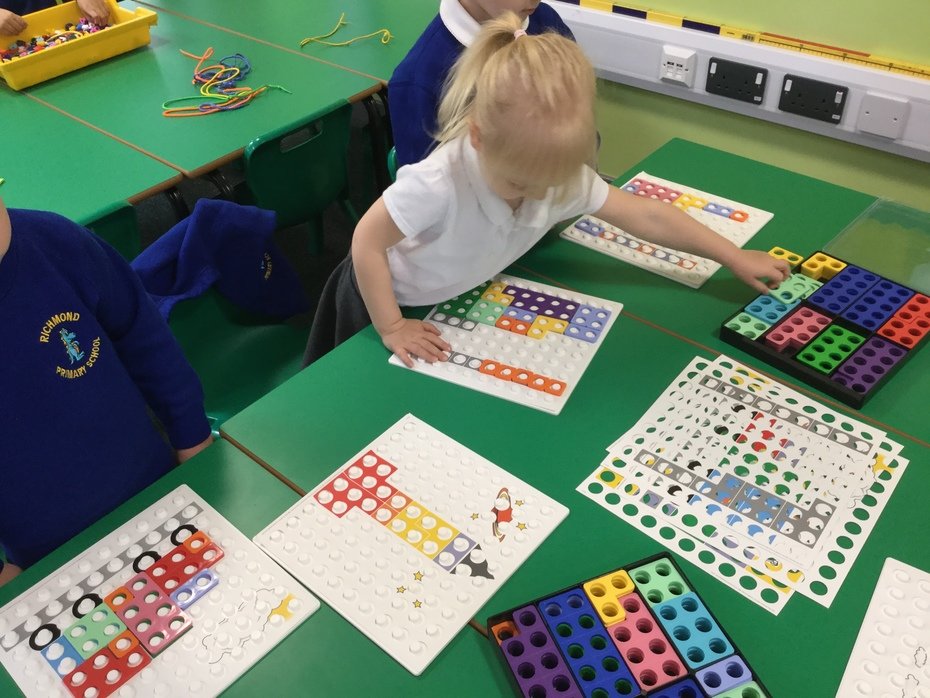 Numicon pictures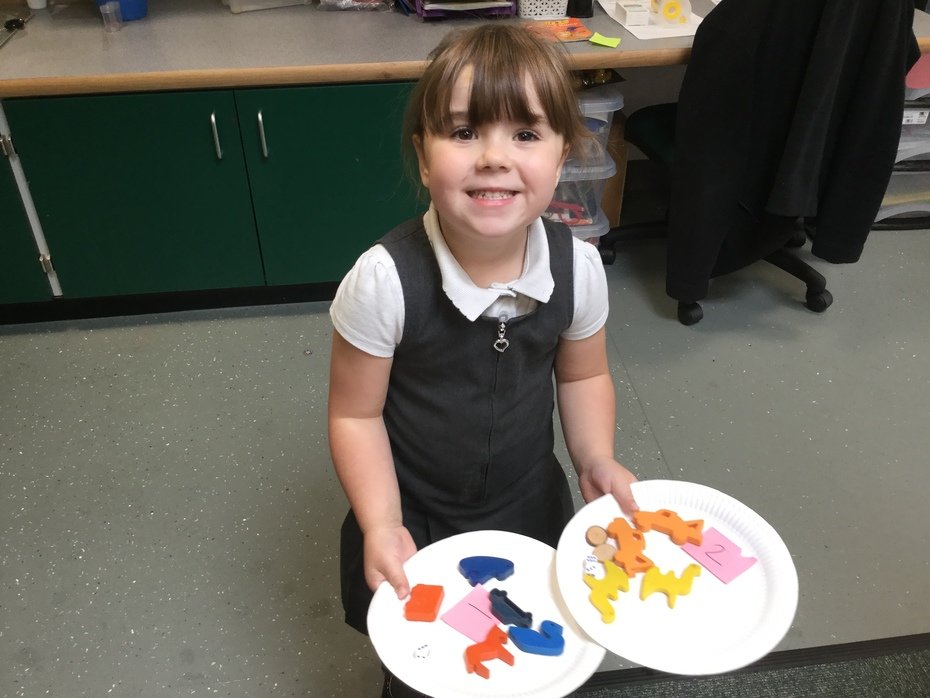 Collecting 1 and 2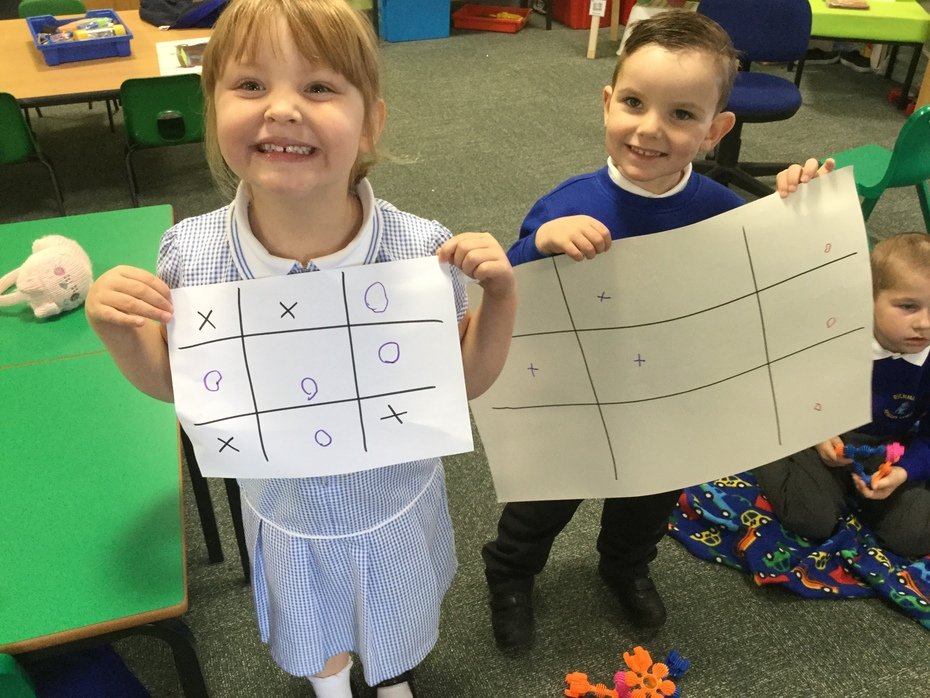 Playing 'Noughts and Crosses'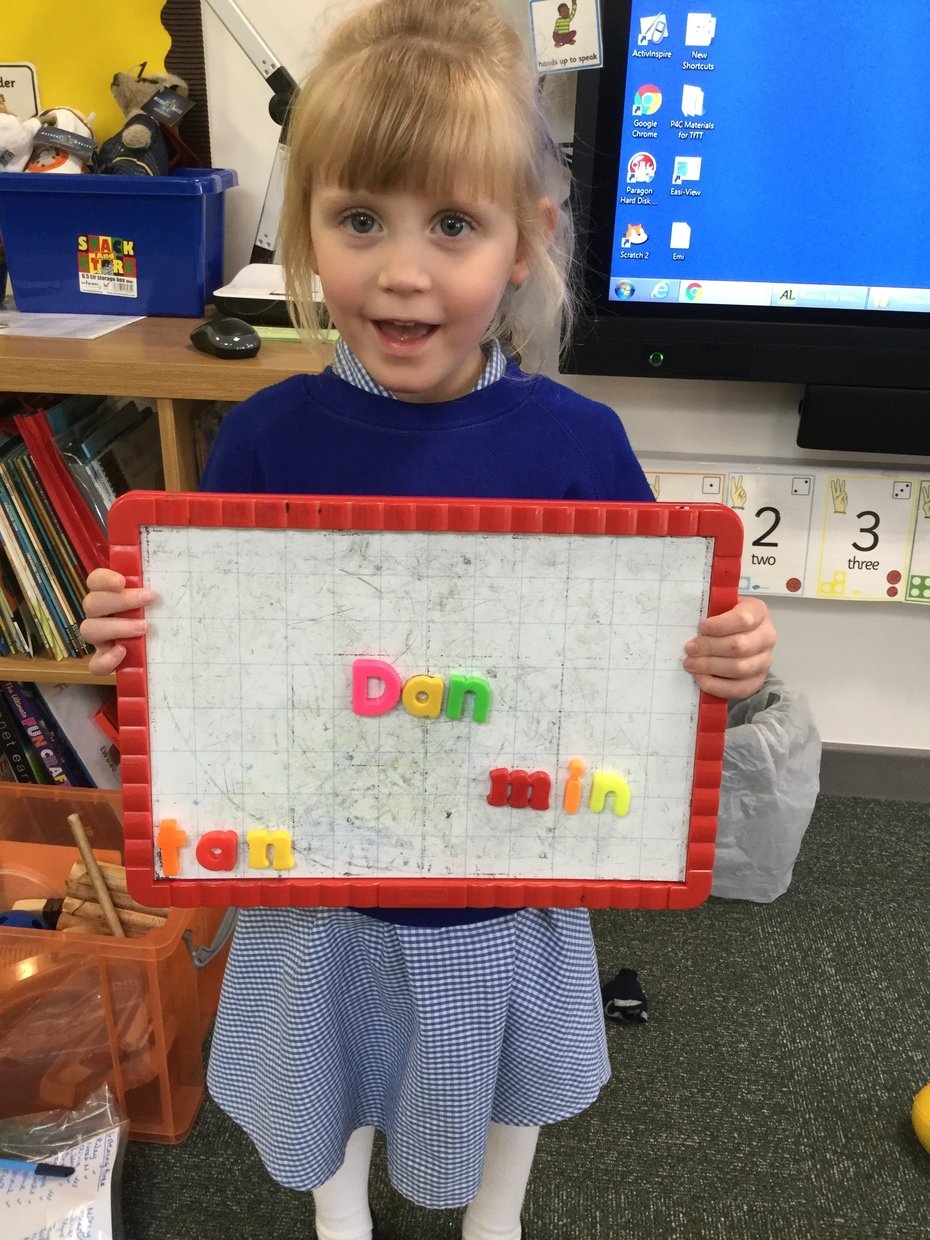 Building CVC words
We have been practising using our knives and forks at lunchtime.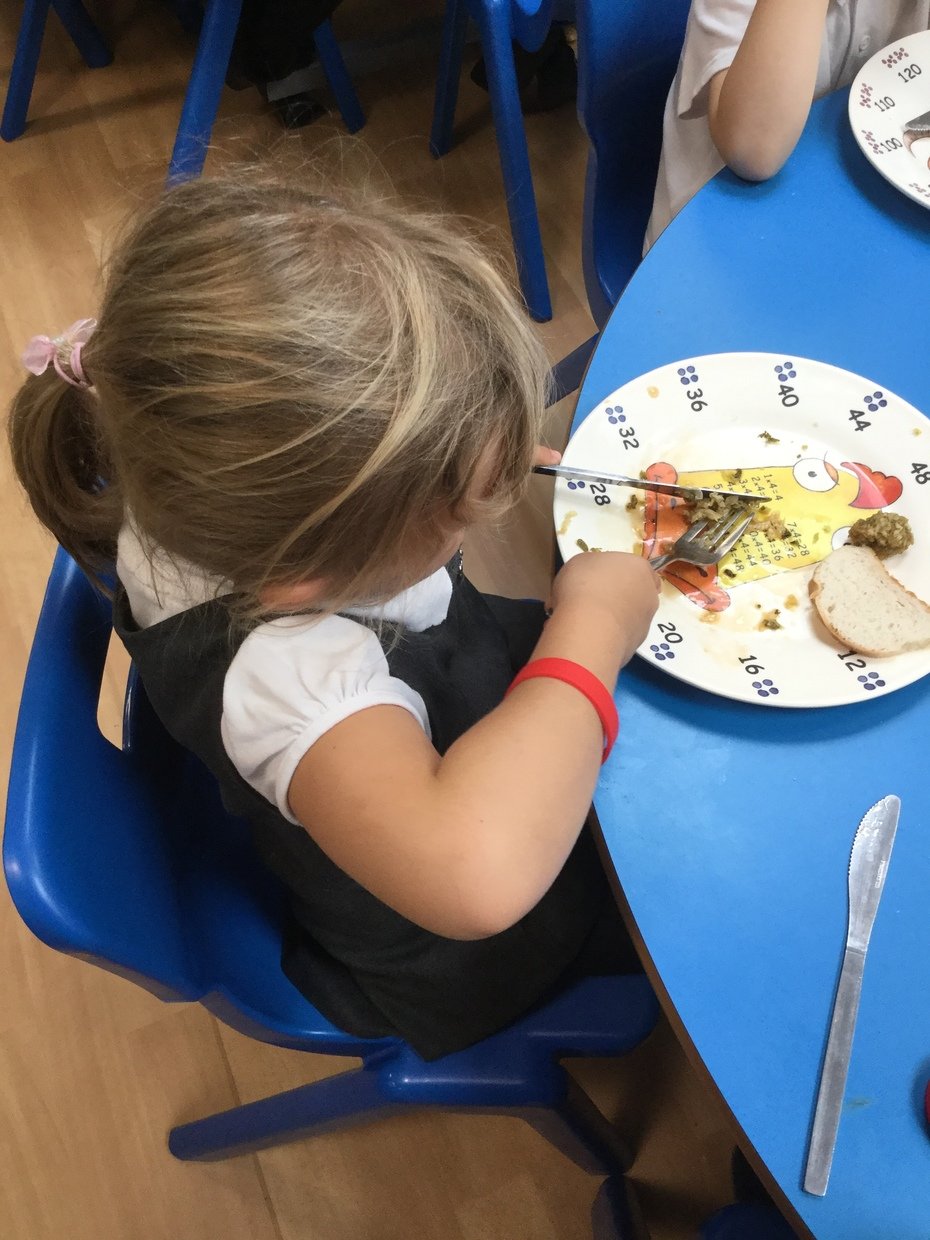 We love stories! We have been reading 'We're Going on a Bear Hunt', 'The Gruffalo'and 'Where the Wild Things Are'. We have also been retelling the story of 'Mr Wiggle and Mr Waggle' with actions and story maps.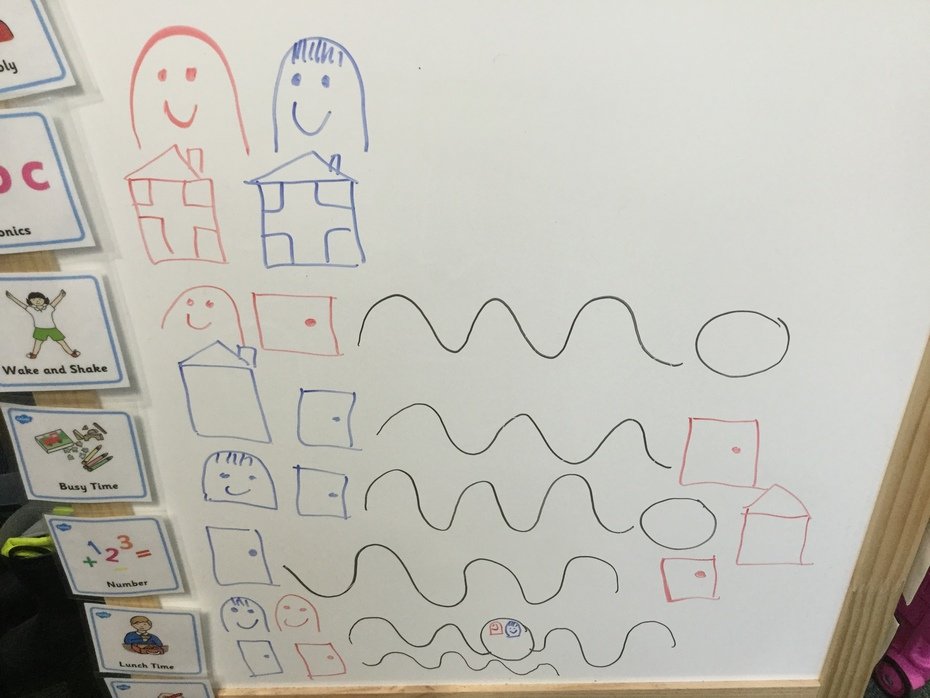 We love making things in our Creative zone. We have been making our own binoculars which we will use when we go on a Gruffalo Hunt! Some children decided to make kites this week as it has been very windy.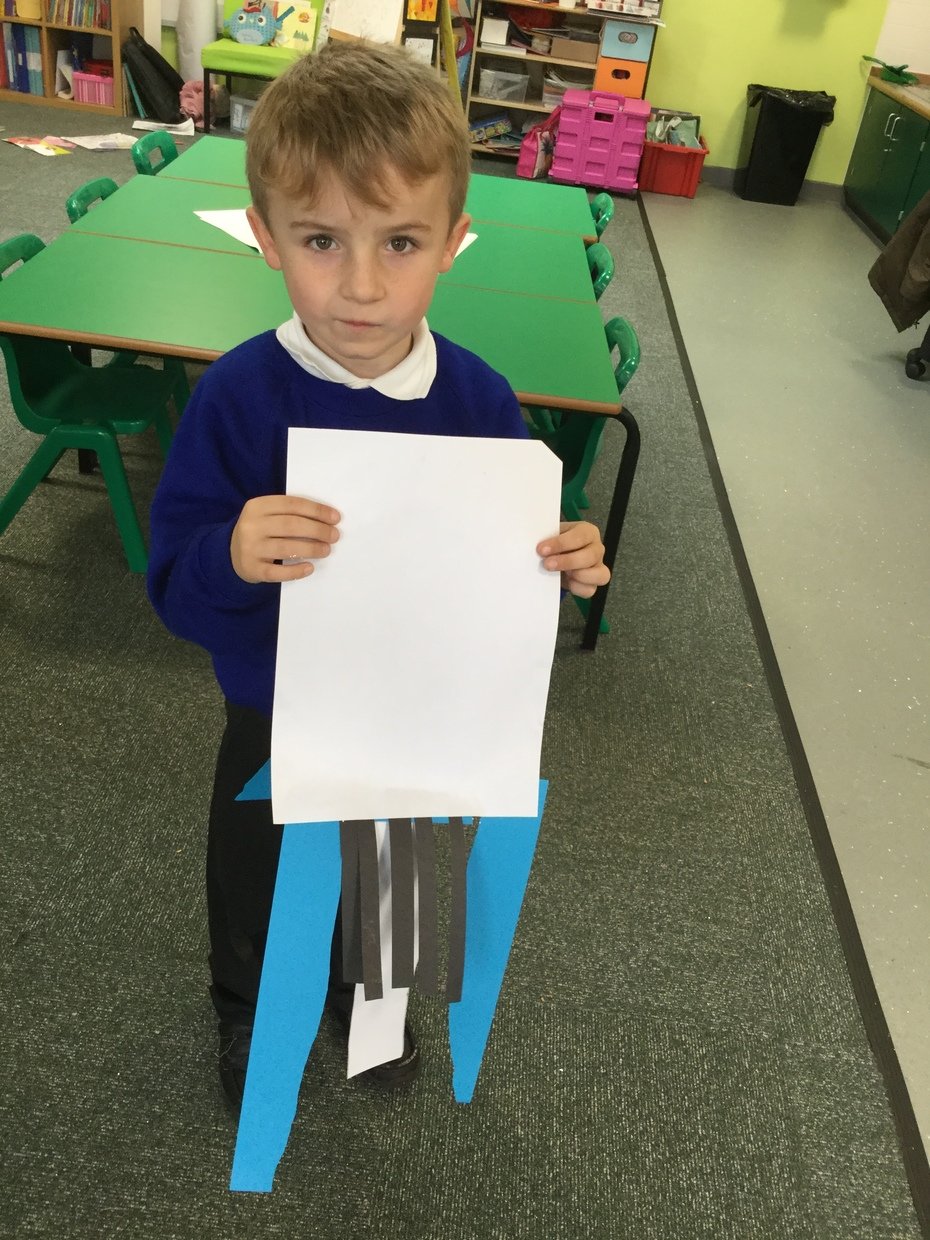 'Oscar Organisation' has been checking to see if we are being organised at 'Tidy-Up' time, lunchtime and when we are getting changed for PE.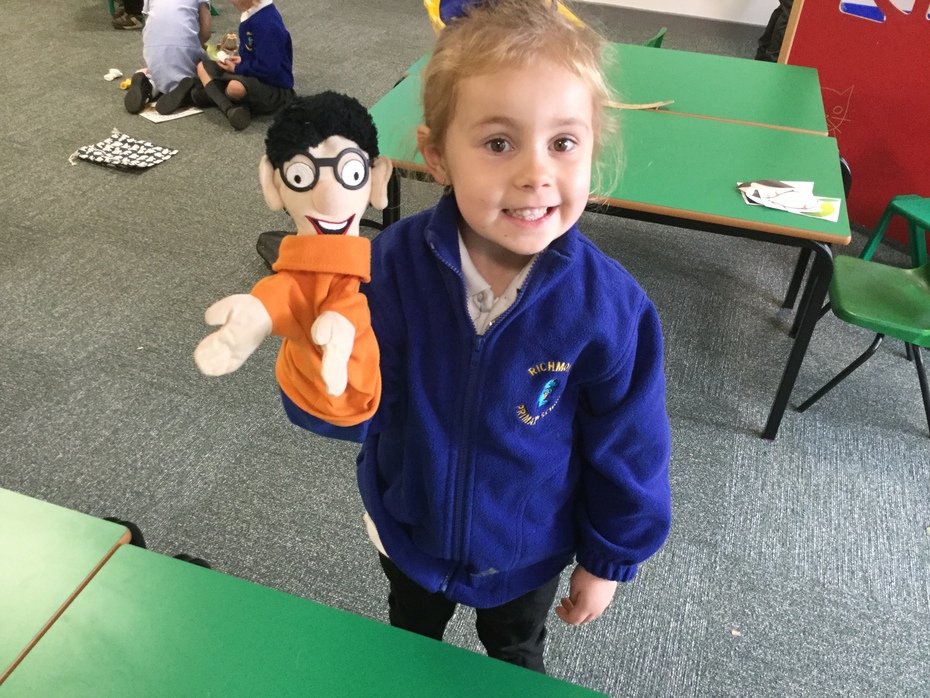 We love building different things with our friends and spend a long time concentrating.