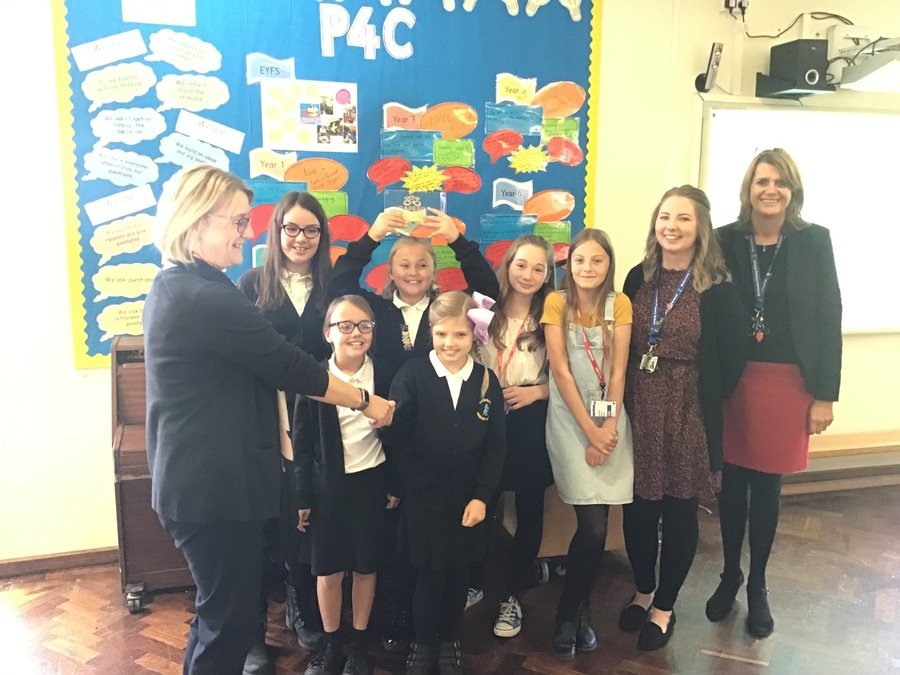 Philosophy 4 Children (P4C)
Welcome to our P4C page. P4C stands for Philosophy for Children, and is an approach to teaching and learning which encourages and develops children's caring, creative, collaborative and critical thinking skills.
It is these skills which enable children to be independent thinkers and learners across the rest of the curriculum.
On Philosophy Fridays, each class takes part in a discrete P4C session, and explores a concept or question which they created and chose themselves.
Richmond Primary School achieved the Gold Award for P4C in July 2019, which was awarded by SAPERE.
This recognises the school's commitment to P4C, and the progress that the children are making with their thinking.
-----------------------------------------------------------------------------------------------------------------
11.06.20 - The Philosophy Man resources
Just a reminder about the fantastic resources available on this website: https://www.thephilosophyman.com/brainsqueezers to get everyone thinking at home! The Philosophy Man also has a Youtube account and posts videos on it posing philosophical questions and discussion starters for children to think about and get involved in. Some are aimed at KS1, some KS2 and some are aimed at older children, but this is always stated in the title or description of the videos.
More ideas and websites to support Philosophy at home are also still listed below :-)
Enjoy!
--------------------------------------------------------------------------------------------------------------
-----------------------------------------------------------------------------------------------------------------
Great websites to find games and activities to do at home - no P4C exeperience necessary!
It's really important for us all to have time to think deeply - especially at the moment.
Click here to access activity ideas from SAPERE - filter your search by clicking 'at home'.
One of our favourites is this 'What's more important' activity you can do when doing every day jobs at home.
This website here is also great for ideas to do at home, and is regularly updated.
We'd love to know if you do any of these activities! Please leave us a comment in the guestbook below.


-----------------------------------------------------------------------------------------------------------------
P4C Home Learning projects
Below is a list of ideas to keep children thinking deeply whilst not at school. They are organised by year group, but really children could do any of the activities they are interested in.
There are games which are 10-minute time fillers, concept activities which children could do alone, questions to discuss as a family, or projects which will keep children busy over the course of a few afternoons.
P4C Home Learning activities:
-------------------------------------------------------------------------------------
Website Wonders
If you have a discussion at home about our 'website wonder', we would love to hear your thoughts!
Please use the Guestbook below. P4C Champions will look through the comments.
Website wonders will be updated regularly to give you something fresh to discuss! They will be based on discussions we've been having in school.
If you want even more to discuss, then you could find out from your child's class teacher what they've been discussing in their P4C sessions.
Website Wonder themes:
W/C 10.02.20: Childhood, adults, power, leadership.
"We are missing our lessons, so that we can teach you one!" was a quote on a poster held by young adults at a protest.
Should children or adults get to decide what is taught at school? Who knows better?
W/C 10.02.20: LOVE!

It is 'Wear what you love' day in school on Friday for Valentine's Day, and as a whole school we are doing a P4C day around the idea of love.
Some year groups are thinking about treasure, some about family, and some about whether love really is all you need!
See individual class teachers for what they are doing specifically in class.
We'd love to hear your thoughts!
W/C 03.02.20: health, responsibility, power.
Lots has been in the news over the last couple of weeks about health. Some of us have seen that travel has been reduced in some areas to try and stop illnesses spreading. Were were wondering: who helps you when you feel poorly? Who should make the decisions about what is best for our health? Should travel be stopped to help reduce illnesses? Who should decide this?
W/C 20.01.20: trust, social media, real, fake.
Facebook has revealed a new policy of theirs, where they are removing any videos where Artificial Intelligence (AI) has been used in a way which may mislead viewers to believe someone said something that they didn't! We'd like you to think about whether some websites are more trustworthy than others? How do you know if something is fake? Have Facebook made a good decision? How important is trust online?

W/C 02.12.19: democracy, fairness, equality, rights.
We have been starting to think about democracy in school, and will be continuing to do so. What does democracy mean to you? How does democracy impact our lives? Is it important to always have someone in charge? What would life be like in school if we didn't have rules? What would it be like if there was no one in charge?
W/C 18.11.19: kindness and friendship.
Last week was anti-bullying week, so it has got us thinking about these concepts. Is it better to be kind or thoughtful? What's the difference? What makes a friend, a friend? When does someone turn from a stranger to a friend? Do we always have to play with our friends?
W/C 28.10.19: plastic, pollution, damage, environment and responsibility.
A few children in school have been encouraging us to think about plastic and pollution. Do you think we should reduce plastic use? Why? What impact might this have? Would this ever be hard? Is there a time when reducing plastic might not be a good thing? Whose responsibility is it to look after the planet? What consequences might reducing plastic have?
Comments (6)
Show Comments
sophia (5jl)
(about a year ago)
i love p4c its nice to have an indepth talk with everyone in our class and to be able to know other peoples thoughts and opinions it makes you think about other people and not just your self
Lexie (6MP P4C champion)
(about a year ago)
Wow! I love how you have stepped up this website and I love it! This is very nice. I love looking at this page because I love my role as P4C champ! Thanks xx
Mrs L
(about a year ago)
I totally agree Leanne & Lex! Have you got any ideas? :-)
Leanne
(about a year ago)
Hi i think we should try and get people to start and use this website and try and get more people than last year! (and did you also know adults can write on to!!)
Lexie P (6MP)
(a couple of years ago)
Hi!!!!! I think for this year that we should update the page and got above and beyond with it!! Xx
Laurrie ( filled in buy her Mum!)
(a couple of years ago)
Laurrie says the diffrence betten wants and needs is u need things to survive! Wants u can live with out! She aslo says it takes alot to be a leader and we are all leaders in some way-we all have hard choices to make. And the world without leaders would be messy! These are great topics for duscussion-got us talking and thinking! (Laurries Mum)
--------------------------------------------------------------------------------------------
Our recent news and P4C updates...
Friday 6th March 2020
Our P4C Champions have been busy thinking of some new 'warm-up' games we can play in our P4C sessions. They could also be played at home if there are a few of you! They've ranked the games out of 10, and said which Thinking Skill the game is good at developing.
They will be sharing all of this, and showing everyone how to play some of the new games, at one of our upcoming Leaders' assemblies. We hope you enjoy playing them and that they get you thinking!
Monday 3rd February 2020
We just wanted to say a huge thank you for all of the families that supported us by coming to our P4C Open Afternoon for Year 2 and Year 3 on Friday. We were overwhelmed by how many people turned up! We hope you enjoyed the opportunity to see some P4C in action and were impressed with the children's 4C Thinking Skills.
We'd love to hear your feedback! Please leave us a comment in the guest book on this page.
Next in the diary: Philosophy Friday on 14th February 'Wear What you Love' day. More info to follow!
Monday 20th January 2020
Hi everyone. We hope you've all had a good start to the new year! We've already had lots going on in P4C across the school and are looking forward to a whole school Philosophy Friday before half term. We have got plenty of parent open afternoon dates in the diary for children in all year groups, so look out for letters being sent out with more details on. We've tried to spread out the dates, with one being each half term.
Tuesday 22nd October 2019
Thank you to everyone who came to our parent meeting this afternoon. We enjoyed the discussion about worries, anxiety, age and social media. We have taken your ideas on board, and will be re-starting the 'website wonders' as an opportunity to have discussions based on concepts being covered in school, at home. We will also be arranging open afternoons to coincide with future parent meetings so that you have the opportunity to see P4C sessions in action.
Please let us know any further thoughts using the comment box below!
Thank you again.
October 2019
Richmond is a GOLD school!
Congratulations to all of the children, staff and parents for being awarded with the SAPERE Gold P4C Award.
We are now one in only 20 schools across the country to have achieved this award.
We held a celebration assembly, where Mrs Hall from SAPERE presented last year's Y5 and Y6 P4C Champions with the plaque, which will be proudly displayed in our foyer.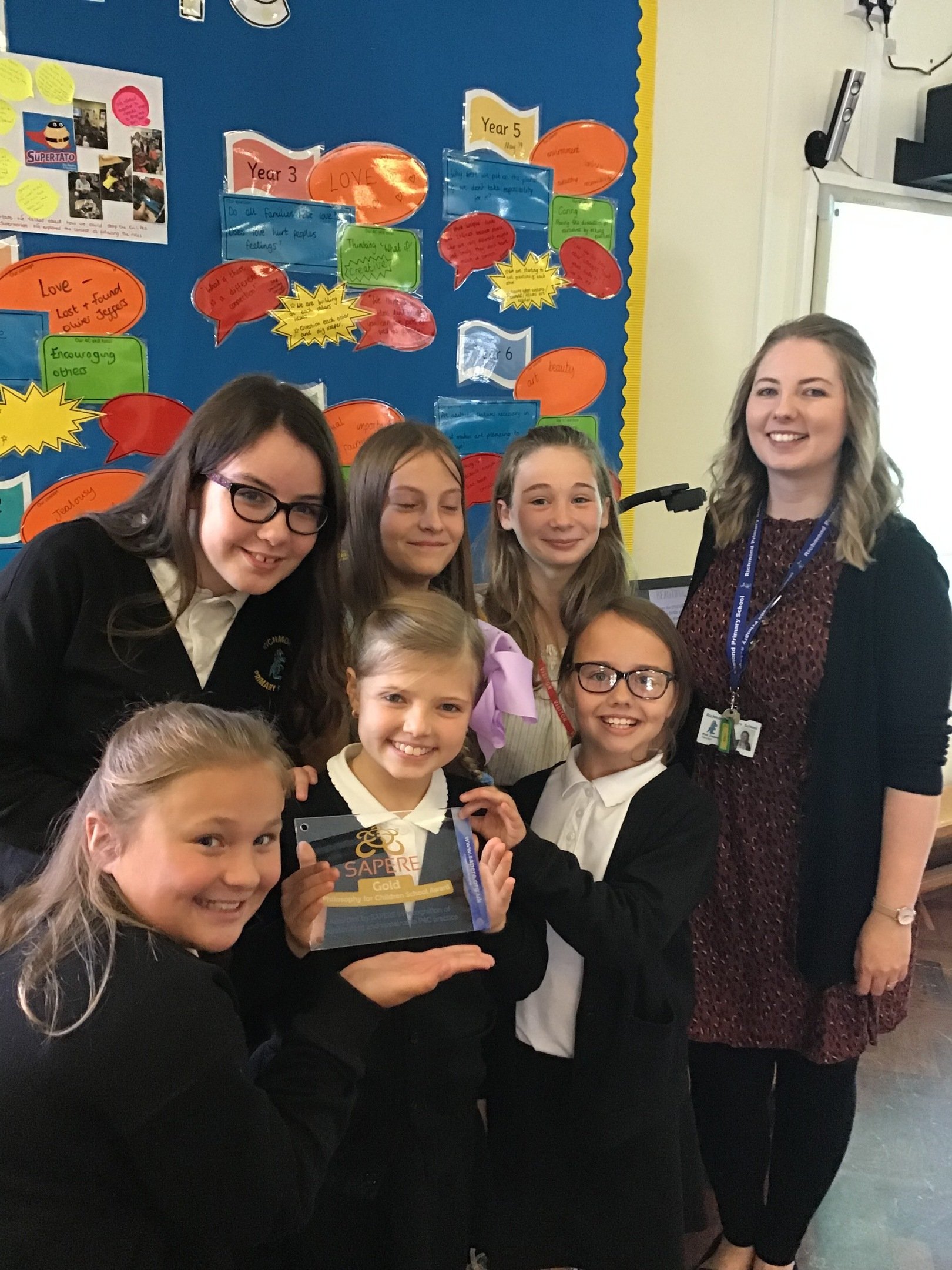 Sticky Questions & Summer Holiday competition
We will be starting off a new 'Sticky Questions' challenge next year! There will be a question sent home to discuss as homework. This question will be linked to the work you will be doing, and the discussion you have with family and friends will then lead to a discussion in class.
To kick-start this idea, a holiday challenge competition has been set up! Can you take a photograph that somehow links to your question or discussion? Be as creative as you can! There will be a prize for the winner.
Letters with more information about this have been sent home.
The questions are listed below.
New Y1s = What makes a good dinosaur?
New Y2s = Is it bad to be messy?
New Y3s = What is treasure?
New Y4s = Is it ever right to take something from someone else?
New Y5s = Is stealing ever OK?
New Y6s = What makes a good punishment?
Good Luck!
P4C Champions from Y6 - updating the website!
We want to update you with a few things:
1) We had an idea for a P4C Day that we'd like to plan for the future.
P4C Champions could switch year groups and do a P4C lesson with the class.
2) Our Gold Award visit is coming up very soon! We are really hoping to get awarded with a Gold Certificate.

3) Y6 P4C - we had a day where P4C Champions helped to lead a session in Y6.

4) We'd like to organise another whole-school competition soon where there will be a prize for the winner.
Watch this space!
P4C Champions have been given a 'job description' card this week - we didn't realise just how much we do!
We were happy to welcome two boys from Y3 to the P4C Champions team too.
Monday 1st April
Thank you to everyone who came to our meeting on Friday afternoon. The P4C Champions from 5JL did a great job running the warm-ups! We started some discussions around 'anxiety' which we hope to continue and get a little further with in the next meeting. We also hope to be able to invite parents of children from other year groups, too. Details of the next meeting will be sent out after the Easter Break.
Thank you for your support!
Thank you Parents and Carers!
Over the last few weeks, some parents and carers from KS2 have attended a meeting (ran by a few of the amazing P4C Champions) to find out more about Philosophy here at Richmond. We hope you found it useful!
We have also had an open afternoon, where some Y4 and Y5 Parents and Carers joined in with the class P4C lessons. We all had a brilliant afternoon, and were so proud the children. We hope you were too! It was amazing to see them using their 4C Thinking skills in action, and including the adults in their discussions as much as the other children.
Let us know what you think using the comment box at the bottom of this page.
Would you like more opportunities like this? Is there anything further you'd like to know about P4C?
Don't forget - there's another Y4/Y5 Parent/Carer afternoon with Miss Munton and Mrs Lynam-Smith on Friday 29th March at 2:15-3:15pm. The aim will be to have an enquiry, based on a question you would like to ask / discuss. This will then lead on to other issues being raised as possible discussion points for the future.
Any question, please ask me (Mrs Lynam-Smith) and I will be happy to help!
Parent / Carer Meeting on Friday 8th February
Parents and carers of children in Y4 and Y5 are invited to a meeting on 08.02.19 at 2:15 to learn more about P4C, and have a go at some of the activities we do in class! P4C Champions from these year groups will be there to help lead some of the meeting. We aim to involve parents from other year groups over time. If you have any questions about P4C at Richmond, just ask! We'd love to share what we have been doing in class with you.
14.01.19
Welcome back!
Since the last update, some Y6 pupils have set up a P4C club, which they will be running some lunchtimes with younger children from KS1.
Across school we will be thinking lots about our 'Character Muscles' this term, many of which link to some big concepts in P4C.
Additionally, we will be arranging a P4C open afternoon, where parents and carers will have the opportunity to take part in a P4C session with their child's class. Watch this space!
Website Wonder - 3 - 17.12.18
Worth
How do we decide what something is worth?
Do we all have the same idea of worth?

Why not chat about this over dinner, and leave your ideas in our comments section!?
20.11.18
P4C Champions update the website!

In 5jl our p4c lessons are fun and exiting !
We start our lesson by picking a p4c warm up game then we often vote on the lessons big question and then discus it.
Question of the day - Is it more important to be clever or popular?
Spider web is a good game to play in P4C.

Why should we care?
We have been thinking a lot about the concept 'care' because of Children in Need.
We could talk about why we should care for people that are less fortunate than us

We could arrange a assembly about philosophy and why we should care for each other and what the life is for people that are less fortunate

When people are mad they should start to think about the people that are probably even more mad because they might not have enough water or food or even a place to live.






As P4C Champions, we are here to make sure your lessons are fun and factual! We take pride to be in charge of P4C and will answer any questions!

P4C is very important to the mind and the soul. Here are some reasons why children should do it!

P4C is fun and exciting!

Less stress and more relaxing

Express your opinions without being judged





Question of the day:

Would you rather be happy but poor or rich and sad?

P4C Lizzie said "I would be Poor but Happy"

P4C Alice says "I would be Poor but Happy"

Leader of P4C Mrs Lynam said "I would want to be Poor but Happy because if you had lots of money, you still wouldn't be able to buy happiness!"


Stand up / sit down is a good P4C game.

02.11.18
Recent P4C work across the school


Year 1 - We have been thinking about Paddington Bear and what makes a family. Our focus has been caring and collaborative thinking as we have been trying to make sure we take it in turns to talk.
Year 2 - After our walk around the school, we explored what 'home' and 'family' meant.
Year 5 - Aladdin was our stimulus which we linked to our work on Howard Carter around the concept 'stealing'. We're now thinking about equality linked to Rosa Parks.
Year 6 - We have been considering what 'love' is, and have worked on our critical thinking skills.
Website Wonder 2 - 08.10.18:
Chosen by our P4C Champions
Needs
What is the difference between what we need and what we want?
Does everyone have the same needs?
What would the world be like if everyone was the same?
Website Wonder 1 - 24.09.18:
Leadership
What does it take to be a leader?
Are we all leaders in some way?
What would the world be like without leaders?