Philosophy 4 Children (P4C)
Welcome to our P4C page.
P4C stands for Philosophy for Children, and is an approach to teaching and learning which encourages and develops children's caring, creative, collaborative and critical thinking skills.

It is these skills which enable children to be independent thinkers and learners across the rest of the curriculum.

On Philosophy Fridays, each class takes part in a discrete P4C session, and explores a concept or question which they create and choose themselves.

Richmond is a P4C GOLD school!
Congratulations to all of the children, staff and parents for being awarded with the SAPERE Gold P4C Award.
Mrs Lynam-Smith successfully leads P4C in our school.
We are delighted that our school is recognised for our commitment to P4C and the progress the children are making with their thinking throughout our curriculum.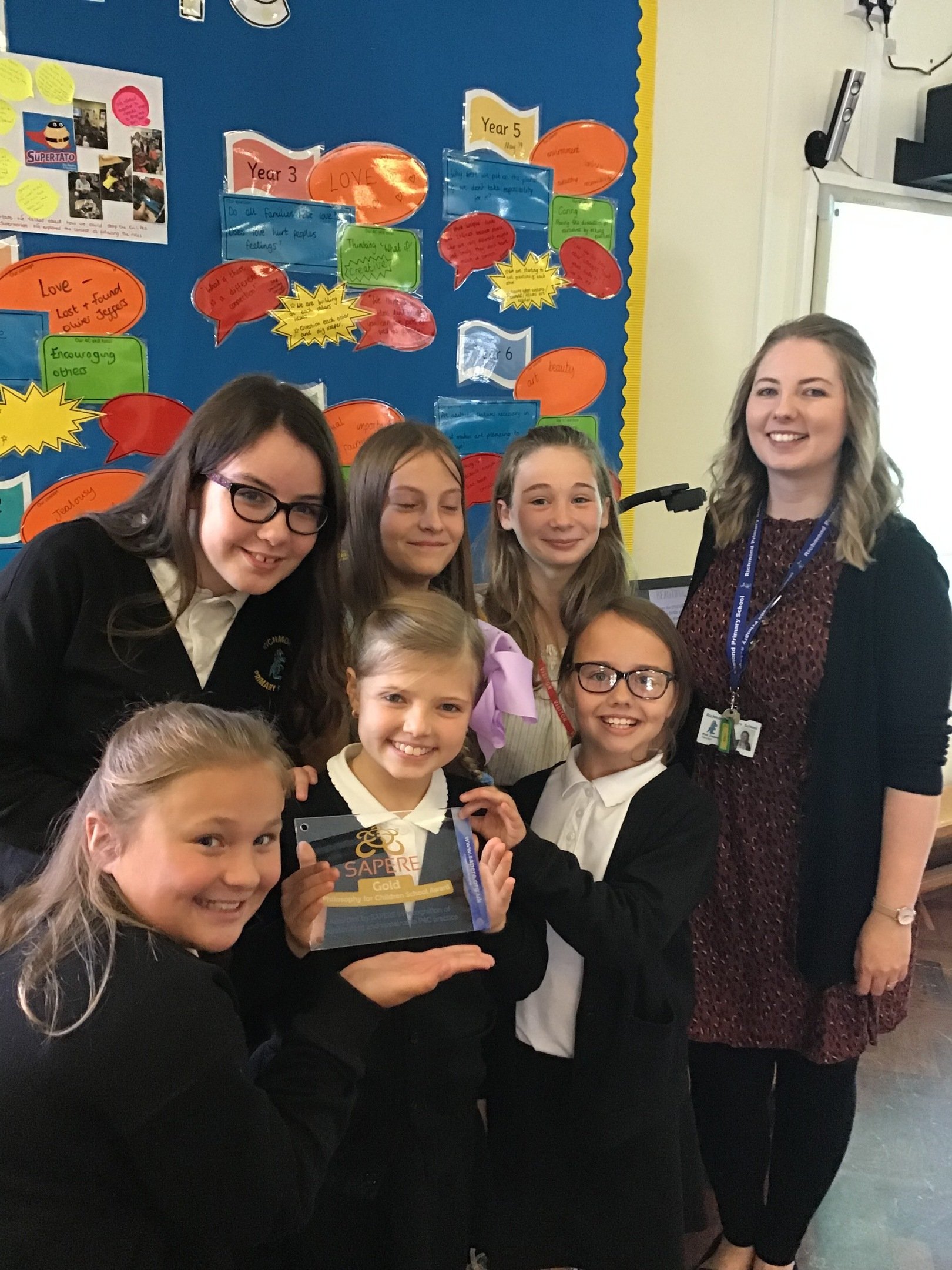 This is what our children say about why everyone should do P4C:
"P4C is fun and exciting!"
"You can express your opinions without being judged"

Some examples of P4C work across the school


Year 1 - We have been thinking about what makes a family. Our focus has been caring and collaborative thinking as we have been trying to make sure we take it in turns to talk.
Year 2 - After our walk around the school, we explored what 'home' and 'family' meant.
Year 5 - Aladdin was our stimulus which we linked to our work on Howard Carter around the concept of 'stealing'. We're now thinking about equality linked to Rosa Parks.
Year 6 - We have been considering what 'love' is, and have worked on our critical thinking skills.
The Philosophy Man resources
Just a reminder about the fantastic resources available on this website: https://www.thephilosophyman.com/brainsqueezers to get everyone thinking at home! The Philosophy Man also has a YouTube account and posts videos on it posing philosophical questions and discussion starters for children to think about and get involved in. Some are aimed at KS1, some KS2 and some are aimed at older children, but this is always stated in the title or description of the videos.
More ideas and websites to support Philosophy at home are also listed below.
Enjoy!
Great websites to find games and activities to do at home - no P4C experience necessary!
It's really important for us all to have time to think deeply.
Click here to access activity ideas from SAPERE - filter your search by clicking 'at home'.
One of our favourites is this 'What's more important' activity you can do when doing every day jobs at home.
This website here is also great for ideas to do at home, and is regularly updated.
We'd love to know if you do any of these activities! Please leave us a comment in the guestbook below.


P4C Home Learning Projects
Below is a list of ideas to keep children thinking deeply whilst not at school. They are organised by year group, but really children could do any of the activities they are interested in.
There are games which are 10-minute time fillers, concept activities which children could do alone, questions to discuss as a family, or projects which will keep children busy over the course of a few afternoons.
P4C Home Learning activities:
Website Wonders
If you have a discussion at home about our 'website wonder', we would love to hear your thoughts!
Please use the Guestbook below. P4C Champions will look through the comments.
Website wonders will be updated regularly to give you something fresh to discuss!
If you want even more to discuss, then you could find out from your child's class teacher what they've been discussing in their P4C sessions.
Website Wonder for September

Leadership
What does it take to be a leader?
Are we all leaders in some way?
What would the world be like without leaders?
Website Wonder for October
Needs

What is the difference between what we need and what we want?
Does everyone have the same needs?
What would the world be like if everyone was the same?
Website Wonder for November
Worth
How do we decide what something is worth?
Do we all have the same idea of worth?

Our recent news and P4C updates...
Coming soon....
Comments (6)
Show Comments
sophia (5jl)
(a couple of years ago)
i love p4c its nice to have an indepth talk with everyone in our class and to be able to know other peoples thoughts and opinions it makes you think about other people and not just your self
Lexie (6MP P4C champion)
(a couple of years ago)
Wow! I love how you have stepped up this website and I love it! This is very nice. I love looking at this page because I love my role as P4C champ! Thanks xx
Mrs L
(a couple of years ago)
I totally agree Leanne & Lex! Have you got any ideas? :-)
Leanne
(a couple of years ago)
Hi i think we should try and get people to start and use this website and try and get more people than last year! (and did you also know adults can write on to!!)
Lexie P (6MP)
(a few years ago)
Hi!!!!! I think for this year that we should update the page and got above and beyond with it!! Xx
Laurrie ( filled in buy her Mum!)
(a few years ago)
Laurrie says the diffrence betten wants and needs is u need things to survive! Wants u can live with out! She aslo says it takes alot to be a leader and we are all leaders in some way-we all have hard choices to make. And the world without leaders would be messy! These are great topics for duscussion-got us talking and thinking! (Laurries Mum)