WELCOME TO YEAR 4 COMPUTING ACTIVITIES . . .

I hope you are all well and are keeping safe.
Don't forget to keep safe electronically too.
SAFER INTERNET DAY THIS YEAR IS "TUESDAY 8TH FEBRUARY, 2022"
ALL FUN AND GAMES? EXPLORING RESPECT AND RELATIONSHIPS ONLINE.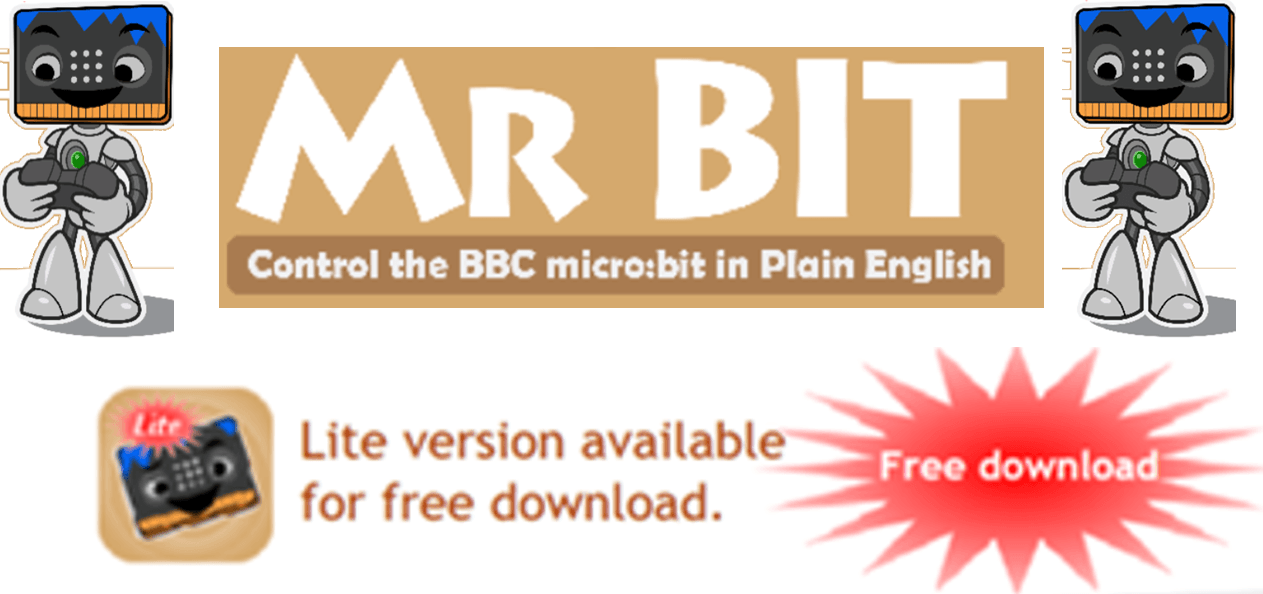 .
GREAT NEWS:
Dr Rodgers, who designed 'Mr Bit', has now provided the program as a FREE DOWNLOAD for all PC and Laptops with Windows. Here is the link: www.insightresources.co.uk/microbit/homeschool.html or www.insight-mrbit.com. There are a lot of videos to help too, but please also look at the 'Learning pathway' pages that follow on. Hope you have fun!
Please do the tutorials and the exercises - Microbits are available to purchase online - but you can use the program without one.
Barefoot Computing Activities:
Have fun, whilst learning about algorithms and debugging. Click on any of the Barefoot Activities and download the worksheets etc. or go directly to: https://www.barefootcomputing.org/homelearning
These activities are designed for "Computational thinking which is about learning to solve problems, with or without a computer. These problem solving skills not only support the computing curriculum in primary school, but also play a part in other subjects, from maths to PE, and can even be applied in everyday life! To help you support your child participate in our activities." (Barefoot Computing, 2020)
Learn more about Computational thinking by clicking HERE (remember to click your back button after to get back to the Richmond Website and this page)
Vocabulary:
Algorithm: a precise instruction to make something happen.
Bug: A problem or error with the instructions
Debug: when you fix the bug (problem)
Decompose: pull script/code apart
Variable: something that can be changed (like speed, time, score, volume)
Computerised thinking: thought process that will solve problems through abstraction, creating algorithms and breaking down problems into smaller parts.
Input: An input device takes something from the outside world and puts it into the computer (like a keyboard puts in letters, numbers etc) Examples of input devices include keyboards, mouse, scanners, digital cameras and joysticks.
Output: Outputs gives/sends out information. For example, speakers send out sound, a printer sends out paper, a fan sends out air. Examples of output devices are: computer screen, a fan, speakers. In computing, an output device is a hardware device that is used to give the results of processed data.
LOOK BELOW FOR SOME FABULOUS COMPUTING ACTIVITIES, SCROLL DOWN THERE ARE LOTS . . .

Download

Building Block Files:

Download

Shopping List Files:

Download

Shopping List Files:

Download

Dance Move Files

Download

House Pattern Files
Download

Code Breaker Files:

Download

Hand Jive Files:

Download

Going Wild Files:

Download

2D Files:
Click on any individual 'PURPLE CLICK AND GO' BUTTONS to go directly to the game. REMEMBER to click the back button after you have played your game so that you can return to this webpage.

Watch this video to show you how to either download SCRATCH 3.0,
or to create your animation online and save it to your device.
WATCH THE WAGOLL - TO SEE WHAT YOU AIM TO CREATE ON SCRATCH
VIDEO 1 - LESSON 1, PAGES 1 AND 2.
VIDEO 2 - LESSON 1, PAGES 3-5
Lesson 2: Learning Intention: I can design a submarine and program in to move up and down.
LESSON 3: Learning Intention: I can insert a shark and program it to switch costumes.
Scroll down to watch the video on how to complete and achieve your Learning Intention.

Scroll down further to watch the video on how to insert the sound bubbles.
THE VIDEO BELOW SHOWS YOU HOW TO ANIMATE A SHARK
THE VIDEO BELOW SHOWS YOU HOW TO PLAY THE SOUND BUBBLES FOREVER, WHEN THE GREEN FLAG IS CLICKED.

EDUCATIONAL GAME
I have made some worksheets for you to make your own Times Tables Game.
By playing this game regularly, after you have created it, it will improve your times tables.
Alternatively, you could try one of the suggested tasks/tutorials on SCRATCH online.
I hope you enjoy making it!
If you have any problems, contact me through your class teacher.
IF YOU DON'T FANCY DOING SCRATCH, HOW ABOUT MAKING YOUR OWN FOOTBALL TOP TRUMP CARDS IN M.S PUBLISHER OR POWERPOINT. COPY AND PASTE PICTURES FROM THE INTERNET (MAKE SURE THAT THEY ARE FREE TO COPY) AND ADD YOUR FACTS BELOW.

THIS VIDEO BELOW IS A WAGOLL OF YOUR GAME. PLAY IT AND IT WILL SHOW YOU HOW AMAZING YOUR GAME WILL BE!
Watch the video below, which will help you complete worksheet 1 and 2. Then scroll down and watch the next video to complete your game.
Watch the next video below, to learn how to complete your game (worksheet number 3).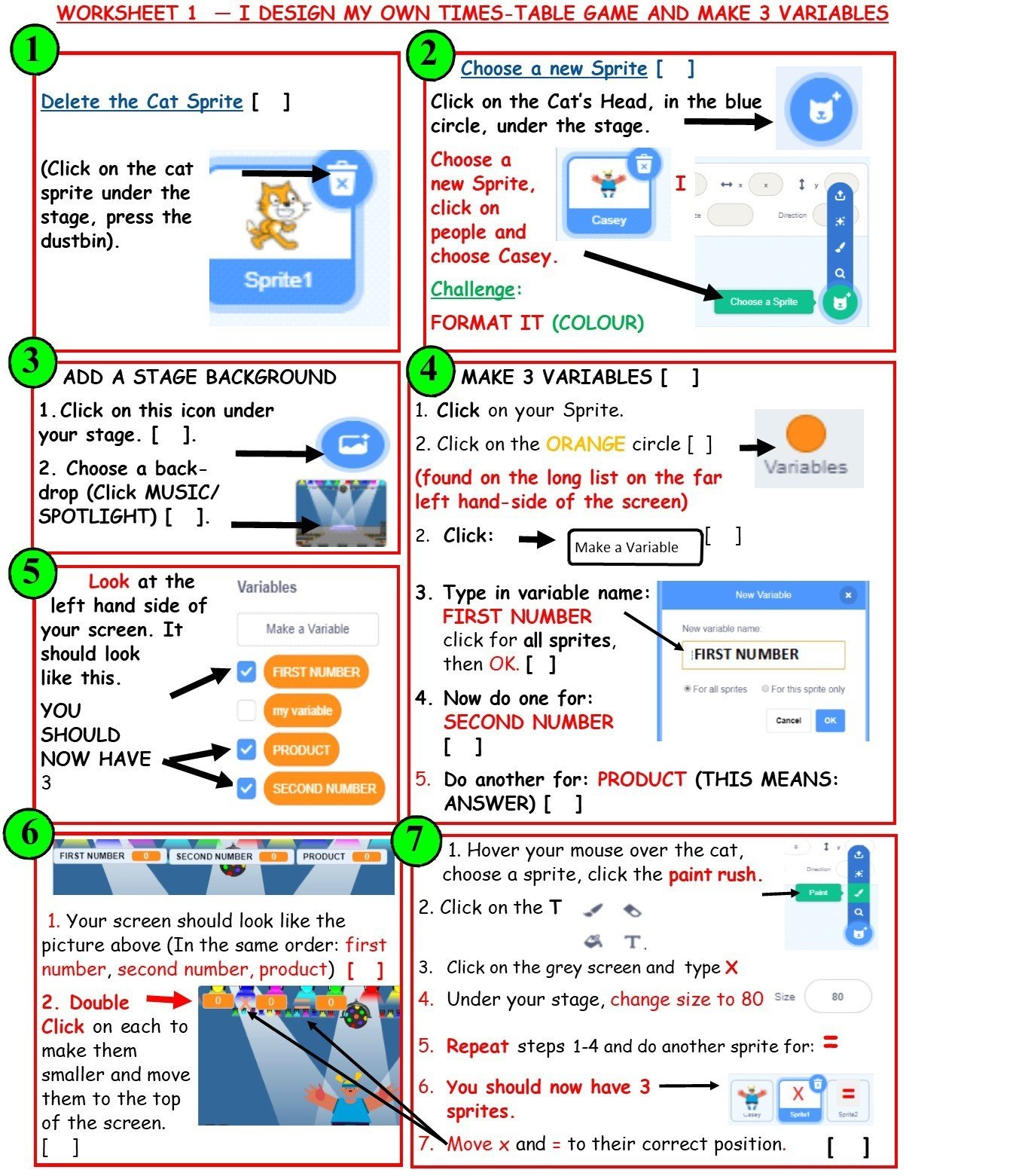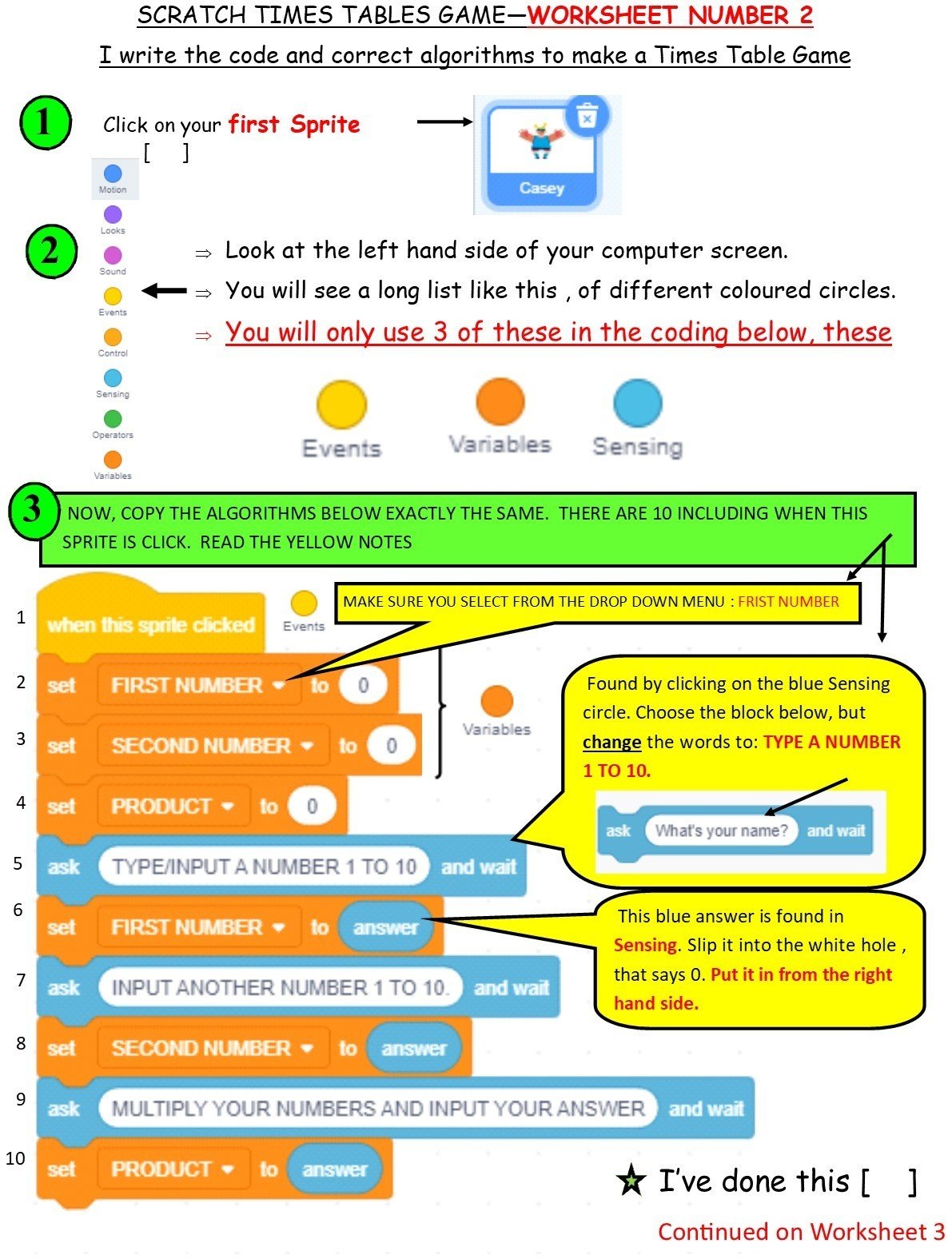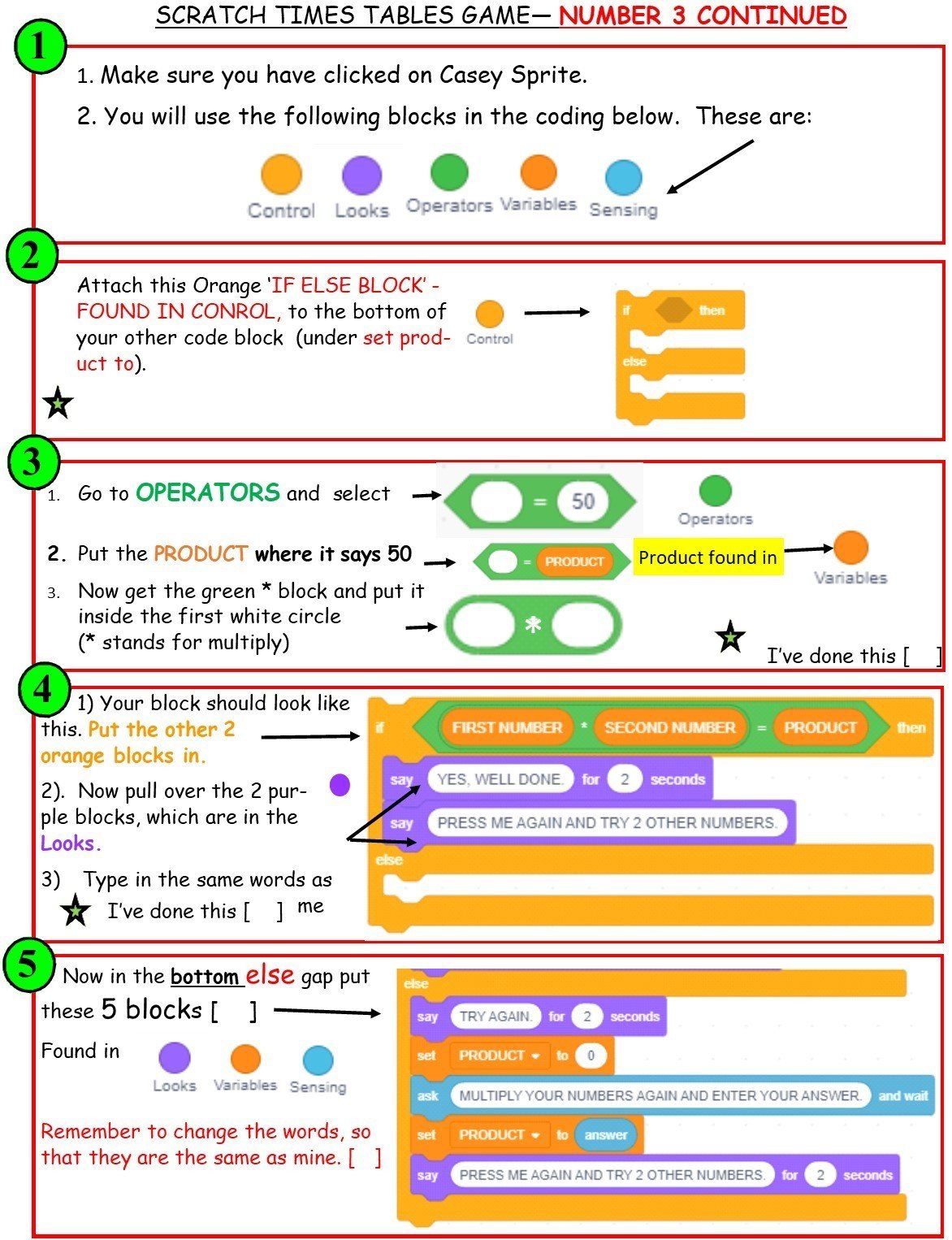 ..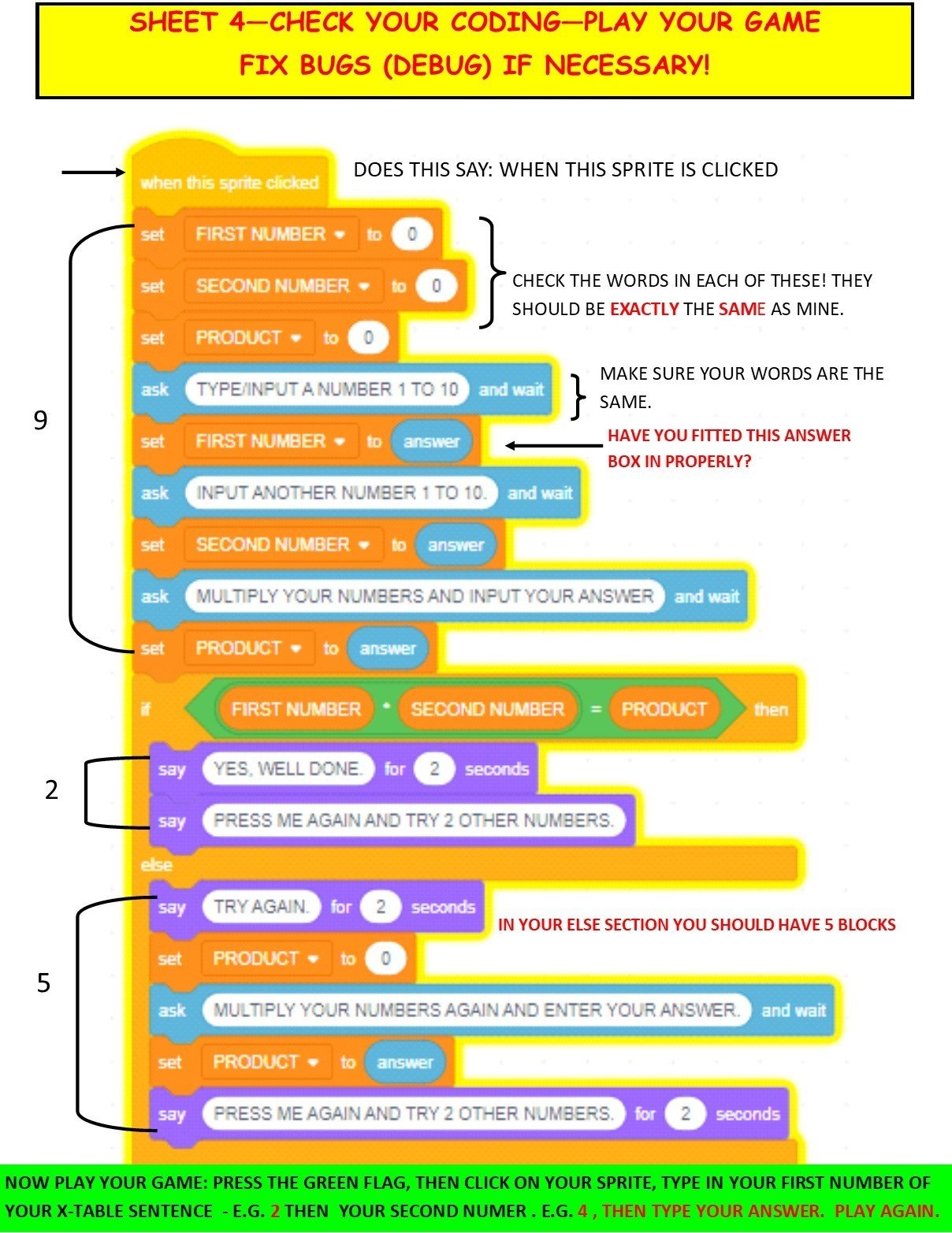 CHALLENGES: YOUR SPRITE HAS DIFFERENT COSTUMES - YOU COULD HAVE THE SPRITE REACT IN DIFFERENT WAYS TO A CORRECT OR INCORRECT ANSWER. YOU MIGHT CONSIDER OTHER OPTIONS TO ADD FUN AND EXCITEMENT, OR MAYBE INCLUDE A SCORING OR TIMING CODE. MAYBE YOU COULD PROGRAM MUSIC TO RUN FOREVER WHEN THE GREEN FLAG IS CLICKED.