Hello everyone! Welcome to Year 1. We are looking forward to starting the new year with you, we will keep this page updated with our learning at school, homework activities and other important information.
Click the links below to take you to information on this page:
Who's who
We have three classes in Year 1. These are the teachers and LSAs in each class:
1CW – Miss Wells and Mrs Clemo
1MG – Miss Griffiths, Mrs Manley and Miss Bradley
1DD – Miss Dimmer and Mrs Tansey
School Drop Off and Pick Up
Year 1 drop off is from 9:00 - 9:10 am.
Pick up is from 2:35 - 2:45 pm.
Please follow the one way system around the grass area then drop your child at the wooden gate at the entrance to the Year 1 playground.
Pickup will still take place on the grass triangle next to the Richmond park gate.
If you have a child in another year group, you are welcome to drop them off at the earlier time or pick them up at a later time. Please just let the class teacher know. Please can parents/ carers also let their child's class teacher know if someone different will be picking up.
Online Learning Resources
On Friday your child will receive some passwords and usernames for online accounts. You will receive Charanga (a music resource that we use in school), Teach your Monster to read (see letter below) and Activelearn (phonics games and reading books). These will be used if your child is self-isolating and learning at home but they can also be used for extra practice.
Charanga - https://charanga.com/user/login
Activelearn - https://www.activelearnprimary.co.uk/login?e=-1&c=0#all
Teach your monster to read - https://www.teachyourmonstertoread.com/
Phonics Play - www.phonicsplay.com - we have a school username and password that Phonics Play have allowed us to share with our parents and children. Please remember it is only for the children in our school. username:richmond1234 password:richmond1234
PE Timetable
Each class has set days for PE
1CW: Monday and Thursday
1MG: Thursday and Friday
1DD: Tuesday and Thursday
Please make sure that your child comes to school in PE kit on these days.
For PE children should wear:

School sweatshirts and polo shirts

Leggings, shorts, jogging or tracksuit bottoms

Trainers or pumps (PE is always outside, please can you wear trainers during wet weather)
If your child wears earrings, please can they be taped up or taken out before they come to school on a PE day.
Cornerstones Curriculum
See below for a summary of all of our cornerstone curriculums, homework ideas and learning intentions for each term.
Dinosaur Planet – Autumn 1
Bright Lights, Big City – Autumn 2
Splendid Skies – Spring 1
Paws, Claws and Whiskers - Spring 2/Summer 1
Rio de Vida - Summer 1/Summer 2
Splendid Skies - Summary, Homework Ideas and Learning Intentions
The children will be given a homework sheet with ideas that lasts the length of a Connected Learning Unit. We ask if children complete one homework idea every fortnight.
We will then mark the focus area (English, Maths, Creative or Research) off their Bingo board. Please only complete one homework per date.
During lockdown we will not have any set dates for homework to be due in. You can complete any of the homework ideas if you want to. this is not compulsory .
Please read the document below about how the homework bingo board works.
Find the homework ideas on the second page of the Bright Lights, Big City document below.
Year 1 homework
What we are learning.
Below you will find information on what we are doing in school.
Maths
We are currently following the White Rose Scheme for maths. At the moment, we are learning about place value of numbers within 20. Children need to be able to count to 20, represent numbers in different ways, find one more and one less and compare numbers with 20.
If you would like to do some extra place value work at home, complete the White Rose Booklet.
https://wrm-13b48.kxcdn.com/wp-content/uploads/2020/07/Y1-HL-Autumn-Block-4-Place-value-within-20-2020.pdf
English
In English we are thinking about the story Whatever Next! This story is about a Bear that goes on an adventure to the moon. We're going to be thinking about the story and changing it to create our own adventure. We're focusing on using finger spaces, capital letters, full stops, checking that our sentences make sense by rehearsing them before writing and re-reading them afterwards as well as using and to extend our sentences. We're also going to be thinking about the suffix -ed and how it can be used to help us write in the past tense.
Connected Learning
We will begin our new Cornerstones Curriculum: Splendid Skies. On the knowledge organiser above you can see what we will be learning about here. Splendid Skies allows us to learn about the weather, seasons and some important historical figures.
Phonics and Reading
We encourage parents and carers to take an active role in helping children learn to read. We ask that parents read with their child every night or a minimum of three times a week. Teachers in Year 1 will give Class Dojo point to children who have read 3 times or more. We will give a certificate to the child that has read the most that week so please keep your child's reading record up to date.
We have a range of books available to choose from each day. We will let you know when we have assessed your child and when they are ready to move onto the next colour band. We test children approximately every 6 weeks. We work on percentage scores to give us an accurate judgement about their colour band.

If you would like any further information about reading, please ask your child's teacher. The books we send home are used to develop your child's fluency.
Each week you will receive a copy of the sounds that the children are working on in phonics. These will be stuck into their reading diaries. In June, all of the children in Year 1 will complete the Year 1 Phonics Check. There are 40 words in total to read, 20 words are real words and 20 words are pseudo (alien) words. Children use their segmenting and blending skills to apply their phonics knowledge.
Here are the phonemes and tricky words that children need to know by the end of Year 1:
Phonics Resources and Activities
In Year 1 we use Phonics Play during our day to day lessons. You can use the games from Phonics Play to practise your phonemes and tricky words. https://www.phonicsplay.co.uk/resources
These are some other ideas you can use to practise your phonics.
Sound Buttons
Sounds buttons are spots and lines drawn underneath the phonemes in a word (see image below). These will support a child's ability to segment and blend words.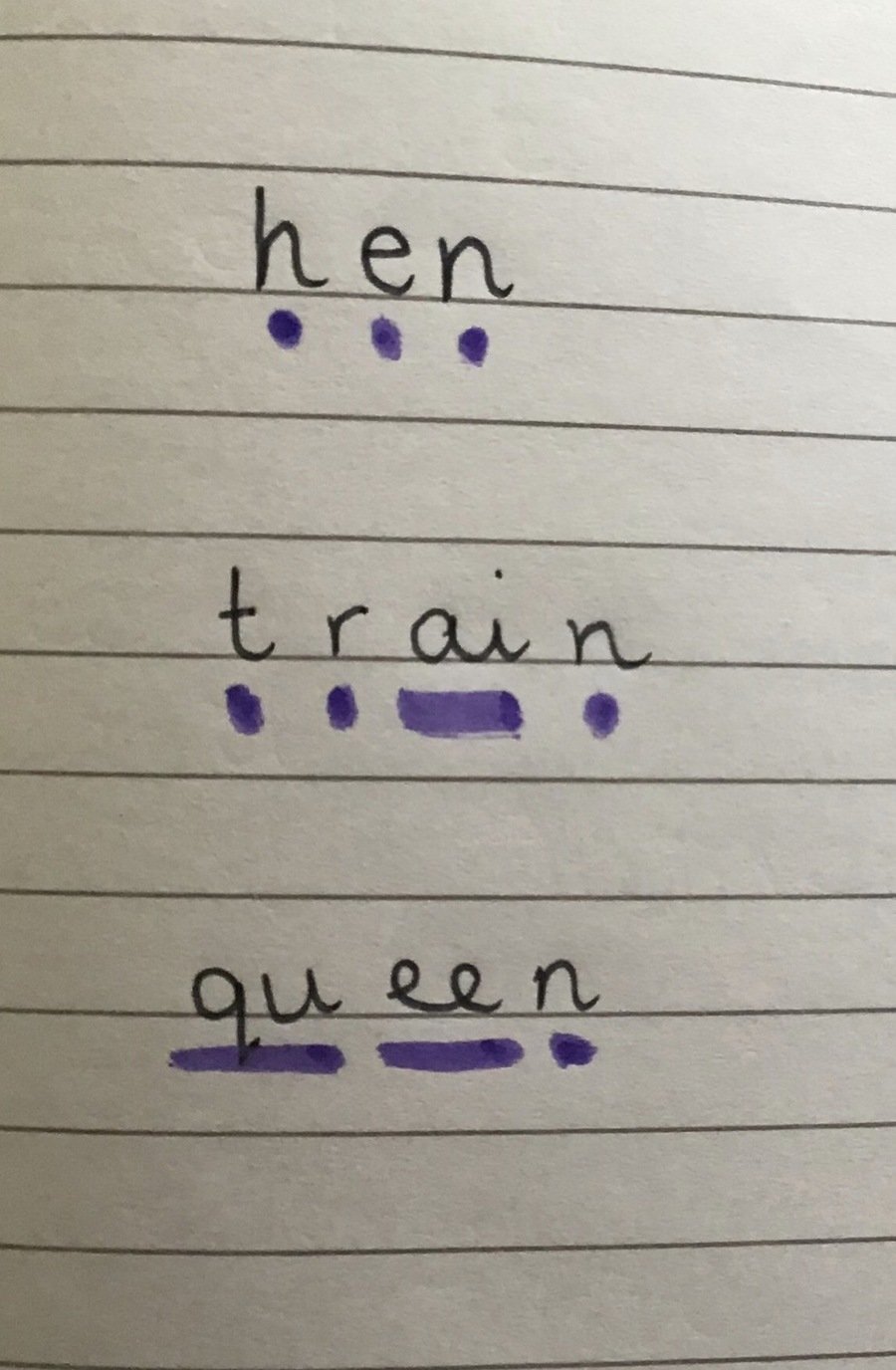 Noughts and Crosses (Tricky Words)
To practise the tricky words above you can play a game of noughts of crosses. To play, choose two words that you want to practise and use these two words instead of the traditional O and X. See picture.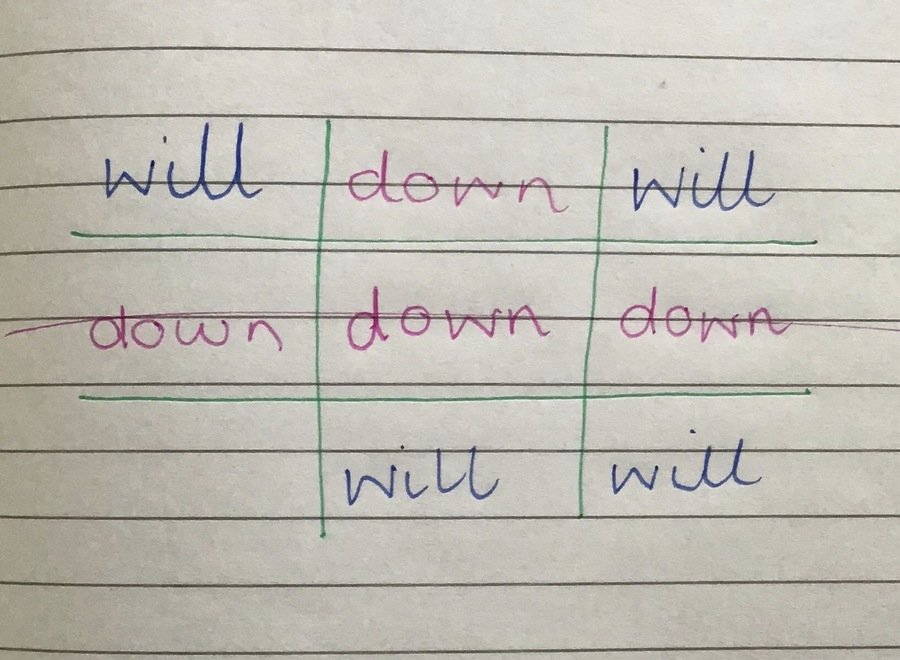 Please find some more information about Phonics below: