Year 1 Celebration Slideshow
Thank you everyone for all your support this year. We are so proud of how well your children have responded to the changes in school. They have shown super resilience and worked very hard. We hope you have a lovely summer and we wish you all the best in Year 2.
Hello everyone! Welcome to Year 1. We are looking forward to starting the new year with you, we will keep this page updated with our learning at school, homework activities and other important information.
Who's who
We have three classes in Year 1. These are the teachers and LSAs in each class:
1CW – Miss Wells and Mrs Clemo
1MG – Miss Griffiths, Mrs Manley and Miss Bradley
1DD – Miss Dimmer and Mrs Tansey
Leicestershire Libraries Summer Reading Challenge!
School Opening
Year 1 will be returning to school on Thursday 3rd September 2020.
See below for an explanation of how drop off and pick up will work when we reopen.
Summer Homework
Create a poster all about you! Draw or write some things about yourself. Such as: family, favourite foods, hobbies or things you like to do etc.
Bring it with you on your first day back to school so you can share it with your new teacher.
Cornerstones Curriculum
See below for a summary of all of our cornerstone curriculums, homework ideas and learning intentions for each term.
Dinosaur Planet – Autumn 1
Bright Lights, Big City – Autumn 2
Splendid Skies – Spring 1
Paws, Claws and Whiskers - Spring 2/Summer 1
Rio de Vida - Summer 1/Summer 2
Dinosaur Planet - Summary, Homework Ideas and Learning Intentions (Autumn 1)
Phonics and Reading
We encourage parents and carers to take an active role in helping children learn to read. We ask that parents read with their child every night or a minimum of three times a week. Teachers in Year 1 award certificates to children who have read with grown-ups at home so please keep your child's reading record up to date.
We have a range of books available to choose from each day. We will let you know when we have assessed your child and when they are ready to move onto the next colour band. We test children approximately every 6 weeks. We work on percentage scores to give us an accurate judgement about their colour band.

If you would like any further information about reading, please ask your child's teacher. The books we send home are used to develop your child's fluency.
Each week you will receive a copy of the sounds that the children are working on in phonics. In June, all of the children in Year 1 will complete the Year 1 Phonics Check. There are 40 words in total to read, 20 words are real words and 20 words are pseudo (alien) words. Children use their segmenting and blending skills to apply their phonics knowledge.
Here are the phonemes that children need to know by the end of Year 1:
Phonics Resources and Activities
In Year 1 we use Phonics Play during our day to day lessons. You can use the games from Phonics Play to practise your phonemes and tricky words. https://www.phonicsplay.co.uk/resources
These are some other ideas you can use to practise your phonics.
Sound Buttons
Sounds buttons are spots and lines drawn underneath the phonemes in a word (see image below). These will support a child's ability to segment and blend words.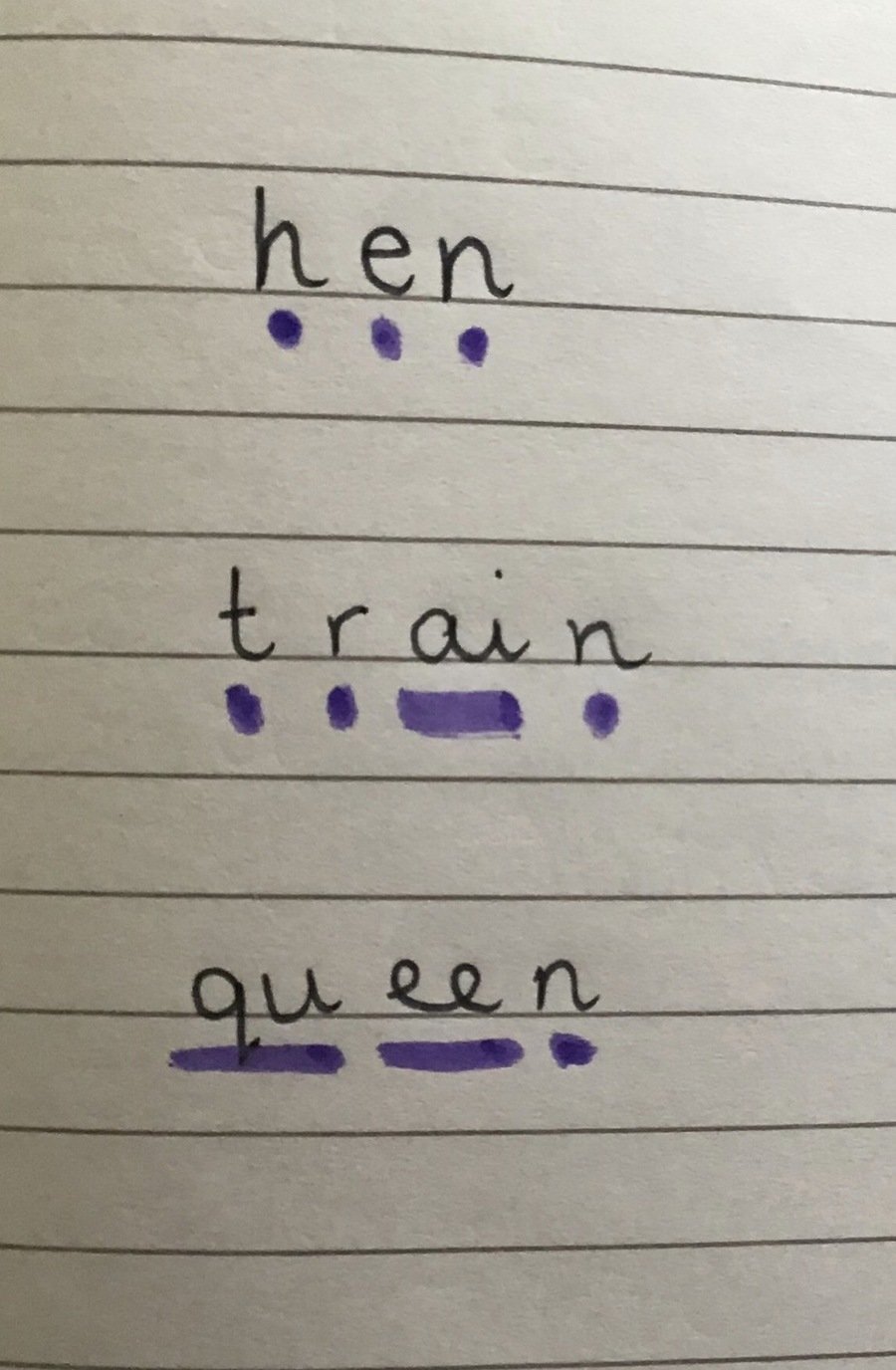 Noughts and Crosses (Tricky Words)
To practise the tricky words above you can play a game of noughts of crosses. To play, choose two words that you want to practise and use these two words instead of the traditional O and X. See picture.