Hello and welcome to Year 5!
We hope you will find this page useful. We will update it regularly with information about upcoming events, homework, and the learning taking place in class.
If you have any comments or questions, there is a form at the bottom of the page you can fill in.

Mrs Swan and Mrs Lynam-Smith
Monday 20th January
Times Table Rockstars!
TTR has been up and running for a few weeks now, so we hope you are all enjoying it at home! We play in school every Monday, and tournaments across the school have started. The more you can play at home, the better! Please see your teacher if you've forgotten your log in details.
Homework

A new homework sheet for Stargazers has been sent out. Due in dates coming up are: 24.01, 07.02,
Spellings
Spellings are still being sent out every Monday, and tested the following Monday. Please see your class teacher if you lose your sheet as we can get you another.
Maths homework
Maths homework is still being sent out every Friday, based on what we've been covering in class. Children's homework for this week, however, is to play on TTR! We run a club at a break or lunch time to support any children who need support with this homework.
Monday 2nd December
Please find this week's spelling words available here.
Drayton Manor trip - Monday 9th Dec.
A letter has been sent out with reminders about the trip. It can be downloaded here.
Drayton Manor reminder letter

Monday 18th November
Please find this week's spelling words available here.
Monday 11th November
Please find this week's spelling words available here.
Monday 28th October
Spellings for this week are -ably and -ibly words. They link closely to the words from last week! They can be downloaded here.
A new homework ideas sheet was sent out on Friday - please see us in class if you need a new one.

Maths homework is due on Friday - it is a combination of + and -. Don't forget that we run a homework club during break-time if you need a little help with this.
Monday 21st October
Welcome back to a new half-term! We hope you all had a lovely break.

Spellings for this week are -able and -ible rules, and the lists can be downloded here.
We will be sending out a new 2-weekly homework sheet linked to our connected curriculum where we will be focusing on 'Scream Machine' and forces. If you have done any homework linked to Pharaohs over the holiday, then we would still love to see it on Friday.
Maths homework sheets are still set every week and are due every Friday.
Here are some photos to show you what we got up to last half-term!
We mummified some tomatoes to see which part of the mummification process was the most important back in Ancient Egypt. We found that the natron was important to dry out the body! The tomatoes without salt in them went mouldy, even if they were wrapped in bandages. We wondered whether different sized fruits and vegetables would take different amounts of time to dry out.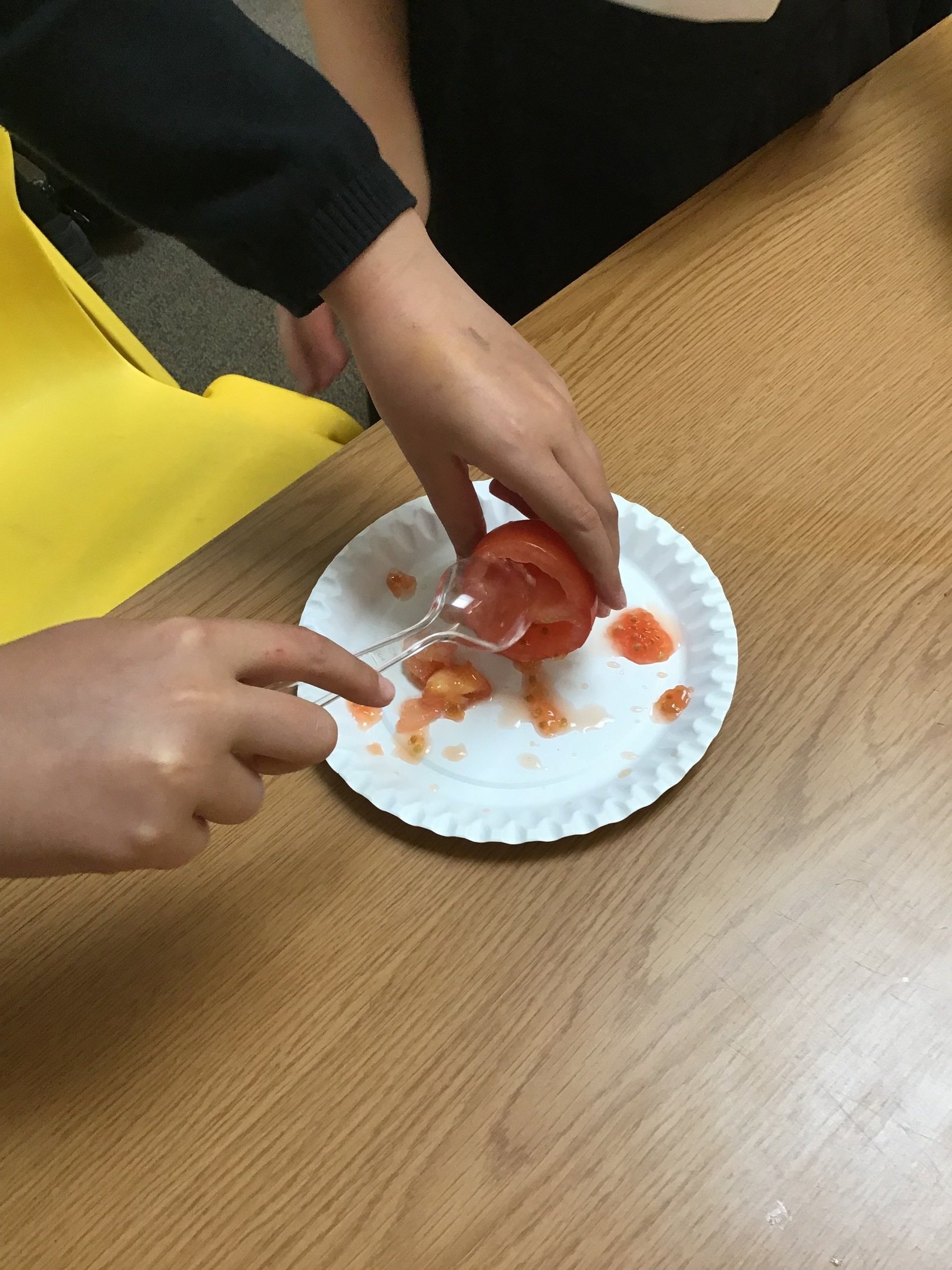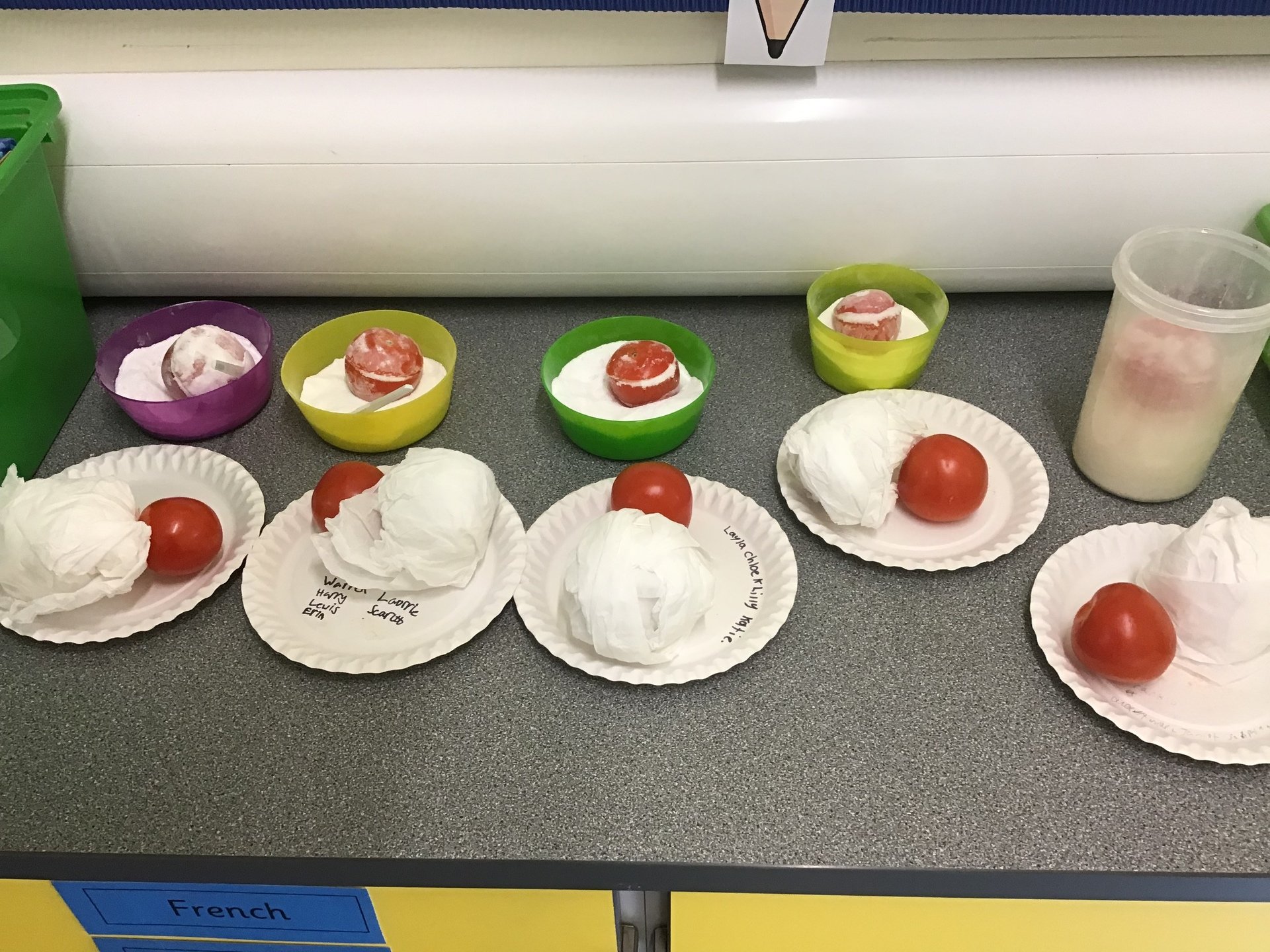 We designed and made headdresses in Art - we based them on the designs of the Pharaohs, and each colour / animal represents a different meaning. Ask us about our choices!
We also created a piece of harvest art. We refined our still-life sketching skills over the course of an afternoon based on feedback from a partner. We were so happy with how much our work improved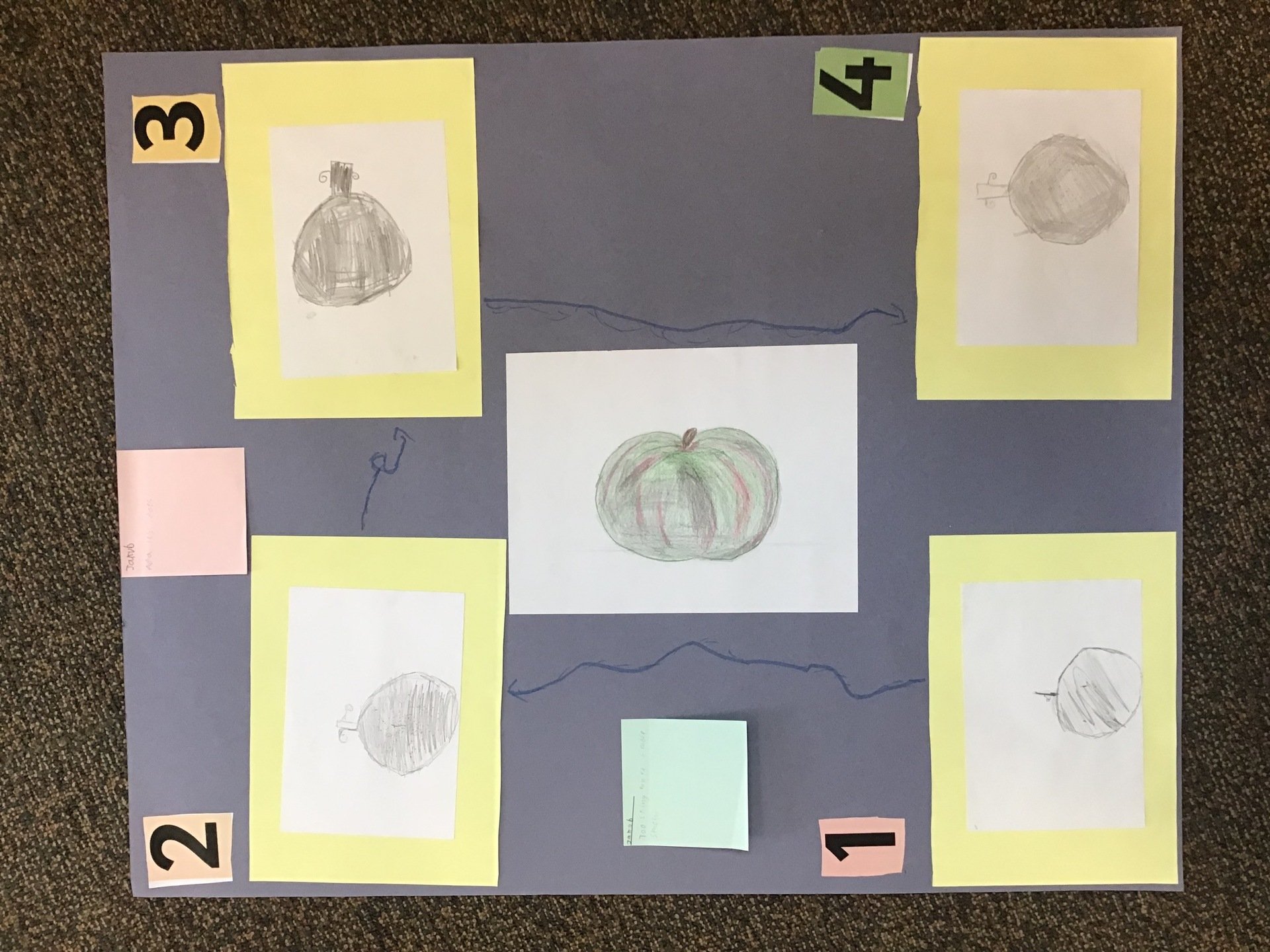 Monday 30th September
Please find spellings for this week attached here.

Tuesday 10th September.
Please find spellings for this week attached here.
Monday 2nd September
Spellings - Children will be tested on the following words on Monday 9th.
ancient, Egypt, Pharaoh, Egyptian, pyramid, desert, tomb, sphinx, sarcophagus, hieroglyphics, mummification.
Friday 30th August
We've had a great two days!
In Maths, we've been working on a problem called 'teacups'... it took a lot of trial and improvement!
This afternoon, we took part in the Egyptian Feel 'n' Squeal! It really was as bad as it sounded, and involved putting
our hands into lots of boxes to see what we could find. How do slimy jelly and a metal hook link to the Egyptians? We'll find out next week.
Thanks for all the amazing homework - new homework books and ideas sheets have been sent out today. The next few due dates for homework are 13th Sept, 27th Sept, and 11th Oct.
2019-2020
It's a new year!


Important info:
PE days are Mondays (outside with Mr Fincham) and Tuesdays (inside with class teachers)
Reading records are checked weekly - children should read at least 3 times per week at home.
Spellings are sent out on Mondays, and tested the following Monday.
Homework is due in every other Friday (dates to follow).
Times tables are tested weekly and should be practised at home.


Connected Curriculum
Autumn 1 = Pharaohs
Autumn 2 = Scream Machine
Spring 1 = Stargazers
Spring 2 = Alchemy Island / Globetrotters
Summer = Time Traveller
____________________________________________________________________________________________________
2018-2019
Wednesday 5th June
Reminders:
Just a reminder that our Stargazers class assembly takes place tomorrow at 2:30pm in the KS2 hall.

There is a meeting for parents on the 20th June at 6pm in the Y5 classrooms regarding the upcoming SRE. A letter has been issued - please speak to a teacher or the office if you'd like more information about this.
Homework due this week (Fri 7th) is:
Maths - revision packs from half term
- Homework books p62-65
- Stargazers homework
Homework clubs in school were this lunchtime, and we will run another one tomorrow lunch time for children who have been unable to completed their homework yet.
Spellings this week are revision words. Spare copies are in the classrooms if your child has lost theirs.
Monday 13th May
This week, we are continuing to revise previously taught spellings. The list can be found here.
Also, we are excited to invite you to our Stargazers Class Assembly! This is taking place in the KS2 hall, on Thursday 6th June at 2:30pm. Children may soon be sent home with lines to learn and props to help make! We are really looking forward to it and hope you can make it.
Monday 29th April
Spellings this week are linked to our new topic and can be found here.
Friday 12th April
We just wanted to say a huge well done to Year 5 for their teamwork, bravery and behaviour during our PGL week. It was an action-packed, fun-filled week and we can't wait to show you all of the photos. We hope the laundry didn't take you too long! We know the children at school had a fun week too, and we are looking forward to hearing all about it when we get back to school.



Homework (Maths and Topic) is not due in until the first Friday back (3rd May). The official homework sheets for our new topic (Stargazers) will go out on the first Monday back, but if you want to get started over the holidays, then you could do anything linked to this new topic all about Earth and Space. Some ideas are:
- Research the planets
- Investigate the distances between the planets
- Research who has been to the moon
- Research the International Space Station
- Create a rhyme to help you remember the order of the planets
- Create a piece of 'night sky' artwork.
- Do some stargazing! Can you recognise any of the constellations?
- Write a story about an alien invasion!
- Write a diary entry from the perspective of an astronaut.


We'd love to see what else you think of!

If you'd like to do some Maths pages over the holidays, choose from any that you haven't already completed about fractions / decimals / percentages.
Have a good rest over the holidays and have fun spending time with your families and friends.
HAPPY EASTER!
Mrs Lynam and Mrs Swan
Monday 1st April
Spellings - these words will be tested on the first Monday back after the Easter Break. The words can be found here.
Maths homework - p35 is due this Friday 5th April.
Alchemy Island homework is also due this Friday 5th April. Children have been told they can write a diary entry for the writing competition as their homework if they wish. Competition sheets have been offered out but spare copies are available in classrooms if you change your mind and would like to take part. Entries must be in by Friday so we can send them off before the deadline.
PGL final reminders: A letter has been sent out this afternoon with final reminders and FAQs on. Please ask one of us if you didn't receive a copy.
Monday 25th March
We have decided to spend the next week or two revising the rules and words taught so far.
Spelling lists can be found here.


Monday 18th March
This week's spellings end in -less and -ness. Please find the list here.
Monday 11th March
This week's spellings end in -ful. Please find the list here.
Friday 8th March
Homework dates - our next two Alchemy Island homework due-in dates are 22.03.19 and 05.04.19. Apologies for any confusion!
Maths homework - p71 (line graphs) is due in on 15.03.19.
Spellings - we are currently learning hyphenated words, and exploring what the hyphen means. The list of words can be found here.

Science - we have been learning about properties of materials, and reversible / irreversible changes. Here is a photo of us making a chemical reaction! Can you tell whether it's reversible or irreversible?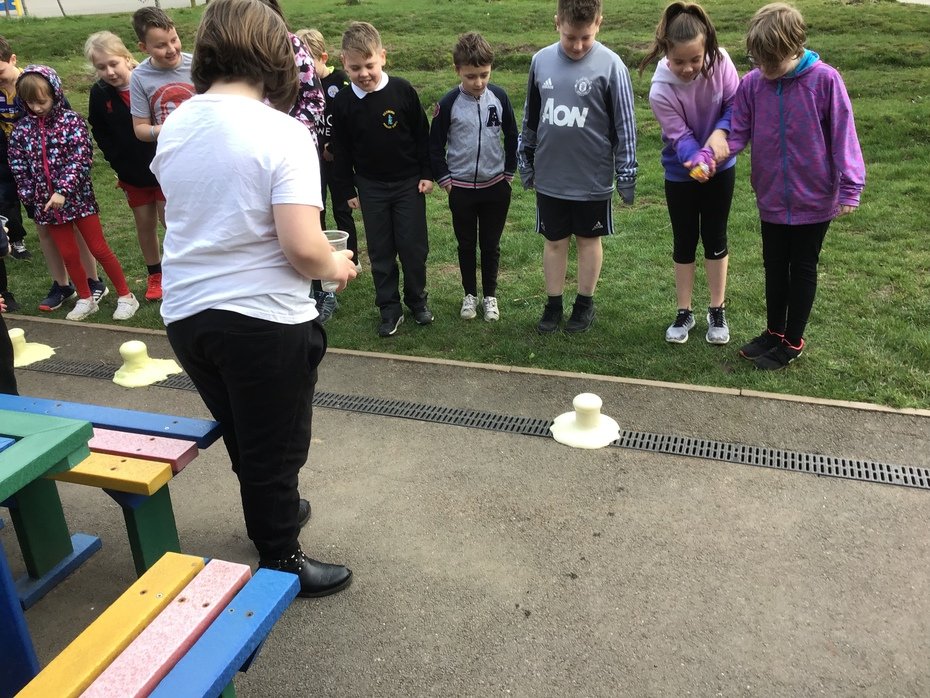 Over the next few weeks, we'll be covering:
English - writing non-chronological reports
Maths - fractions, decimals and percentages
Science - materials and their properties, chemical changes etc.
Reading - non-fiction texts and using evidence to answer comprehension questions
PE - dance
French - all about ourselves
Geography - co-ordinates and map skills
Philosophy - courage and Critical Thinking skills


Monday 11th February
Reminder about Maths Catch-up Club - this is in 5JL at 8:30am every Monday for children to catch up with work covered earlier in the year. All welcome!
Maths homework - due Friday 15th - p30. We run homework club on Wednesday lunchtimes if children are struggling to complete it at home.
Alchemy Island homework - due Friday 15th - please remember to fill in the bingo grid to show whether you have done a Creative, Research, Maths or English focus. Also tick off one of the challenge board boxes if you've done a challenge piece!
Spellings - the list of spellings to learn over half-term can be found here.
Friday 1st February
We are now stuck in to our Alchemy Island work, and have been doing so much interesting learning!
Science - we have been learning about how to separate mixtures - especially the disgusting water sample that was delivered to us from the citizens of the Ancient Citadel! We had to sieve, filter and evaporate to make the water clean again.
Geography - Because we did so well with the science, the Chief Alchemist gave us our first set of co-ordinates with which to plot our journey. We found out that we must travel through the Kingdom of Junglewest up to Dragon Vine Towers.
Music - To accompany us on our journey, we are composing pieces of music to represent each part of the island.
Art - We were learning to sketch birds by including as much detail as possible - we were so proud of our attempts! We then had a go at adapting our bird sketches to create a new species which we think would live somewhere on Alchemy Island!
We will be sure to post some photos of our amazing work soon!
Monday 28th January
This week, our spellings are homophones and can be found here.
The maths homework, due this Friday, is page 28.
The Alchemy Island homework is also due this Friday.
PGL medical forms - please can these be completed fully and returned as soon as possible.
Thank you!
Monday 21st January
This week's spelling focus is on words with double letters in. The list can be downloaded here.
The maths homework this week is a sheet, based on recent tests we have done in class.
Don't forget that we have a maths catch up club on Monday mornings at 8:30am - everyone welcome.
Monday 14th January
This week's spellings focus on words containing -ough. The list can be downloaded here.
Friday 11th January
Maths - We will be running a Maths Catch-Up Club on Monday mornings from 8:30am, where we will be going over some of the maths that was taught at the beginning of the year. Just turn up to take part!
What have we been up to?
In the first week back, we have kicked off our new topic by spending time looking through the mysterious samples sent in a treasure chest from Alchemy Island. We translated a riddle to find out we will be venturing on a quest for gold!
The island is full of exciting and sometimes dangerous places. We spent time this week coming up with a musical soundtrack to our journey!
If any of you play instruments at home, can you take this further to compose a piece of music for our arrival at the Ancient Citadel? If you don't play an instrument, you could be creative with household objects and your own voice!
In P4C, we started thinking about New Year's Resolutions and doing good deeds. How do we define what makes something a 'good' deed? Are some deeds better than others? How do we decide which are worth more? Do people always need to see you doing the good deed for it to be worth it? Are deeds as 'good' if you get something back in return? Let us know what you think!
Thursday 10th January
Welcome back! We hope everyone had a great break. Here are a few updates regarding this term:
Spellings: This week we are recapping spellings from before Christmas. New lists will go out on Monday.
Homework: New Alchemy Island homework ideas sheets went out before Christmas. The next homework is due in on Friday 18th January.
Monday 17th December
Please find this week's spellings here.

We have been busy in Y5 over the last few weeks, working on air resistance and water resistance. We designed streamlined shapes to travel through water, and made parachutes to investigate air resistance.

The Christmas wreaths look amazing on our class trees - they are around the Y2/Y3 building at the moment if you want to have another look.

We are looking forward to the last week of term, where we will be finishing off our Scream Machine topic and getting into the festive spirit.
Monday 10th December
Please find this week's spellings here.
Monday 3rd December
Spellings for this week can be found here. This week it is about learning the rules and exceptions for when to use each suffix.
Maths homework - P23.
Monday 26th November
Drayton Manor - Thank you to everyone in Y5 for a fantastic trip. The weather held out, and we got to test out a few of the rides too. Jess and Lee taught us all about how the rides are designed based on forces. We explored how air resistance affects the speed of roller-coasters, how taller drops create a stronger gravitational pull and how magnets help to stop the ride at the end.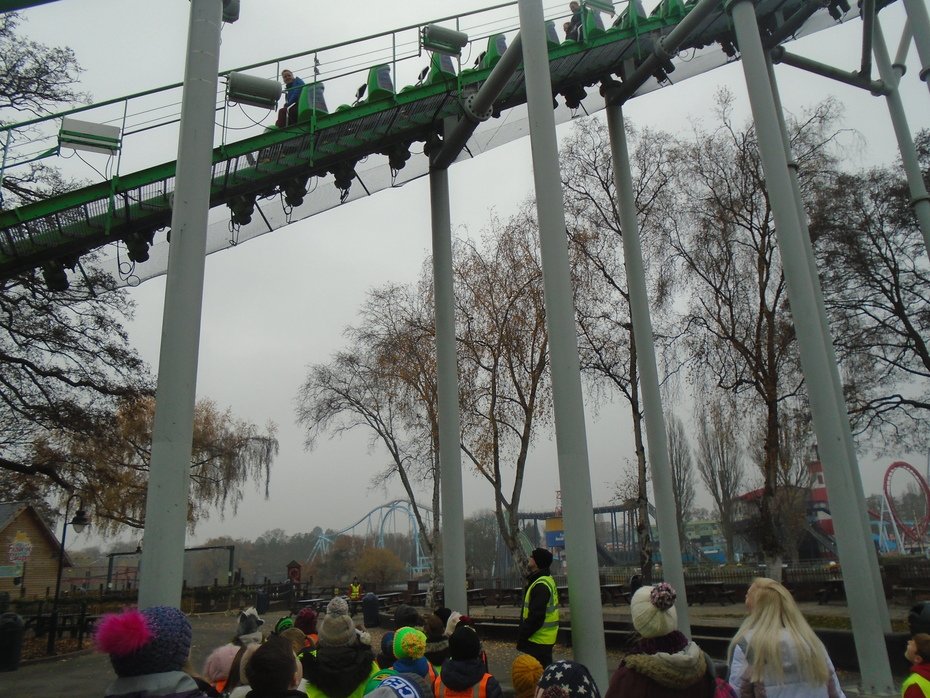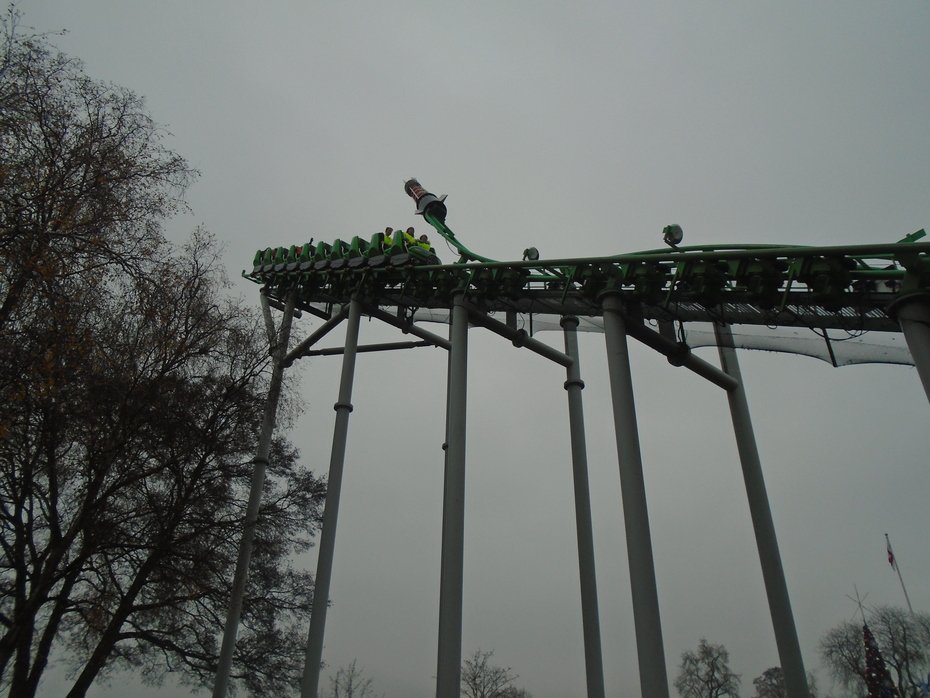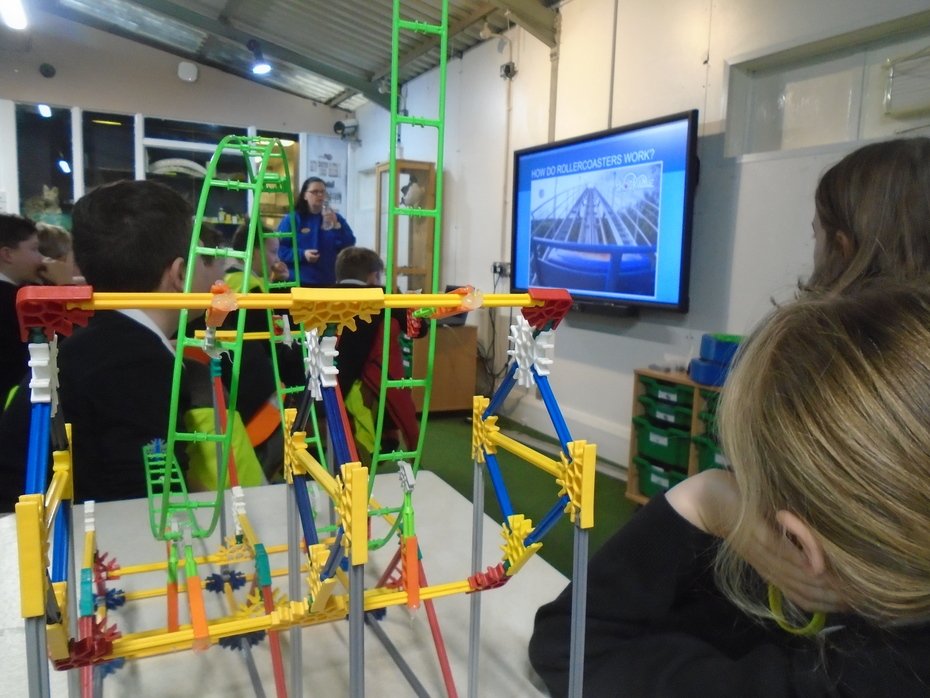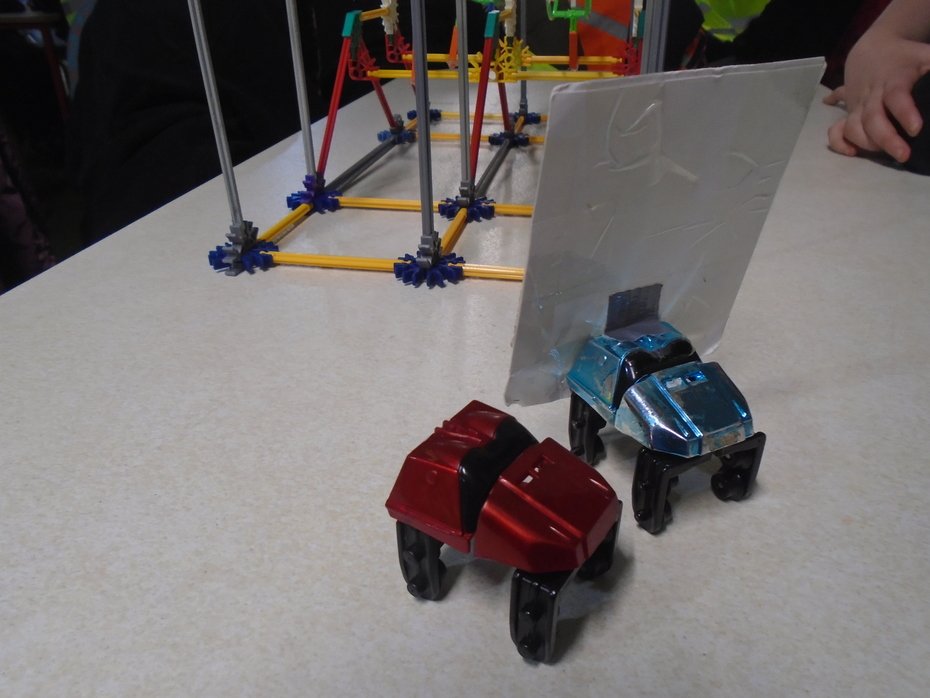 Spellings - this week's words can be found here.
Maths homework - page 9 (counting in sequences of powers of 10). The first question will have been done in class.


Monday 19th November
Spelling words for this week can be found here.
Friday 16th November
This week we have been looking at theme parks in the UK as part of our Geography lessons. Can you think of any more?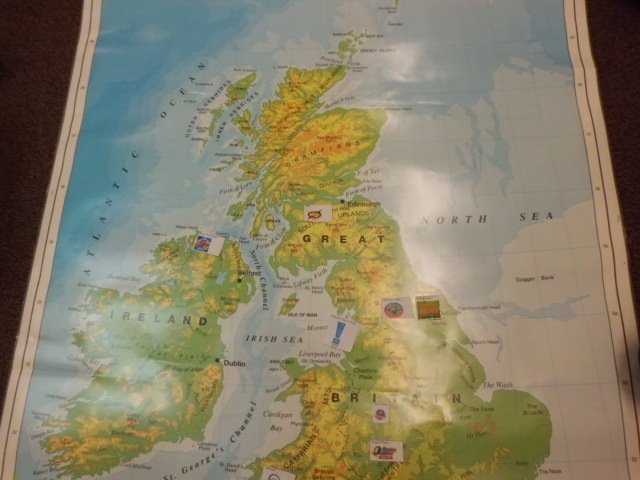 Homework:
Maths homework pages for this week are 16 and 17 (Square and Cube Numbers).
Tuesday 13th November
This week's spellings are '-ancy' and '-ency' words. They can be downloaded here.

Monday 12th November
We remembered the brave soldiers from Hinckley who fought in WWI by displaying poppies we made from recycled bottles.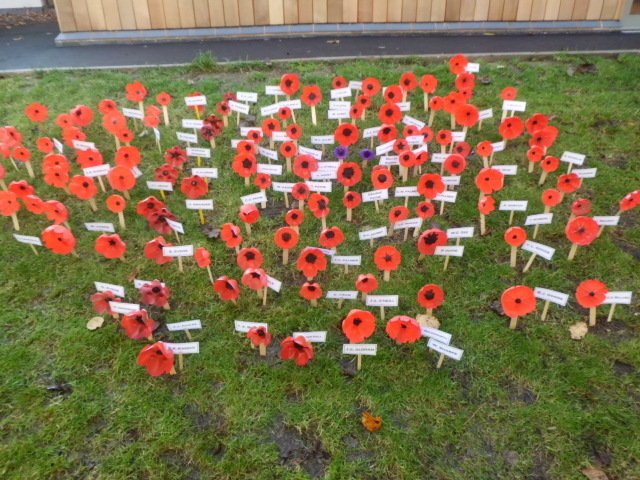 Friday 2nd November

We have just finished our R.E. week, where we thought about places of worship. We focused on Christianity and Hinduism, and discussed how there can be similarities and differences both between and within religions. We thought deeply about the concept 'worship'. What does worship mean to you?
In P4C today, we started to think about Rosa Parks. Some of the concepts we have discussed so far are equality, rights, racism, power and change. Do we all have the power to change the world?
Monday 29th October
Here are this week's spellings.
Spellings w/c 29/10/18

Friday 26th October
Thank you for a great week back to everyone in Y5! We thought we'd share some of the hard work that has not gone unnoticed this week.
Canopic Jars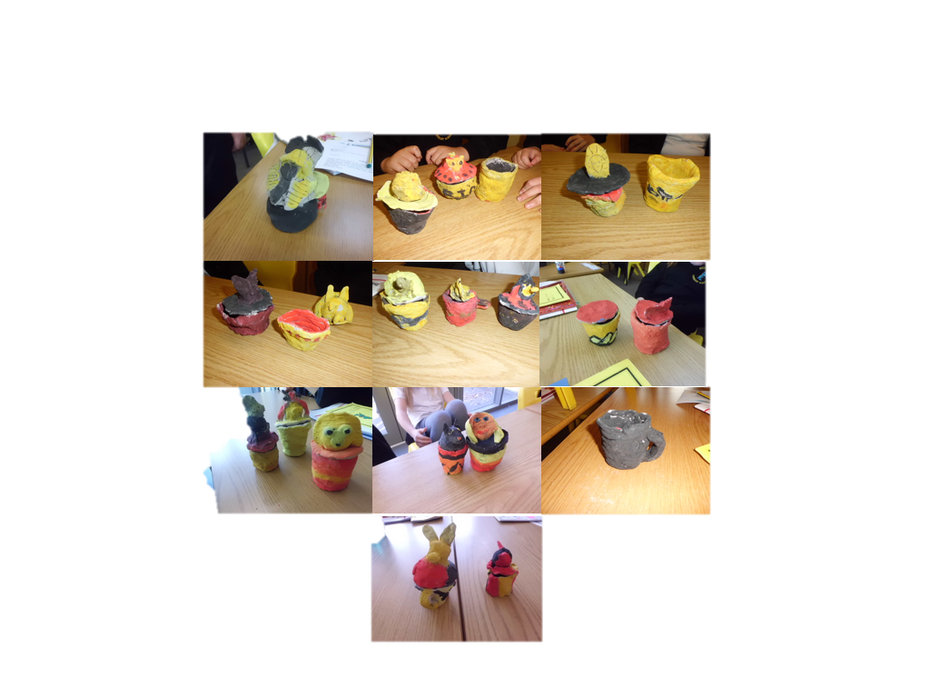 Homework
(more of your amazing homework is displayed on our classroom windows)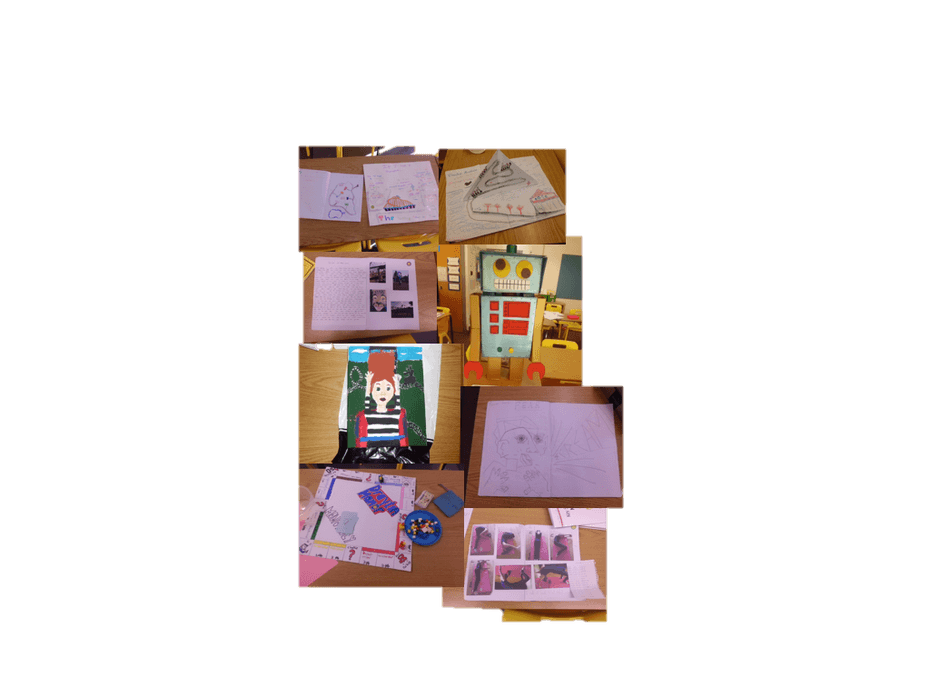 Science Day

We started our new science topic 'Forces' with a day spent investigating friction.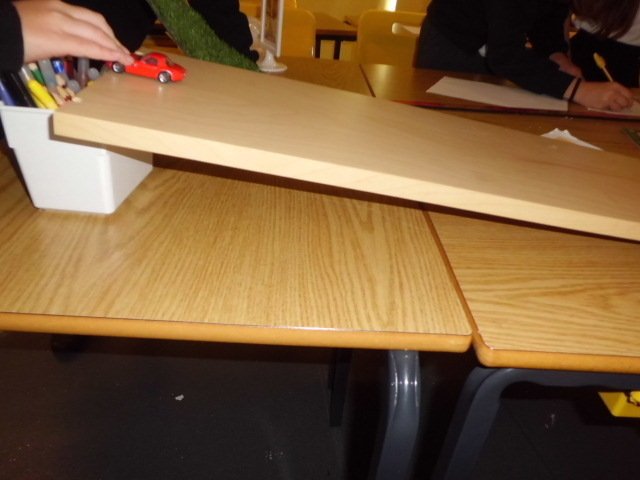 Other Information
For the next two week homework project, please pick a different activity from the list provided last time. This is due in 09/11/18.
Please complete pages 12 and 13 from the maths books. This is due in 02/11/18.
It was also mentioned at Parents' Evening that spellings are not always being brought home. We have attached the lists that will be tested on Monday. We will upload new spellings weekly and spares are available from the classroom if you need a paper copy.
Spellings being tested on 29/11/18
Friday 12th October

Happy half term holidays everyone!
Over the holidays, have lots of fun and lots of rest before we start back with our exciting new topic - Scream Machine!
Before then, we have set a few challenges for you:
P7 and P10 of the new maths homework books
Your 2 week homework challenge
Spelling lists (ie/ei words)
Times table tests to look over and practise
Just a reminder, bring warm/waterproof clothes for the first Monday back, including outdoor shoes.
This is not a non-school uniform day, just a few extras to keep warm and dry for our exciting, outdoor memorable experience.
Thanks, Mrs Lynam-Smith and Mrs Swan
Tuesday 9th October

Here are our River Nile models.
This week, we will be using them to explore how flooding affects land use in Egypt.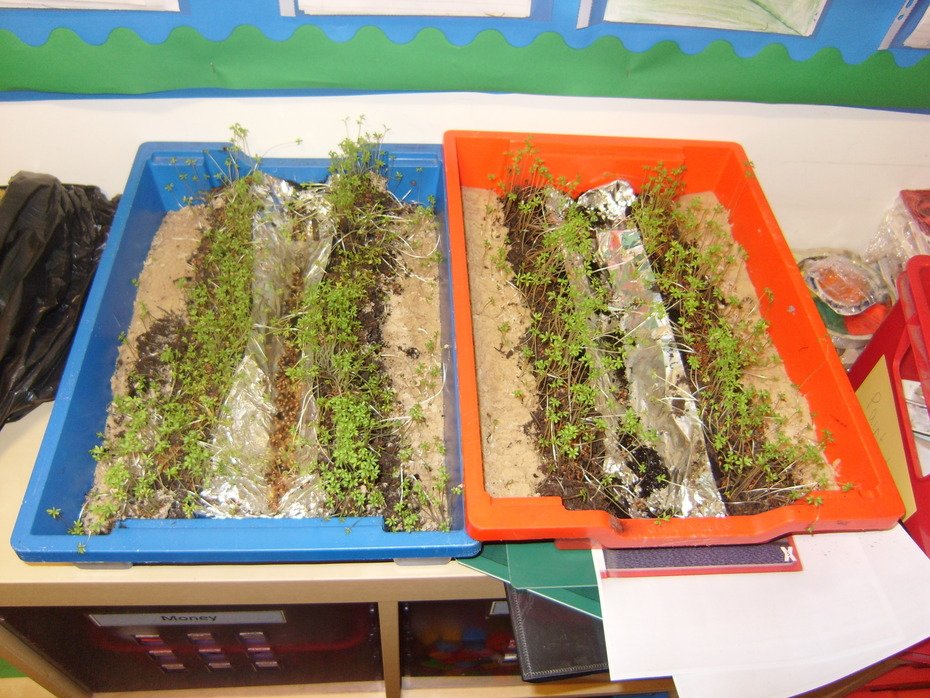 Friday 5th October:

P4C
In P4C this afternoon, we looked at the song 'One Jump Ahead' from Aladdin. Some of the concepts we explored were: stealing, power, magic and success. Here are the questions we will be thinking about over the next week:
'How do some people get away with things successfully?'
'Is magic real?'
We are working on our Creative thinking skills.
Homework
New homework sheets were given out today and explained to the children. Spare copies can be found in the classrooms. Homework will be based around our new topic 'Scream Machine' from now until Christmas.
We also discussed the other types of homework we have in Y5. For your information, this is what we discussed:
- Spelling lists / rules go home every Monday to learn
- Blank copies of X-factor and times table sheets are available to do at home, along with ideas of games to play
- Maths homework books will go out next week. We will update the children with a page number each week, and will be rewarded with house points for having completed it.
- Reading records will be collected every Friday. Children get house points for reading at home and it is expected that they will read 3 x per week.
Wednesday 26th September:
Today we were discussing whether Cleopatra is the most powerful queen in history. Here are some notes from our discussion. What do you think?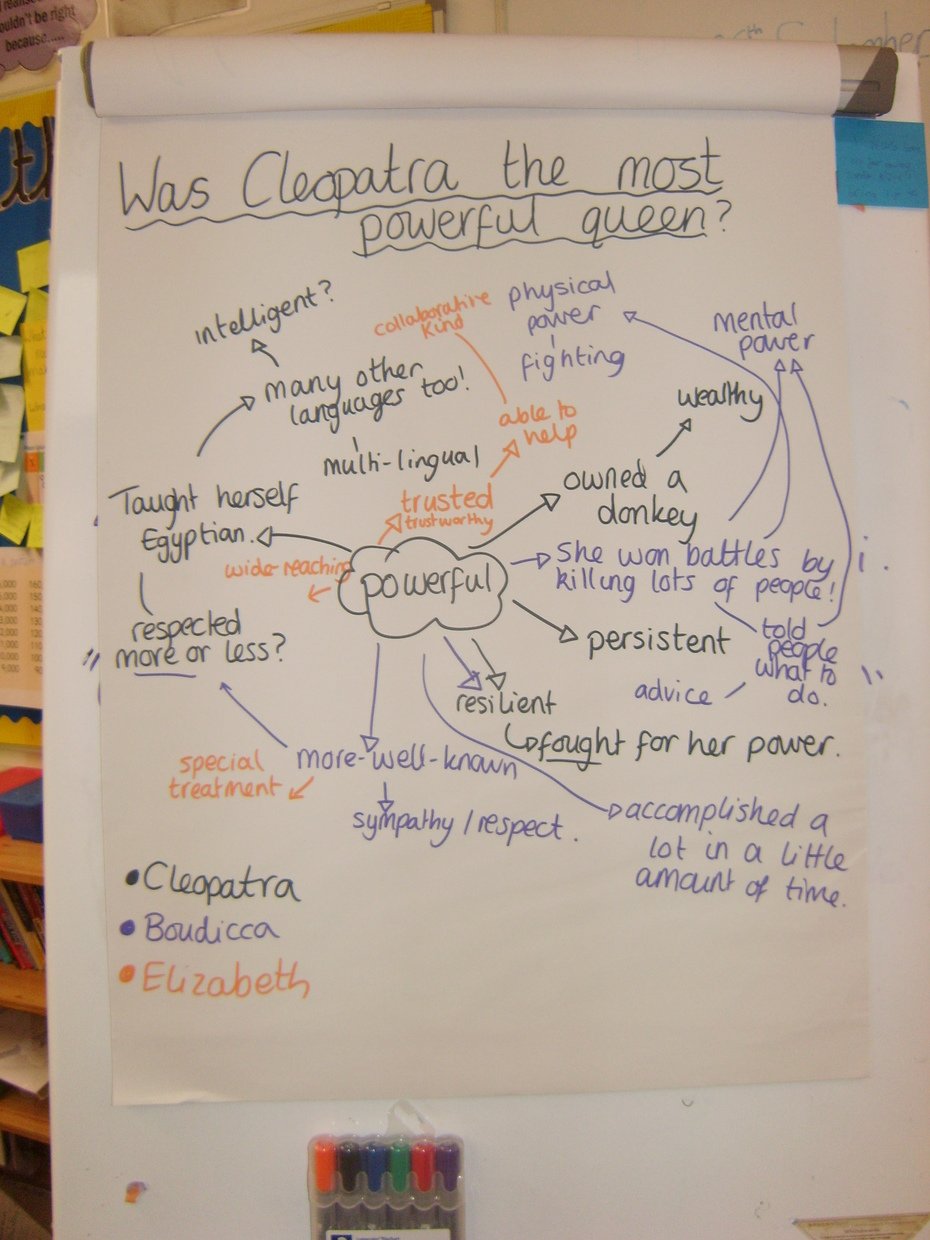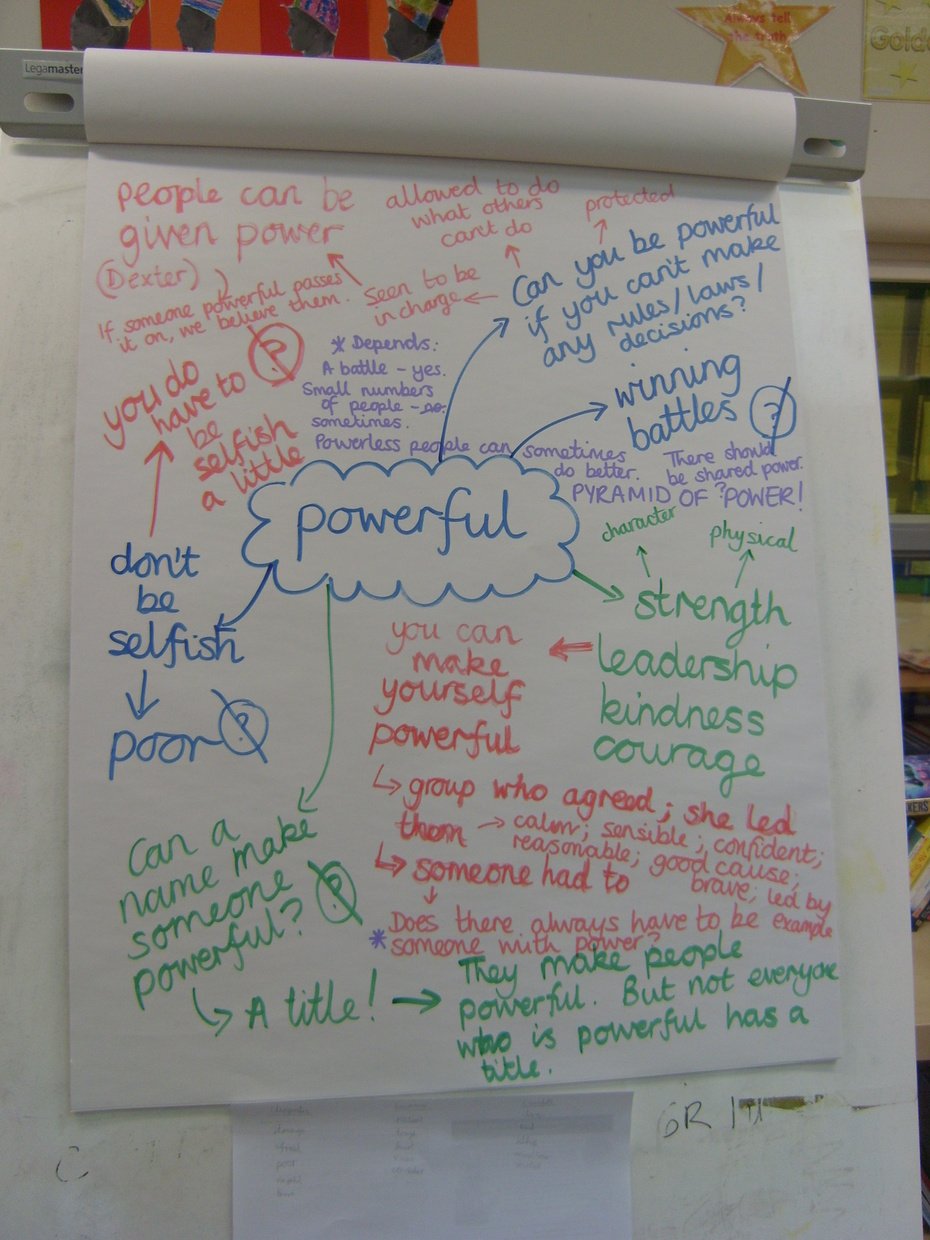 We also have two welcome events for your diary:
Thursday 4th October - Meet and Greet
Thursday 11th October - 'Pharaohs' Parent Event
We are looking forward to meeting you.
Comments (2)
Show Comments
Lexie Paling (6MP)
(less than a year ago)
I miss Y5 so much and I so wanna turn back time to transition day and do it all again!!
Isla
(about a year ago)
Love website really helps had nie time at Deayton mannor thanks Isla